Jason Puncheon fined by FA for rant at Neil Warnock on Twitter
Crystal Palace midfielder Jason Puncheon has been fined for comments made about Neil Warnock on Twitter.
Last Updated: 04/03/14 12:21pm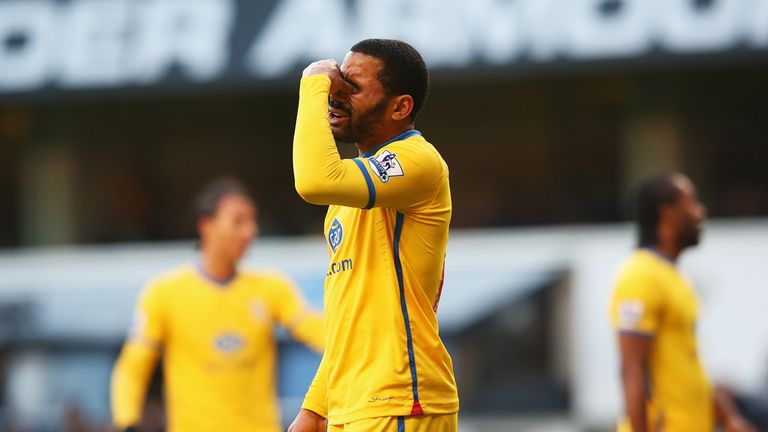 Puncheon made allegations about the former Eagles manager in response to criticism over a missed penalty at Tottenham in January.
The 27-year-old admitted a Football Association charge of misconduct, and he has been punished with a £15,000 fine while also receiving a warning over his future behaviour.
An FA statement read: "The charge was that in posting the comments, Puncheon failed to act in the best interests of the game and/or acted in a manner which was improper and/or used abusive and/or insulting words, in contravention of FA Rule E3(1)."
A row between the two blew up after Warnock was heavily critical of Puncheon for smashing a penalty high and wide early in the 2-0 defeat at White Hart Lane.
Warnock said on talkSPORT: "There's no way I would've trusted him with a penalty. You've got to have somebody a little bit more cool, and he's not like that, Jason.
"He can whack a 35-yard free-kick in here and there but a penalty, with all the pressure on him at a place like White Hart Lane - not in a million years for me."
Puncheon retaliated on Twitter with derogatory remarks about Warnock, who signed the player on loan when managed at QPR in September 2011.
Puncheon was quick to delete his comments and Warnock, said at the time he had done "nothing untoward" and was considering legal action.
Warnock said in a statement: "The first tweet 'everyone is entitled to their opinion' I haven't got a problem with, but moving on from this is his later tweets.
"He's made comments I know nothing about. If it has been suggested I have done anything untoward I confirm I most certainly have not.
"I notice Jason has removed his tweets. The matter is being addressed directly with him on my behalf. In the circumstances there is nothing more for me to say."