Premier League: Crystal Palace caretaker manager Keith Millen shocked at Tony Pulis exit
Last Updated: 15/08/14 4:14pm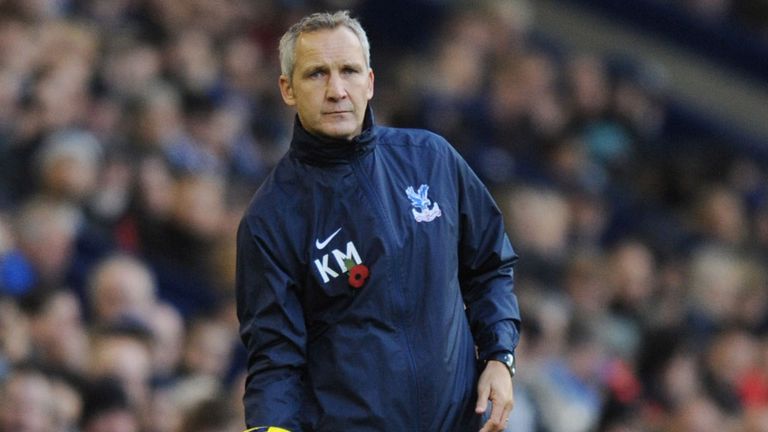 Crystal Palace caretaker manager Keith Millen admits he was shocked to hear Tony Pulis had left the club just two days before the start of the Premier League season.
Millen will take charge of the team for the trip to Arsenal after Pulis left Selhurst Park on Thursday night and he refused to rule himself out of the job on a permanent basis.
But his immediate focus is on getting the players ready for Saturday evening's Sky Live game at the Emirates, having also taken temporary charge of the team against the same opponents when Ian Holloway stepped down in November 2013.
"It's too early for me to answer that (whether he will apply for the Palace job). I'll have to speak to the chairman and I've only had a brief conversation last night," Millen told Sky Sports News HQ.
"I don't know what his thoughts are and I am sure he doesn't yet. We have got to get over the shock of what has happened and try and focus on the game.
"I am shocked at the moment, I must admit. I had a phone call from the chairman last night and a brief conversation.
"We were frustrated because we didn't get the players in we wanted but we've had a good pre-season with the players and we are looking forward to the game tomorrow.
"It's been a big shock to me and I am sure it will be to the players. It's going to be a tough act to follow for someone but it's early days and we just have to get our heads round it."
Millen confirmed he has not spoken to Pulis since he resigned from his post but he remained in positive mood ahead of their season-opener.
"No, not yet, but I am sure I will speak to him sometime today," he said.
"We always knew it was going to be a tough game going to Arsenal first game of the season but it is one we are looking forward to.
"I need to remind them what a good pre-season we have had and get them looking forward to the game again.
"We are not going to change. We are ready, prepared for the game and I have just got to try to settle them down and get them ready."
Watch Arsenal v Crystal Palace on Sky Sports 1HD from 4:45pm on Saturday.