Burnley presented with Sky Bet Championship trophy
By Matthew Treadwell
Last Updated: 09/05/16 11:40pm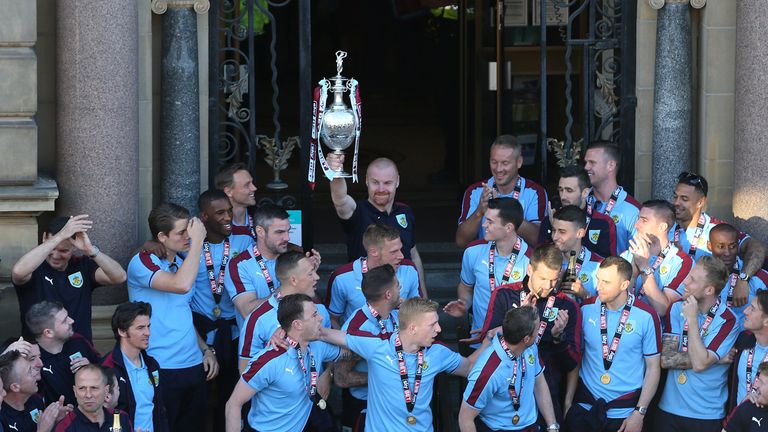 Burnley have been presented with the Sky Bet Championship trophy after their 3-0 win at Charlton on Saturday secured the title.
Security issues meant Sean Dyche's side were unable to receive their trophy at The Valley and it was instead presented on the steps of Burnley Town Hall.
Proceedings did not go entirely to plan, however, with two squad members, player-of-the-season Joey Barton and James Tarkowski, missing out on a medal during proceedings.
"No medal? What's going on? " Barton tweeted jokingly afterwards.
Burnley later apologised for putting forward 27 players to collect medals when only 25 had been made available.
Clarets' players will now carry their silverware on the open-top bus parade through the town to celebrate their return to the Premier League, for what will be their third spell in the top-flight in the last seven years.
Burnley went on a 23-match unbeaten league run up until the end of the season having last been beaten on Boxing Day to finish their campaign on 93 points, four clear of second-placed Middlesbrough and Brighton in third.
Their task now is to improve on their Premier League record in the 2009/10 and 2014/15 seasons, which saw them relegated straight back to the second-tier of English football.
Speaking ahead of the trophy presentation, Dyche admitted the symbiotic relationship between club and town means success for the Clarets offers a boost to the whole community.
"Winning and achieving brings a good feeling to everybody, particularly in a town like Burnley where the connection between the club and its fans is so important," he told Sky Sports News HQ.
"I've been here three-and-a-half years and you get to learn what it is to be here. The club dominates the town and people respond to that."
Dyche admits they will have to work hard next season to avoid coming straight back down from the Premier League for the third time in a row having battled to get there.
"We came runner-up last time [after being promoted to the top-flight] and worked very hard for that but we had a tough season in the Premier League," he added.
"We had to come out of it, remodel it and rethink it. Fantastic credit to my staff and players in getting us to where we are today.
"We have gone 23 [matches] unbeaten since Boxing Day and to go and win it is exceptional, I think."