Nick Pope keen to make England debut and guide Burnley to Europa League
By Matthew Treadwell
Last Updated: 21/04/18 7:29am
Burnley goalkeeper Nick Pope is hoping his recent experience of being involved with the England squad will eventually lead to him playing for his country.
England manager Gareth Southgate named Pope in his squad for the recent friendlies against Netherlands and Italy and although he did not get on the pitch, Pope was pleased to be involved.
"It's a whole new level and a different way of doing things. To experience it, hopefully it's a little taster for the future," he told Soccer Saturday.
"It's great to have positive words said about you. I have got great fans at Burnley that have been behind me and the whole team the whole season.
"It's nice to have them on your side and in football it's not always that way. I have had clubs before where it's not always as positive, so when the positive times do come along, you've got to take it."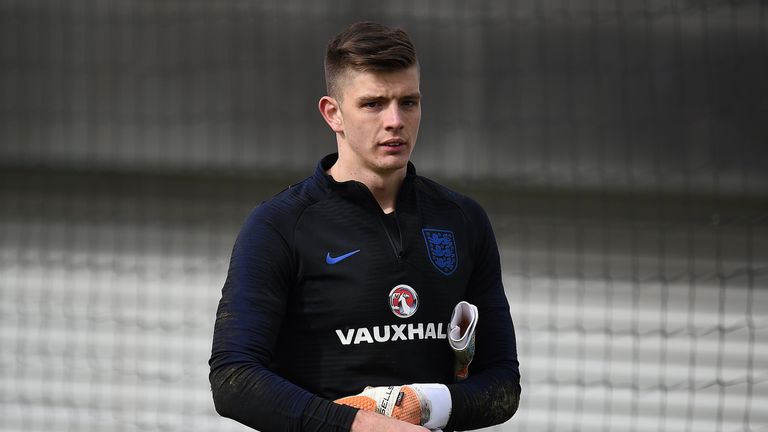 Pope has stepped in to replace injured Clarets team-mate Tom Heaton in both the Burnley starting line-up and the England squad, with the 26-year-old hoping to be on his way to the World Cup in Russia this summer.
He is also relishing the opportunity to be part of an unfancied Burnley side that is now pushing for a Europa League place next season.
A 2-1 win at home to Leicester on Saturday was followed by a 2-1 defeat to Chelsea on Thursday night but Pope says there is still a positive mood in the local area when it comes to their football team.
"There is a real buzz around the town at the moment and come matchday, it's bouncing," he added.
"After Saturday, the Europa League is something a lot of people think is possible. Obviously we don't need Southampton to win the FA Cup, it's not signed and sealed just yet.
"It has got to be our next goal now, to finish seventh or even higher."
Pope also conceded that, compared to a side that is used to finishing top-four in the Premier League and qualifying for the Champions League, making it to the Europa League next campaign would be a real achievement for Burnley.
"If you are used to playing in the Champions League season-in, season-out, the Europa League won't seem as glamorous," said Pope.
"For our dressing room, playing in Europe for the first time will mean more."