In an exclusive interview with Sky Sports, Sean Dyche tells Adam Bate why it has been such a challenging season for Burnley, how his team turned it around and why his definition of success might not be the same as yours.
Sean Dyche is recovering from a back operation. "At one point I was in agony all the time but now I can live a normal life again," he tells Sky Sports. "I was trying to get through to the end of the season but I was just in so much pain that in the end I had to get it done.
"I had been struggling for about four months but I am in good shape now."
The Burnley manager is talking about his back but that last sentence could almost be about his club's season. For four long months Burnley toiled, that early period overshadowed by the rewarding but challenging experience of European football at Turf Moor and far beyond. Even after Christmas they were in the relegation zone, three points from safety.


Dyche has overseen a dramatic turnaround since then. A run of eight games without defeat lifted them away from danger and a more recent run of three consecutive victories mean they go into the game against Chelsea on Monday Night Football knowing that one more win would mathematically guarantee their survival with three games to spare.
In truth, given that Cardiff would need to win their remaining games to overhaul them, Burnley almost certainly have enough points already. Not that Dyche sees it that way. He continues to demand more from his players - and himself. He knows that this season, bringing as it has his first taste of European football, has been a steep learning curve.
Europa League challenge
"Everyone warned me about it, inside the game and outside the game," he says. "I can see it now. You go into it with your eyes open and in a positive manner but it's very difficult to find a balance with the planning, the rest and the effect on pre-season. It is very difficult to navigate through that while keeping the eyes on the main prize of the Premier League.
"The mind tells you that you should use the Europa League as your pre-season but you don't really because the players aren't silly, they know it's a real game. Plus there's the fact that our model is difficult financially so we very rarely get players in early because of the way the club is run so you don't necessarily have the numbers that you want in.
"Then you get through the first few rounds and suddenly you have already played six games. Then the Premier League is under way and you have played five games and have got one point and you are thinking this is all a bit confusing. Suddenly it's Christmas and you've got 12 points from 19 games and you think, hang on a minute, we have way more left to do."
Premier League low point
It was the thrashing against Everton on Boxing Day that proved to be the low point - a 5-1 defeat in front of their own supporters. Dyche is fond of the phrase "authentic optimism" but there was not much optimism around at Turf Moor that day. Thankfully, it crystallised things for him. There could be no more equivocation. It was time for some home truths.
"Weirdly, out of a bad result comes clarity," he explains. "It was that really tough result on Boxing Day against Everton that kind of straightened our minds out and got everyone back on track. It brought that clarity to our situation and we have never really looked back from that. It was at that halfway point that we said that this wasn't what we were about.
"What are we? What makes us who we are? We went back to some of those basic principles of what the game entails for a team like us. It was quite simple but the players bought into that simplicity. It was roll your sleeves up time. It was about desire, the toughness to play hard and defend properly. All of a sudden we had our best run in Premier League history."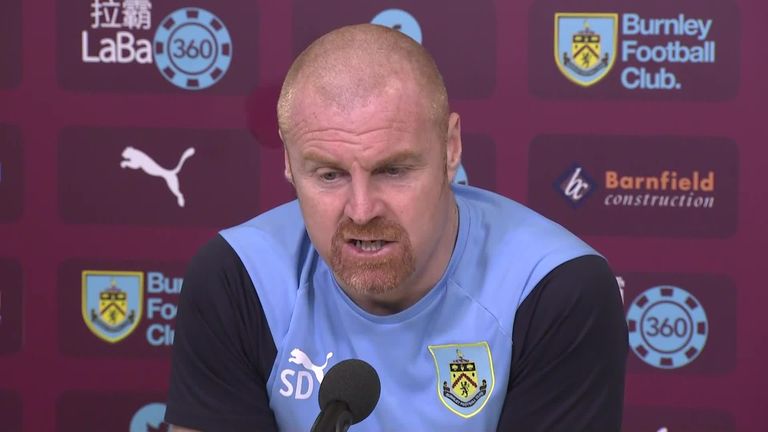 Something clearly changed but what did he actually do?
"Sometimes the hardest thing to do is nothing," says Dyche. "As a manager, everyone is clambering for you to do something. It comes from the media, the fans, the board and even your own staff sometimes. The strongest thing can be to do nothing and remind the players of the simplicity of the format. The players have taken ownership of that.
"They were willing to accept the truth of where we are now and remember how we have had our success. The players deserve credit for that. All of a sudden the story changes."
Consistency of message is important to Dyche and he is understandably eager to stress that there was no panic. But while he evidently maintained his ethos throughout that tricky period, it would not be entirely true to say he did nothing. Drill down into the decision making and it's clear he made the necessary tweaks to instigate change.
Turning the season around
For the win against West Ham that marked the start of Burnley's revival, he recalled Tom Heaton in favour of Joe Hart. As Dyche points out, for a long time that was seen as the most significant change, but the selection of Dwight McNeil for only his second Premier League start is now seen as pivotal too. The teenager has not missed a match since.
"It's flipped onto him now," says Dyche, "but actually Phil Bardsley came into the side as well. That's not to do any individual down but there was a combination of effects. We went back to two strikers after we had been playing around with the system. There were a lot of things not just Dwight but he has definitely played his part in us turning things around."
What there can be no debating is the turnaround has been astonishing. In fact, Burnley have picked up more points than all but four teams in the Premier League since then.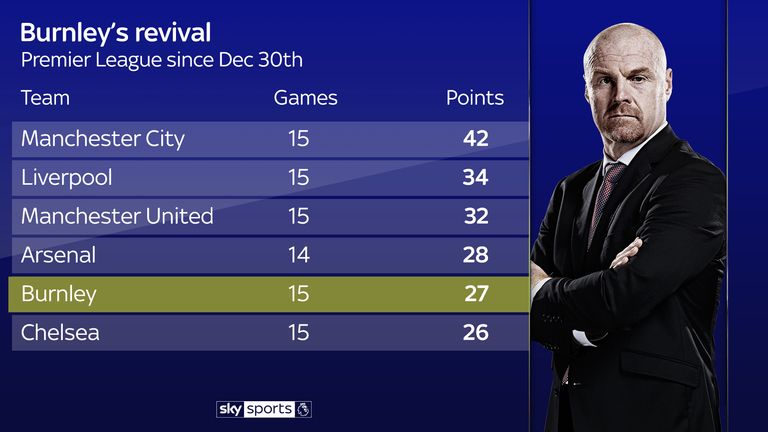 As a result, one gets the impression in his own unique way Dyche has taken as much satisfaction from this season as anything that has come before. That's a big statement given he has won two promotions with Burnley, kept them up in the Premier League against the odds, and then guided them to that remarkable seventh-place finish last term.
But the non-stop plaudits were one thing. Dyche is a down-to-earth sort who treated that feeling of being flavour of the month with the media with the scepticism he felt it deserved. He was ready for the backlash, ready to be written off when the tough times came. Well, he has come through those tough times even stronger than before and that's pleasing.
He said: "Anyone can take the wheel of the ship in calm water but it's not so easy when it's not calm water. You can't just enjoy the good times, you have to be resilient in the tough times.
"That's the job. We had a very successful season last season and the one before that and the one before that. So to expect never to have a tough time when you are the manager of Burnley, it's just not going to happen. So I was ready for a tough time and resilient to it.
"It doesn't make it enjoyable but that's part of the job. The enjoyable part is playing your part in a group that's building for success. We have probably worked as hard as we have ever worked as a staff to make sure the players are best placed to deliver it.
"I think what helps enormously is the cultural environment that you have set. We constantly try to monitor it. When you have a base to work from that holds it together, that's something that you can go back to and rely on. A lot of is down to the consistency of work, the consistency of message and the consistency of the players' performances.
"We talk about players having automaticity, the ability to do it on automatic mode. Well, the only way you can do that is by delivering day in and day out the right principles. Look after yourself, be professional, be ready to train, be ready to give everything. If you do that often enough it becomes an automatic mode of how you work."
Ambitions for the future
In finding a pathway through the team's problems, Dyche has emerged with his reputation not only intact but enhanced. A win on Monday would lift Burnley above Eddie Howe's Bournemouth and back level on points with Roy Hodgson's Crystal Palace. He could yet be the top-ranked English manager in the Premier League for a second season in a row.
When the conversation turns to ambition and the prospect of achieving more in his career, Dyche debates the very definition of what more is. You can see his point. Had he taken a team with a vastly superior budget to seventh spot again this season, would that have been more? He is maximising the talent at his disposal - which is all that any manager can do.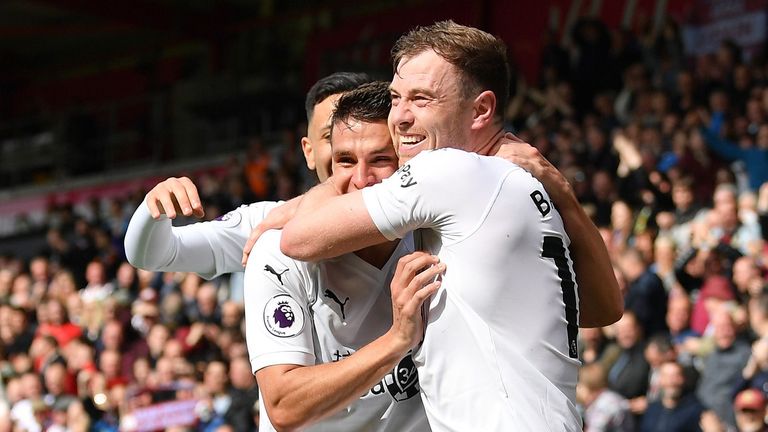 "How you judge more is sometimes a personal thing," he said. "How I judge more might be different to others. We consider more as going on to grander things but getting more out of people is a massive thing and I think we continually do that. Getting more out of the situation.
"We have a financial framework that is very difficult. We have just posted record profits but within that is a wage bill that's bottom three in the Premier League. Rather than constantly talking about that, we try to talk about how the players operate and how they are continually learning about the Premier League.
"I believe in working with players and trying to improve them, while not being naïve enough to believe that's all it is because you have to win games in the process. That's where the challenge is. Finding that balance between financial and development success but also winning enough games to be deemed successful and continue doing what you're doing.
"There are some obvious realities to what we are trying to achieve here. We never kid each other. We have always been honest about our situation. Last season there was the marvel of qualifying for the Europa League but this has been a more reality-based season, which is what I was expecting. I wasn't expecting anything other than a challenging season."
He pauses.
"Maybe not as challenging as it has been, mind you."
The next challenge is at Chelsea. It's a ground with happy memories for Dyche. The last time he took his Burnley team to Stamford Bridge was on the opening weekend of last season when they stunned the then defending champions with three first-half goals on the way to a 3-2 victory in a game that would set the tone for both of their seasons.
He returns a little older, a little wiser and with his back trouble finally cleared up. But perhaps most of all, he's got his Burnley back too. "People say we need to go on to bigger and better things," adds Dyche. "But getting back on track, that's a rewarding thing as well."