Leicester captain Wes Morgan says main aim is still 40 points
By Stephen Mills
Last Updated: 13/12/15 11:30pm
Leicester may be riding high at the top of the Premier League, but their captain Wes Morgan will be happy to simply reach the 40-point mark.
Last weekend's 3-0 win over Swansea saw Claudio Ranieiri's side move clear at the top of the table on 32 points - and no team with that tally after 15 matches has finished lower than fourth in a 20-team Premier League season.
The form is remarkable for a club that was listed as one of the pre-season favourites for relegation and defender Morgan, who has played below the top tier for most of his career, is refusing to get carried away.
"We've achieved some remarkable things this season and to say we are top of the league so far is amazing," he told Soccer Saturday.
"All the boys are buzzing and I'm sure everybody involved with Leicester is delighted so far and want to keep it going.
"We finished last season quite well and seem to have built on that. We've kept the momentum going and the boys are full of confidence now.  Some of the boys like Jamie Vardy and Riyad Mahrez are really relishing it and they've been fantastic for us this season.
"We don't want to get carried away with all the paper talk and everybody talking about Champions League places and how high we can finish.
"But I think, for me personally, just to get past the 40-point mark and to know we are safe for another season is the main thing.
"For me, that's first and foremost, but after that then we'll see how far we can really go."
Ranieri, who was this week named November's Manager of the Month in the Premier League, has been given credit for helping turn Leicester from relegation candidates to title contenders.
Morgan was eager to praise the Italian, insisting he has given the players confidence by not making sweeping changes after replacing Nigel Pearson in the summer.
He added: "He has been good so far. He has come to manage us and the first thing he said was he didn't want to change too much and keep it how it is, mostly.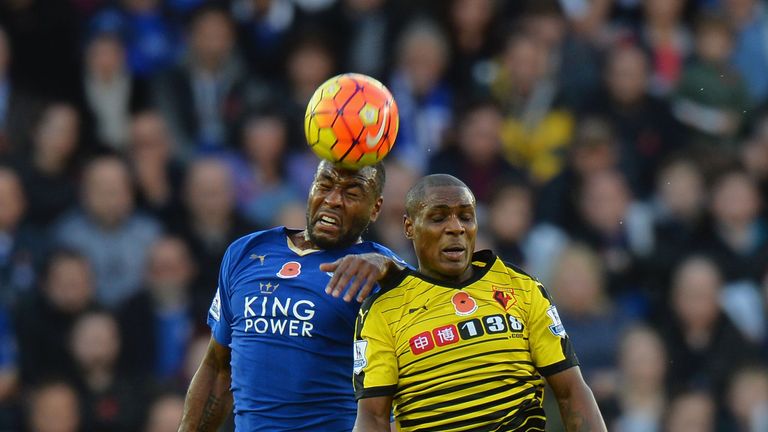 For me personally, just to get past the 40-point mark and to know we are safe for another season is the main thing.
Wes Morgan
"He has tinkered a little bit here and there and brought in a few new players in and whatever he has done is working so far.
"He's right behind us and he likes to make us realise how much we can really achieve and how far we can go.
"He has definitely got the belief in us and the boys are taking that on board, taking it onto the pitch and proving how good we can be."
For more from Wes Morgan, tune in to Soccer Saturday from 12noon on Sky Sports News HQ and watch Leicester v Chelsea from 7pm on Monday Night Football on Sky Sports 1.