As Leicester continue to edge their way to an unlikely Premier League title win, the midweek Champions League fixtures also spark thoughts of what next season will bring.
The prospect of the big guns coming to the King Power Stadium is a source of excitement for everyone at Leicester. "Amazing," Ranieri told Sky Sports at the weekend.


"You imagine arriving to see Barcelona. Our fans for the first time watching the players of Barcelona. Messi, Neymar. Unbelievable. I want to get this."
However, if Leicester go on to win the Premier League title then a group-stage meeting with the Catalan giants would be ruled out if they too secured the title in Spain.
Leicester v Barcelona
The Foxes are scheduled to take on Barcelona in the International Champions Cup in Stockholm on August 3rd.
Winners of Europe's seven strongest leagues will be among the top seeds for next year's competitions and kept apart.
As is stands, that would most likely mean the Foxes avoiding the likes of Barcelona, Bayern Munich, Juventus and Paris St Germain - at least until the knockout stages.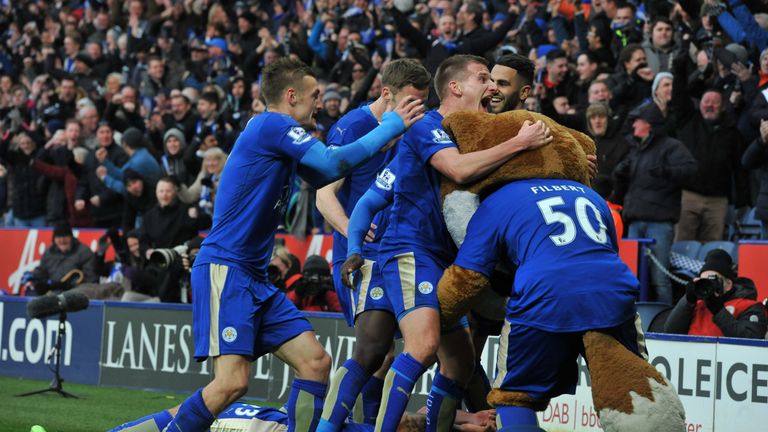 But where could Leicester be travelling come the autumn?
While it will not be possible for Leicester to draw fellow Premier League teams in the group stage, there are some famous clubs that could be coming to the King Power next season.
The likes of Real Madrid and Borussia Dortmund look likely to miss out on titles in their own countries and that could see them draw Leicester in the group stages.


The possibility of the Bernabeu or the Westfalenstadion is a mouth-watering one for the fans who were visiting Huish Park in Yeovil for a Championship game as recently as October 2013.
For manager Claudio Ranieri, the competition could bring the chance to return to old haunts such as Roma, Napoli, Monaco and Atletico Madrid.
Title winners in countries ranked outside the seven strongest leagues would also be free to face the Foxes so that means that former winners such as Ajax and Celtic could also be drawn.
It won't necessarily be quite so dramatic though. As Premier League champions going into this season, Chelsea were drawn with Dinamo Kiev, Porto and Israeli side Maccabi Tel Aviv.
With Hapoel Be'er Sheva on course to win the title in Israel this season, Leicester's place among Europe's elite won't automatically guarantee household names at the King Power.
But there are some intriguing scenarios out there right now...
Dream group?
Leicester City
Real Madrid
AS Roma
Hertha Berlin
Will Leicester fans want a tough group that could take them to the capital cities of Spain, Italy and Germany or will they be looking for their best chance of progression?
Of course, knowing the capacity for Ranieri's men to cause an upset, perhaps there's no reason why they cannot meet Lionel Messi and the rest deeper into the tournament…