Craig Shakespeare backs referee call in Leicester's draw with Bournemouth
Last Updated: 30/09/17 7:52pm
The referee made the right decision in not awarding Bournemouth a penalty in their goalless draw with Leicester City, according to Craig Shakespeare.
The controversial incident happened just three minutes into the contest at the Vitality Stadium after Jermain Defoe's close-range shot had hit the bar.
From the rebound Marc Pugh's goal-bound effort was diverted wide of the gaping goal by Danny Simpson, an offence that had it been spotted by referee Graham Scott and his officiating team would have resulted in a penalty and a red card for the Leicester right back.
The Leicester manager, however, thought the referee got the call correct.
"We had one go against us last week and people tell you it evens itself out, but I'm not so sure it does," said Shakespeare. "But it was so close that the referee made the right call."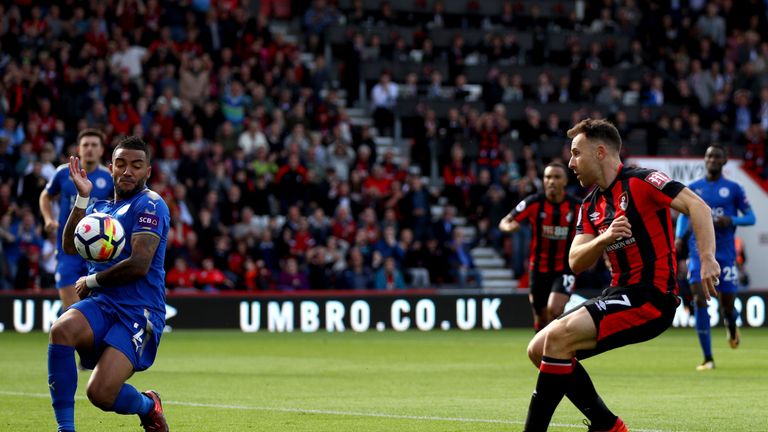 Overall, though, Shakespeare was just delighted to leave the south coast with a hard-earned point.
"I have to be realistic," he said. "We did not start as well as I wanted to, but give Bournemouth credit for that - they played on the front foot right from the start and we could not play our usual offensive, front-foot game and break down Bournemouth.
"And we had to show a lot of resilience today because they attacked and attacked and to come away with a clean sheet shows the resilience of the back five, but also the players in front of them because we had to sit deep and have that low block at times.
"So we could not quite hurt them offensively. But to come away with a point when you have not played well, people will tell you that is a good starting point.
"We know we want to put more points on the board and we now have a home game to come."
In a match dominated by the home team, it was actually Leicester who created the best opening, only for Shinji Okazaki to spurn the glorious chance on the hour-mark.
"It works that way sometimes as Shinji got in good support of Jamie [Vardy] and when it fell to him, with his goalscoring feats of late, he has been encouraged to get in the box more, I expected him to put that away," said Shakespeare.
"And he will be disappointed he did not take that chance as it was probably the best chance of the game."
Shakespeare caused a few raised eyebrows after opting to leave Riyad Mahrez on the bench, although the playmaker's response after being brought on in the second half pleased his manager.
"There are players behind him who have been chomping at the bit, I always say the team is bigger than any one individual, and Riyad's professionalism I have spoken about on many occasions," he said.
"I thought him coming off the bench, you could see his quality and it is one where we need that type of response from players that get left out from time to time."