Premier League: Leicester boss Nigel Pearson refuses to comment on sack reports
Last Updated: 10/02/15 11:55am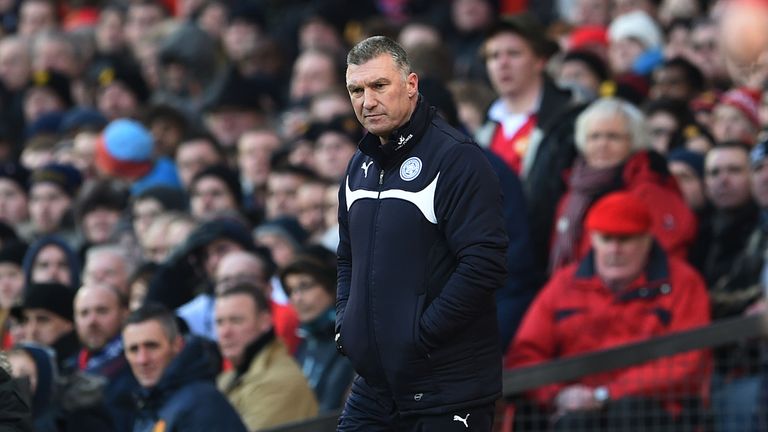 Leicester manager Nigel Pearson has refused to clear up the confusion over reports that emerged on Sunday claiming he had been sacked.
And in an occasionally tense press conference on Monday, the Leicester boss rounded on former City striker and club honorary vice-president Gary Lineker over his comments about the scuffle between Pearson and Crystal Palace star James McArthur.
Sky Sports News HQ reported on Sunday evening that Pearson had lost his job with the Premier League's bottom club before the club issued a statement insisting he remained in place.
But Sky sources understand that Pearson and his staff were sacked by one owner of the club, only for another to re-instate them three hours later.

Pearson complained of Lineker: "His whole reaction shocked me a little bit.I thought they were slightly disruptive. I don't care what they think of me. I pay my tax bills.
"In an ideal world I would rather the story not be out there but it is out there and I have to deal with it. I understand the interest and you wanting to ask questions, but I have loyalties to the people I work for, my staff and the players, which really is more important to me than trying to clarify things for a story which was based on speculation.
"It is not helpful when the three fountains of knowledge on Match of the Day make a mountain of a molehill. The lad is OK, it was light-hearted. How it was reported yesterday is totally inaccurate."
Linker later replied on Twitter: "Ah Nigel Pearson, he is blaming MOTD for making a mountain out of a molehill. We had best be careful in future, the fella can look after himself.
"If I was [a fountain of knowledge] I'd tell you that he was sacked by one of the owners' family and reinstated by another, but then I'm not."
The issue was the main talking point at Monday's media conference ahead of City's game with Arsenal on Tuesday night and although Pearson was keen to focus on his side's trip to the Emirates rather than speculation on his future, at no point did he say the initial reports that he had been sacked were wrong.
"I've never spoken too much about internal relationships at the club. I've always had a good working relationship with the board," said Pearson.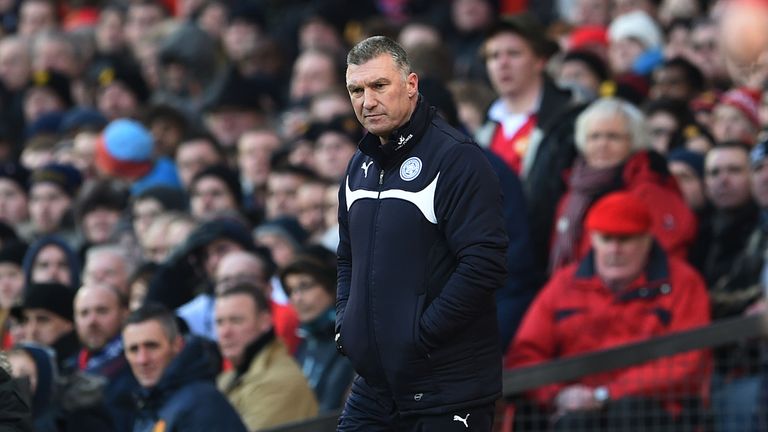 I still have a responsibility to lead the players. I'd rather the story wasn't out there but it is, and I have to carry on.
Nigel Pearson
"There is sometimes speculation - unfortunately, sometimes the news breaks. But I still have a responsibility to lead the players. I'd rather the story wasn't out there but it is, and I have to carry on.
"I understand the interest, the questions, but I have loyalties to the people I work for, my staff and the players that are more important to me than dealing with stories that are based on speculation."
Asked if he had been given reassurances about his future with the club, he said: "I've had conversations (with the board) and if I've got things to say I'll say them in the appropriate manner to the appropriate people.
"We have a game tomorrow and my focus and that of the players is very much on what we can do tomorrow night."
Sky Sports News HQ's Rob Dorsett said: "Never in the 32 minutes in which Nigel Pearson spoke did he contradict the story that we told you last night, namely that he and his entire backroom staff had been sacked en masse, and then all reinstated three hours later.
"It seems that there was a disagreement between the owners of Leicester City, one of whom thought it was time to go, the other who didn't, and that a discussion happened after the deed had been done and Pearson and his staff were re-instated.
"I understand from my sources that Pearson's coaches and backroom staff had actually left the club and said their goodbyes and didn't expect to see each other again in the forseeable future - only to get a phone call to say 'come back'. 
"There are many more questions of the people who run Leicester City and what their take is on what happened in the last 24 hours. They are all over the world at the moment. 
"The chief executive, Susan Whelan, is in Bangkok. Aiyawatt Srivaddhanaprabha - known as 'Top' in these parts - who is the vice-chairman, is in Thailand.
"His father, Vichai Srivaddhanaprabha, who is the chairman, is here in England. My understanding is that it is he who has been doing these negotiations with Nigel Pearson, it's him who did the deed. And there's some suggestions on social media that there maybe has been a disagreement between father and son, between chairman and vice-chairman."
Pearson was also questioned about his tangle with Palace star McArthur on Saturday, in which he appeared to hold the player by his throat, and then hold on to his arm when he was trying to return to the field.
Lineker called the incident "strange" but Pearson said he did "not care" what the former England striker thought, insisting there had been a "disproportionate amount of coverage about one or two negative things which have happened."
"The lad's ok - it was very light-hearted," he said. "How it was reported yesterday was totally inaccurate. It was all very light-hearted. If you see a number of the pictures, there are smiles. These things happen. We were fine. He's a likable lad and good luck to him. I think he dealt with it very well himself. He was very quick to point out that there was nothing malicious going on.
"I'm a human being and I make mistakes from time to time. If I make mistakes, they are honest ones."