Kamil Grosicki's journey through addiction to become a Hull hero
Last Updated: 25/08/17 11:12pm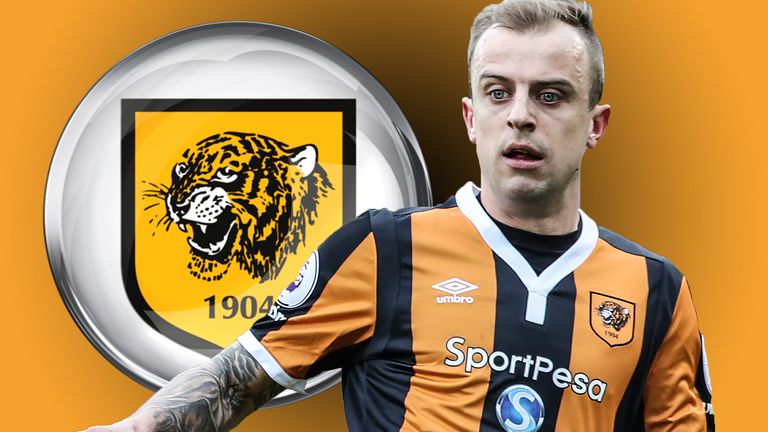 Hull winger Kamil Grosicki endured his battles with addiction before becoming a Premier League star. Adam Bate delves into the player's troubled past and talks to his mental coach to find out why the future is altogether brighter for the Poland international...
"It was like a prison."
Ten years have passed since Kamil Grosicki checked in at the addiction centre in Stare Juchy, a small village in the north east of Poland. The routine was strict. Up at 6am. Cleaning work. One phone call on Saturdays. Television once a week and even then it was only the news.
He was there for 33 days.
"I had no strength for anything. I did not want to play football. I did not want to live," Grosicki later recalled in a 2008 interview with Polish newspaper Dziennik. "It was like in the movies. We sat in a group, talked about our problems, then listened to a psychologist."
Grosicki was there at the behest of his club Legia Warsaw. His gambling addiction so serious that he owed money to many of his team-mates. In one particular cup tie, all he could think of during the game was that one of his colleagues had promised him some cash beforehand.
Grosicki was merely a teenager at the time, but he is in no doubt of the significance of those 33 days to his career and his life. This was a turning point. "I know that if I had not gone there," Grosicki would tell Dziennik, "I would have been finished now."
It was there in the confines of his 'prison' that the young Grosicki set out his ambitions. The priority, of course, was to pay off debts. His mother had been forced to sell the family home. But he also wanted to win back his place in the team and represent his country.
His mother soon had an even bigger house and, within a year, Grosicki had made his Poland debut. A decade on, boosted by the arrival of his family in England, he is the PFA fans' Premier League player of the month for April and the star of Hull City's unlikely fight against the drop.
There were two assists in the Tigers' turnaround triumph over West Ham at the start of the month. Another in a man-of-the-match display against Middlesbrough soon after. A £7.5m signing from Rennes in January, manager Marco Silva credits him as the difference maker.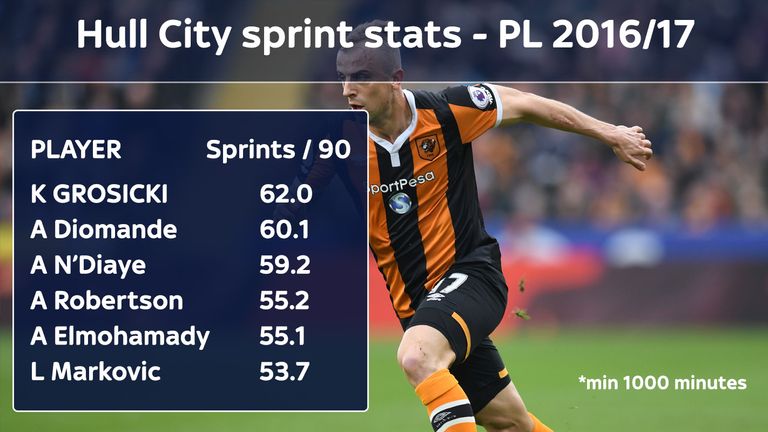 "He is the one type of player we don't have in our squad, a natural winger," explained Silva. "He's a fast, technical player and can give us different things." That's the sober analysis. One Polish journalist was more extravagant in his praise, comparing Grosicki to Lionel Messi.
It is a tale of redemption. If only the arc of the story was so straightforward. "Nobody comes here and is miraculously healed," said Jerzy Krzewicki, president of the Stare Juchy facility, quoted in Polish tabloid Super Express at the time. "The real fight begins only after leaving."
So it proved for Grosicki. A loan move to Swiss club Sion in 2008 was not a success. He even managed to report late for training despite living in a hotel at the stadium. "Many wrote me off," he said of his time there.
But a move back home with Jagiellonia Bialystok was more successful, helping the team to cup success in 2010, the greatest achievement in the club's history to date, as well as league safety despite a 10-point deduction. It was a more supportive environment.
"Kamil is a player with a really complicated psyche," said club president Ireneusz Trabinski. "We have tried to support him as much as possible." Experienced team-mate Tomasz Frankowski was more succinct. "If Kamil does not succeed, he's an idiot." he concluded.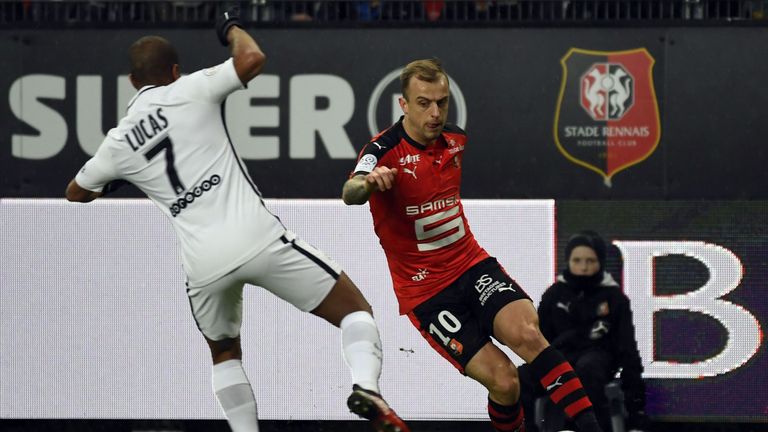 Still there have been issues. A fall-out with Michal Probierz, his coach at Jagiellonia, preceded spells in Turkey and then France, where he faced a court case for driving his Porsche at speeds of 170 km/h. Last year, several Poland players were caught up in a drinking scandal while on international duty in October.
On that occasion, the focus did not fall on Grosicki but, tellingly, he made a point of celebrating his brilliant goal against Romania the following month by running into the arms of his national team coach Adam Nawalka. A reward for his faith.
Grosicki is a stronger character now. In part, that's thanks to his decision to work with a mental coach. "He is like a psychologist," Grosicki told Polish newspaper Przeglad Sportowy in a 2015 interview. "I can talk to him about everything, about the ball, and about life."
That man is Pawel Frelik.
Frelik has worked with over 400 players with Grosicki among them for the past three-and-a-half years. He is reluctant to take the credit for the player's form but is adamant that football is only now beginning to understand the importance of the game's mental side.
"It's like having a powerful engine in your car but having no key with which to start it," Frelik tells Sky Sports. "Our mind is the engine and mental training helps you develop the key and push you in the right direction.
"The awareness of its importance is increasing. For example, 10 years ago about three out of 100 players used it. Today it's 10 times more. What's changed is that it's no longer taboo and taking advantage of mental training shows how strong you are not how weak.
"But there remains a lot of work to be done. For example, the second leg of the tie between Barcelona and Paris Saint-Germain (in which the French side lost 6-1, surrendering a four-goal lead from the first leg) showed an absence of mental procedures in tough situations.
"PSG were like a sailboat without steering - controlled by outside forces such as the opponent, the referee and the scoreline. As a player, you can develop mental schemes using your own intuition, but it's more time-effective to use a specialist with lots of experience."
TurboGrosik
Former Southampton defender Tomasz Hajto came up with the nickname TurboGrosik while working as a pundit in Poland. Grosicki embraced the reference to his great speed and it is now his Twitter handle on his social media account.
As Frelik sees it, clarity is crucial. In layman's terms, it is about staying in the moment. "To fulfil his potential a player needs to develop simple and powerful thinking instead of having something like 30 different expectations all at once," he explains.
"Filling your head with expectations instead of the process lowers the probability of being effective. At the top level there is always pressure and our brain produces a lot of thoughts. But to meet expectations, it's necessary to fill your head with two or three ideas."
With Grosicki, the desire was never in doubt. Channelling it was the challenge. "First and foremost, Kamil is someone who wants to improve," adds Frelik. "He's dead set on winning and impacting his team's results. He has a hunger for assists, goals and creating chances.
"He also has fantastic energy which makes him unpredictable in a good way. Those are his unique features and it is my role to make him fully realise them; be unpredictable five times in a match not one, and not in one match but throughout the whole season."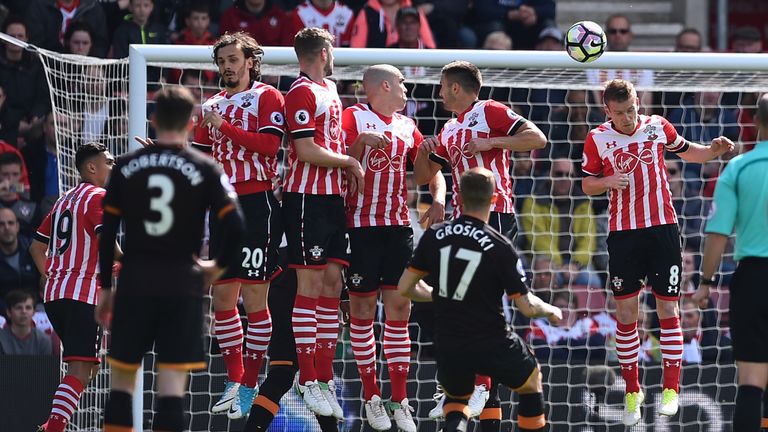 So far it is working. In fact, Grosicki is arguably the pick of the January arrivals in the Premier League. "I have definitely noticed changes," says Frelik. "He has achieved better focus, better control of emotions, greater consistency and more confidence in front of goal.
"I am definitely very proud of him, knowing how much work he has put into it. Personally, I have always believed in his potential and I was sure he would show his best in the Premier League. I know him very well and he is not finished yet." Perhaps he's just getting started.
There's a line on Frelik's website that seems particularly appropriate for Grosicki. "You can change your environment, your coach, your league," it reads. "But if you do not change or develop an appropriate mindset you will struggle to achieve your goals and dreams."
Grosicki's career has seen him criss-cross Europe in search of answers but it seems he is finding them by looking to himself. For the man nicknamed the Penny, it's tempting to think it's finally dropped. But he knows that it does not work that way.
"When someone says he's cured of gambling, I know it's just empty words," he told Przeglad Sportowy. "With this addiction it is not possible to completely get out."
The battle is an ongoing one. But right now, Kamil Grosicki is winning his.