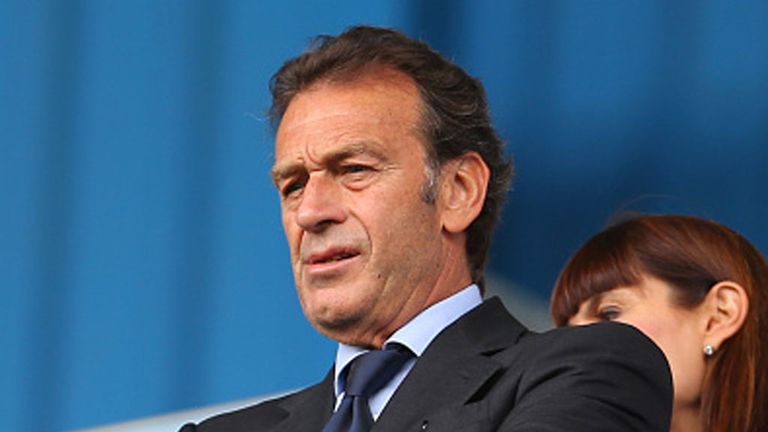 Massimo Cellino "can't take any more" and is ready to sell Leeds, but accused Leeds Fans Utd of telling "fairytales" after claiming the divisive owner reneged on plans to sell them the club.
The Italian purchased his 75 per cent controlling interest in the Elland Road club from Gulf Finance House in April 2014 and life has rarely been quiet since his arrival.
Protests against him by Leeds fans during the defeat against Blackburn led to him telling LFU on Friday that he was willing to sell them his controlling interest.
LFU was due to meet with Cellino's lawyers on Wednesday in a bid to gain an exclusivity period, but its plans have been thrown off track by his apparent change of heart.
"Leeds Fans Utd has just been informed by the lawyers of Massimo Cellino that he no longer wishes to sell to Leeds fans," the statement read.
"Our insistence on him confirming his verbal offer of exclusivity in a legally binding agreement has forced transparency on his motives.
"It is much better that we identify this insincerity now before we spend our shareholder's money.
"This exercise has proved our capacity to adapt to any acquisition scenario very quickly.
"We now know we have the capacity to do both a minority and majority deal, and it has shown that Leeds fans have a desire for fan ownership.
"We hope that Massimo will treat the club and fans with respect and honour."
LFU's statement clearly irked Cellino, who quickly fired back.
"They say a lot of fairytales," he told the Yorkshire Evening Post. "They really are like kids in a sweet shop.
"They talk too much. It is dangerous, this kind of publicity."
Being in the spotlight is something Cellino certainly knows a thing or two about, having seen six managers come and go during his tenture.
He has twice been banned by the Football League and faces three further criminal cases in his native Italy.
Cellino cannot, though, deal with the anger shown at him by United fans, which means the club could soon be changing hands once again.
"I'm very hurt and sad," he said. "I can't take any more."
The latest developments continues Leeds' state of flux, taking attention away from on-field matters the day after United's first home win since March.
Alex Mowatt's exceptional strike secured a 1-0 win against Cardiff, lifting Steve Evans' side to 17th in the Sky Bet Championship.
It was Leeds' first win since the former Rotherham manager's appointment and Evans is focusing on the job at hand instead of the background noise.
"I'm not getting involved in it, I don't think too much about it and it's not my job," he told Sky Sports News.
"Whoever owns Leeds United Football Club then Steve Evans would be very honoured to be their manager or head coach.
"And should that be the Leeds United supporters or Mr Cellino or whoever it would be, then it's my job to represent the badge, so to speak, and be in charge of a group of players and staff that's trying to win football matches because the most important thing is winning matches for supporters that are there forever.
"I am a custodian at the minute and owners are also custodians; the one thing that remains interested in a football club is, of course, the fans."