Kemar Roofe on Marcelo Bielsa, League Two and Mark Viduka
Watch Leeds v Middlesbrough live on Sky Sports Football from 7pm on Friday
Last Updated: 17/04/20 10:15am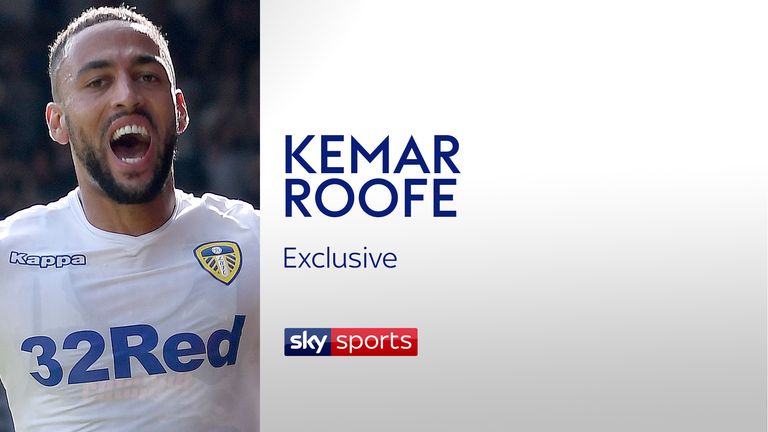 Leeds have got used to having good starts in recent years, but something about this season feels a little bit different.
The reason? Marcelo Bielsa. The world-renowned coach has found himself at Elland Road and so far brought the best out of most of his squad, with Kemar Roofe benefiting in particular.
The forward has turned into Bielsa's outright No 9 at Leeds this season, keeping summer signing Patrick Bamford on the bench and scoring four times in five games to fire the club to the top of the Sky Bet Championship table.
"We've had good starts in the past and tailed off at the end so hopefully this season we can maintain it," Roofe told Sky Sports ahead of Leeds' clash with Middlesbrough on Friday night.
"I think what he's done is he's studied our previous seasons in detail and he's identified our strengths and weaknesses. Then every day on the training field he designs every session to improve on our weaknesses. If we've done something not so good in a game then the following week he'll find a way to address it and better us.
"This pre-season was the hardest I've ever done. His staff are top quality as well and the work and detail they've put in are amazing. It's opened all our minds on what we have to do.
"There are translators and some of the coaches speak English, but at the time we kind of know what he's saying already. If he's pointing or if we know we've done something wrong or something right he'll say it in Spanish and we'll understand it."
There could barely be a bigger contrast between Leeds' last two managers. Paul Heckingbottom arrived from down the road in Barnsley, only to be dismissed after just a few months in charge, while Bielsa has been coaching around the world for decades, influencing the likes of Pep Guardiola and Mauricio Pochettino. It was an appointment that excited Roofe right from the off.
"Obviously the natural thing is to do your research and find out a bit more about what he's like and who he's worked with," he said.
"One of my favourite players is Alexis Sanchez so as soon as I found out he was the Chile head coach I was excited. If he's worked with him he'll know his strengths and then hopefully he can pass it onto me.
"His style and tactics suit the strengths of a lot of our players. We're not the biggest side so what's the point in playing long balls?"
Like many young English players now, Roofe was forced to look beyond the Premier League for first-team football after failing to make an appearance for West Brom.
At the start of the 2015/16 season, he made the drop down to League Two after impressing in a loan stint there with Oxford, scoring 26 times across all competitions to earn a move to Leeds.
It's a similar story to plenty of the stars of England's World Cup campaign, who improved due to battling their way through the lower leagues.
"If you're a young player at a Premier League team and you're not playing, it's difficult," said Roofe. "It's tough for young players in the Premier League now because managers are under so much pressure to get results, which is understandable, so you have to look for another option.
"For me, that was League Two and Oxford. I knew the manager there Michael Appleton and I was in good hands. There's no glitz or glamour down there and it hardened me. The opposition are there to take the ball off you, put you on the floor and score themselves."
For Roofe, the aim is the Premier League. But he wants to get there as much for the club as he does for himself.
He admits his own memories of Leeds in the top flight are a little vague, but there is one club legend who stands out in his mind from those days.
"Everywhere you go you see a Leeds fan and you know what promotion would mean for the area and the club," he said. "I think that's why everyone who comes here loves it.
"I do remember bits but when I was younger I was more bothered about playing, or if I was watching it was just about the skills or goals.
"One player I do remember though is Mark Viduka and his goalscoring ability. Hopefully I can try and replicate some of that this season."
If Roofe can replicate just a bit of what the Australian brought to Elland Road, then they might just have a chance this season.