Happy Lees
Graeme Bailey catches up with England Under-21 and Leeds United defender Tom Lees.
Last Updated: 27/05/13 11:10am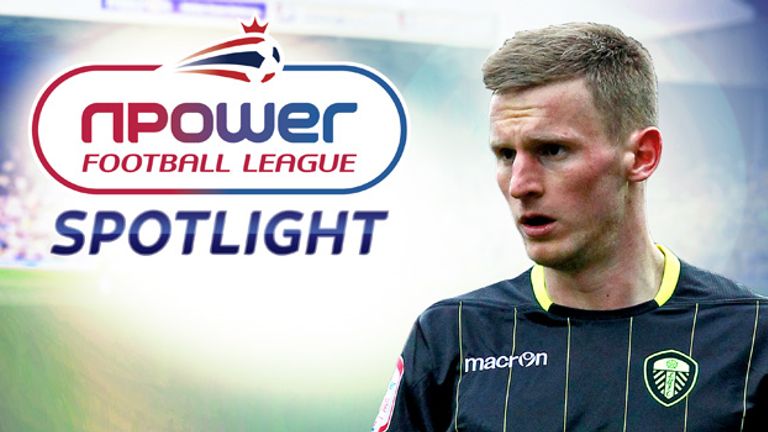 The 2012/13 campaign has entered its final straight, and we continue to take you to the very heart of the Football League, with our Spotlight features intended to give you a greater insight into the clubs and players that keep us on the edge of our seats.
We have aimed to get the views and thoughts of a representative from each of the 72 teams over the course of the season, with those involved asked to give their take on the division they compete in, the club that pays their wages and those we should all be keeping an eye on.
Before it's all over Graeme Bailey talked to Leeds United starlet Tom Lees. After another impressive campaign, the England Under-21 international talks us through his blossoming career to date and what the future might have in store for the young defender.
Tom, you have come through Leeds' outstanding academy, but you don't come from Yorkshire, you were born in the Midlands - so how come Leeds?
I was born in Birmingham, but we moved to Leeds when I was four and then I just went to a summer camp one year, when I was about seven and I got scouted. It was actually Greg Abbott - who is now manager at Carlisle - he took me up to Thorp Arch when I was about eight and I have been there ever since.
As with most age groups, you must have played with a lot of good players already?
We had a good age group and a lot of the lads are playing the game now and we have had a number playing internationally, and there were a number of guys who were signed by other clubs and that just points to the work Leeds do. And they plough so much into the Academy and we have a wonderful training ground.
Your progress was hit by a serious knee problem early on...
It was a really difficult time, I picked it up in the youth cup when I was a first-year scholar and I was out about 12 months and it did set me back and put my progress on hold as I thought I was doing well. But in some ways it did me good as I was so much stronger both mentally and physically and I knew at that point I just could not take football for granted as perhaps was the case before. But the Leeds staff were great, they brought me back properly - not too quick but touch wood everything has been great and since then I have played four solid seasons of football.
You were loaned out to Accrington and Bury, how much of a help was that?
With my injury I missed most of my youth team seasons and I came back in the summer and I thought I had to get out and play football really and I needed that, so I went on two season-long loans with Accrington and then Bury - where I got promoted. So I was just really happy playing football, I got the chance to show I was back to my best and more. There is that physical aspect in League One and Two and that helped me so much, and gave me the confidence to come back to Leeds and aim for the first team. Going out on loan was that chance to prove myself as sometimes people may not take youth football that serious, but I thought I showed my capabilities and winning promotion with Bury I think helped turn a few heads.
Your debut must have been a big event?
I came on in a midweek game against Bradford and we were losing and we managed to win, and it was great. I was really thankful for Simon Grayson for giving me that chance and I managed to take that on for the rest of the season.
Then came England U21s?
It is a massive thing to be called up for your country, I was not lucky enough to play for England as a kid, so it meant a lot to me and it was a great thing and I just tried to play week in, week out for Leeds and to get the call-up. Now I want to try and get in the squad in the summer as I would be delighted to go but there are a lot of very good players in the squad.
You have come through a lot with the U21s in a short space of time...
I came into it late, but I felt there was a very good spirit in the camp and the lads were great with me and now I have been involved a few times, it is really good and we will go into the tournament with great heart and form.
Obviously Leeds have not had a great season, how do you feel it went?
As a young player in the Championship, every week you just go into it - it sounds clichéd - but you know it is a tough game and I just think about putting three or four games together and getting a good month under my belt. I am quite critical of myself and I watched back games, so I don't even think about people watching me and that is not my focus, that is Leeds and I just want to continue doing well and keeping my place. Obviously I want to play at the highest level, but it has been disappointing this year as we wanted to get promoted, but I need to have a good finish and try and get into the Euros. You need to be playing at your best no matter what and try to get to the top of my game and I feel I have been doing that for the last few seasons.
And it has hurt the fans...
There is a lot of expectation at the club, but rightfully so as it is a big club and this season has not been good enough. But I think it will stand me in good stead personally playing for a big club like this in the Championship. But the fans stick by the team and get behind us and the lads are genuinely frustrated. We only have ourselves to blame and we are disappointed, and we are just focussed on doing well and obviously impressing the new manager.
Off field there have been a number of issues, does that impact on the players?
It does not affect us at training or at games and it does not really have much to do with us, and does not really impact on us. Nothing really changes for us, and we can't use that as an excuse. Maybe things will change this summer, but again that is not down to us.
The new boss has come in recently, what has that been like?
Everyone is excited and already looking forward to what he can bring to the squad as a whole, but it also means we are having to make sure there is no slacking at the end of the season and we again want to finish on a good note before the summer.