Championship: Leeds United's El-Hadji Diouf still part of Brian McDermott's plans
El-Hadji Diouf still remains part of boss Brian McDermott's plans but the pair will hold talks in the new year.
Last Updated: 12/12/13 5:05pm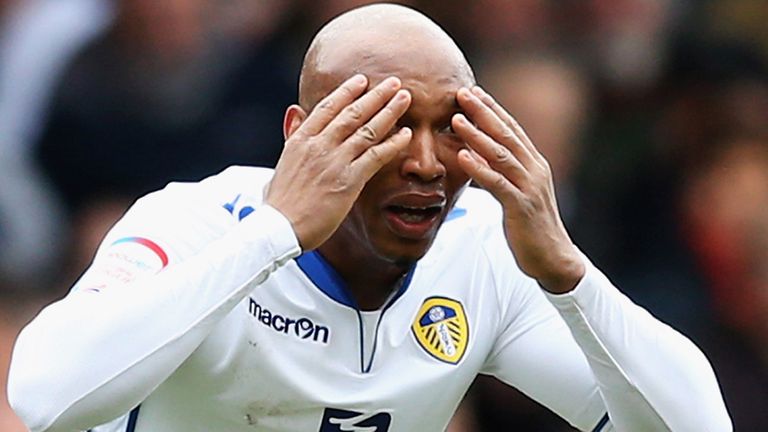 Diouf has made only five appearances for Leeds this season, which has failed to get going for the Senegal international after he returned from Africa with a shin infection in the summer and struggled to win back a place in McDermott's side.
The 32-year-old has since spent time back in Senegal for personal reasons. He was deeply affected by the death of former Senegal coach Bruno Metsu, while the two-time African player of the year is to attend Nelson Mandela's funeral this week.
McDermott confirmed Diouf will not be included in the squad for this weekend's derby clash at his former club Doncaster.
"That won't happen," McDermott said. "It's a difficult one for Dioufy. He's spent quite a lot of time away, travelling over to Senegal and has had a few things he needs to sort out personally as well.
"It's been difficult for me to be able to give him an opportunity because quite frankly he's not been around the training ground as much and it's been a tough one for me.
"That's where we're at with him at the moment. I'm not saying there's an issue. There isn't. But training-wise with the group - he's not done a lot and to give himself a chance he has to be training and be right up to speed.
"The circumstances are what they are, but from a football point of view, you have to be in and around the training ground, you have to be up to speed.
"He's got a few personal things that are happening as well and sometimes life is what it is and there are more important things than football that you have to take care of."
McDermott said that it did not mean Leeds fans had seen the last of the former Rangers, Bolton, Liverpool and Blackburn forward.
"I'm not saying that, absolutely not saying that," the Leeds manager added. "We'll have to see.
"There's been different circumstances. He's been away with Senegal, he played in a game recently, then he had something else that he needs to take care of.
"He was at Nelson Mandela's funeral. Nelson Mandela gave him the African player of the year (award) and Nelson Mandela is obviously a great man, so Dioufy felt it was really important for him to be at that funeral.
"I wouldn't take that away from him. I've got no problem with him, but from my point of view you have to be training, be involved and around.
"I've spoken to Dioufy about it and said see where we are in January. See what the situation is, see if you're in the team or not and we can talk again. It's very clear."
Former Leeds boss Neil Warnock controversially put aside his personal differences with Diouf to bring him to Elland Road in the summer of 2012.
Warnock had publically described the player as "a sewer rat" before hailing him a "matador" as Diouf went on to score seven goals in 45 appearances last season.