Luton vs Coventry: James Collins on Alan Shearer, Paolo Di Canio and promotion
Watch Luton vs Coventry on Sunday, live on Sky Sports Football from 11.45am
Last Updated: 24/02/19 12:09pm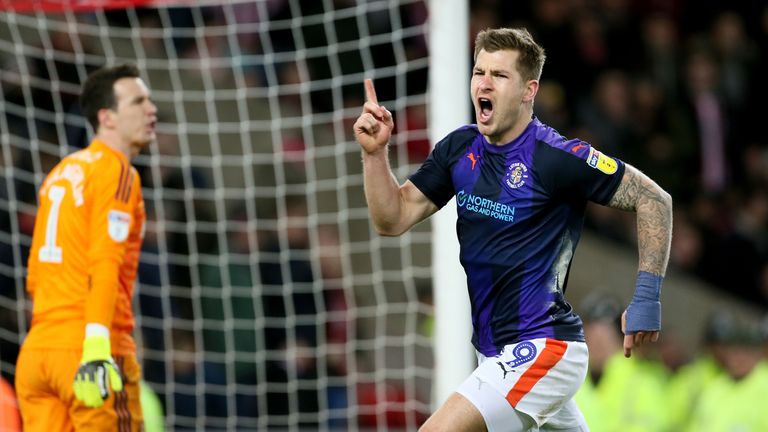 James Collins makes no secret of being a Coventry supporter, but when the Sky Blues visit the striker's current club Luton on Sunday, he will not be holding back.
"My job is scoring goals for Luton and if I'm doing that, I'm justified in celebrating," the most in-form forward in England makes clear.
With 12 goals in 12 league games, Collins sees Coventry as just another opponent to dismantle in Luton's push for a second consecutive promotion and return to the Championship after a 12-year absence.
The two clubs - with storied histories but demoralising recent pasts - meet at Kenilworth Road, live on Sky Sports Football and Collins has no qualms about facing his hometown club having scored twice in six games against them across spells with Crawley, Shrewsbury, Swindon and Luton.
Top scorers in England 15 Dec-20 Feb (Opta)
| | | | |
| --- | --- | --- | --- |
| Player | Club (division) | League games | League goals |
| James Collins | Luton (L1) | 12 | 12 |
| Teemu Pukki | Norwich (Champ) | 12 | 11 |
| Billy Sharp | Sheff Utd (Champ) | 10 | 11 |
| Che Adams | Birmingham (Champ) | 11 | 10 |
| Jarrod Bowen | Hull (Champ) | 11 | 10 |
| Tammy Abraham | Aston Villa (Champ) | 12 | 9 |
| Sergio Aguero | Man City (PL) | 10 | 9 |
| Cauley Woodrow | Barnsley (L1) | 13 | 8 |
| Tyler Walker | Mansfield (L2) | 13 | 8 |
| Jay O'Shea | Bury (L2) | 12 | 8 |
"I am a Cov fan deep down, but I'm a Luton Town player and will celebrate against anyone," he says. "I've played against them for various clubs and thoroughly believe, if you score a goal, you should celebrate it... within reason. I wouldn't want to rub it in too much."
Highfield Road memories
Coventry were relegated from the Premier League in 2001, when Collins was just 10, and the club moved to the disastrous Ricoh Arena in 2005.
Collins was a regular at their old Highfield Road ground before his youth career took off as he made his way through the Aston Villa academy under Martin O'Neill.
"I was born and bred in Coventry," says the forward, who qualifies for the Republic of Ireland and would be "delighted" if he gained a senior call-up. "I signed for Cov when I was 11 but was released and signed for Villa at 13 and stayed till I was 21.
"Me and my dad were season-ticket holders at Highfield Road in the Premier League days. He bought my first season ticket when I was six or seven and we had them until I started playing Saturdays."
Collins says he had limited contact but a good relationship with O'Neill, who allowed him to spend time out on loan to gain valuable experience.
Looking up to Shearer
He has based his game, however, not on a Villa or Coventry legend, but on one of England's greatest scorers.
The 28-year-old says: "Growing up, I was an Alan Shearer fan. I like to get hold of the ball, link play up, work hard and get in the box to score goals. That pretty much sums me up as a player."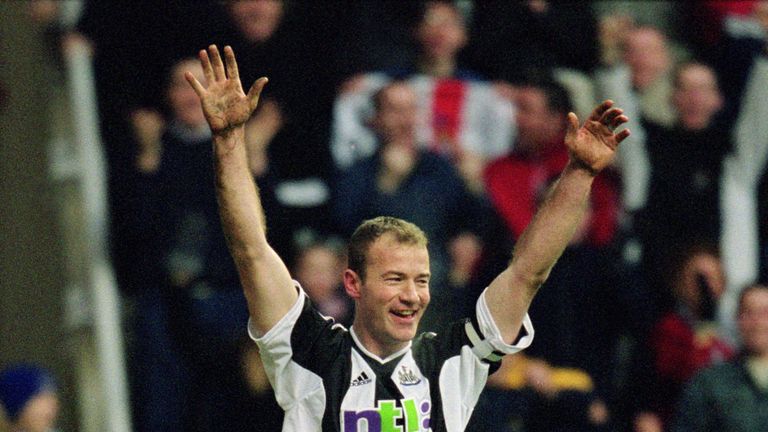 With one of the best goalscoring records across England's four divisions in the past two months, this style is clearly causing defences problems and fuelling Luton's rise to promotion favourites.
He was rewarded with the Sky Bet player of the month award in January, a period in which Luton lost manager Nathan Jones to Stoke and then moved top of the table as caretaker, club legend and decent centre forward in his own right, Mick Harford, steadied the fort.
"Mick's record since taking over has been outstanding," Collins says of Harford, who was rewarded earlier this month by being asked to take charge until the summer.
"He has a lot of respect at the club from the boys, staff and the fans. He'll keep doing what he's doing and we'll see where it takes us.
"Nathan set the foundations in place, integrating the formation and training standards.
"We've carried that on, still playing with a diamond, still training in same way. Mick's not hands-on in training, he'll leave that to Indigo (Idiakez) and Steve Rutter. Then Mick will take us on a Friday and do our shape."
Learning from legends
Though Harford may leave his coaches to run training during the week, Collins has clearly benefited from working under the 60-year-old, who won the League Cup with Luton in 1988, and has had a long association with the club in various capacities.
"Mick gives me little tips and the freedom to go out and do my job. Since he's taken over, my form has probably been the best it's ever been," he said.
Modelling himself on the Premier League's all-time top scorer Shearer and taking tips from ex-Wimbledon crazy gang member Harford makes sense when Collins' bustling style is seen in action. But while at Swindon, he came under the care of another Premier League cult hero.
"Working with Paolo was one of the highlights of my career," Collins says when asked about Di Canio's eventful reign at the County Ground between 2011-2013.
'I would be delighted if I got a call-up [to the Republic of Ireland squad], that's definitely an ambition of mine.'
Collins on international recognition
"He was a massive part of me signing for Swindon - the vision, the passion he had was the reason I signed.
"His work ethic and attention to detail are second to none - and he's a winner. I was gutted when he left because if he stayed past January, I believe we would have got promoted."
Expert in promotion
Promotion is something of a habit for Collins, who has gone up from League Two with Northampton, Shrewsbury (twice) and Luton. This season, he is looking to go one step further.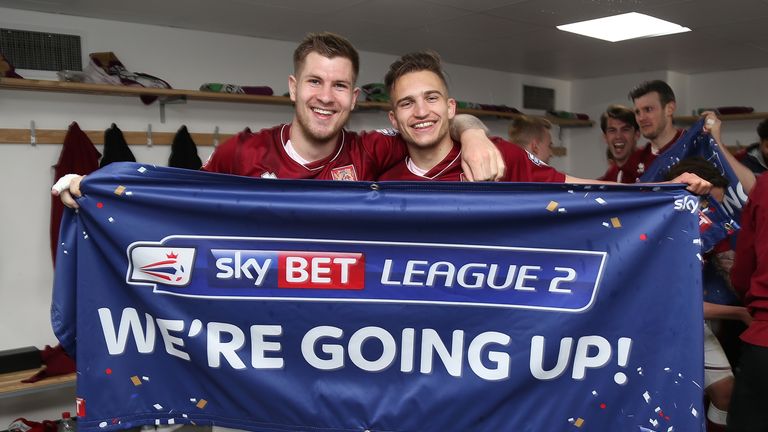 "Our first three games were tough," he says of taking one point from Portsmouth and Peterborough away and Sunderland at home in August. "Those three are all now up near the top, so it shows how good they were."
The return fixtures in January brought a hard-fought draw at Sunderland days after Jones had jumped ship for Stoke before a 4-0 thrashing of Posh and an epic 3-2 victory over Pompey in front of a full house on a snow-covered Kenilworth Road pitch.
"The Portsmouth result gave us a massive boost and sent out a statement to the league," Collins says. "The first half is probably the best we've played all season and we were disappointed it was only 1-0 at half-time.
"George Moncur's last-minute winner is an example of how well we did in the January transfer window. He added that quality."
No room for complacency
Despite losing their manager during the biggest month of the season, Luton kept hold of their players and brought in Moncur from promotion rivals Barnsley as well as striker Jason Cummings, who adds yet more depth to Luton's forward line.
"Competition is healthy," Collins says. "It stops complacency. If you know someone is chomping at the bit to take your shirt then it brings the best out in you.
"The competition at Luton is frightening. We have a squad of players who could walk into any League One side."
Defying expectations
On Sunday, that squad will have a heaving home end behind them at Kenilworth Road but Collins may have some friends and family with split allegiances.
"My mum and dad go to most of my games, so they'll be there," Collins says. "And my fiancée, her mum and dad and my kids, too. And as it's on TV, there'll be a fair few watching at home!"
Pushing for promotion with a caretaker boss may be unconventional, as is your star striker being a fan of the opposition. But Collins and Luton have spent a whole season defying expectations and are not planning on stopping now.