Billy Knott interview: Gillingham man on England dreams and future plans
By Adam Bate
Last Updated: 01/09/16 8:29am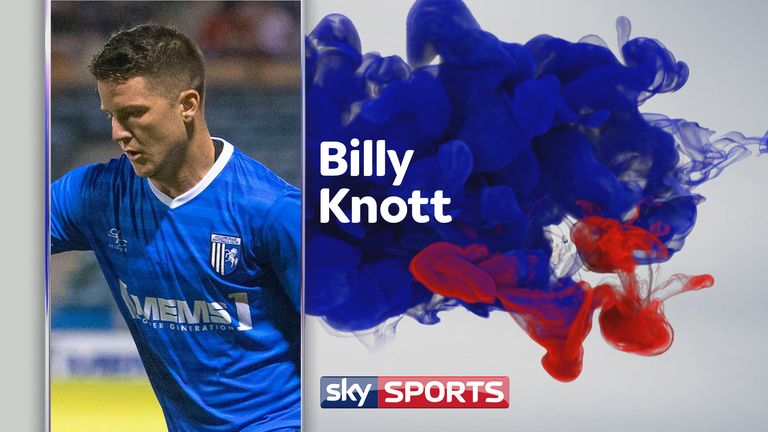 Ahead of Gillingham's clash with Sheffield United live on Sky Sports 1 HD this Sunday, Gills midfielder Billy Knott discusses his move to the club, memories of Paolo Di Canio and his role in England's 2011 Under-20 World Cup campaign…
Billy Knott's back home. It's been a long journey to get there for the young man who joined Sunderland's academy at 17. The Canvey Island-born midfielder subsequently spent time at Bradford but he's down south once more following a summer switch to Gillingham.
"It was an easy choice even though I had options," the 23-year-old tells Sky Sports. "It's the right place for me. It's been good with a new bunch of lads. I've settled in really well.
"I only live in Canvey Island which is 45 minutes away so I'm with my family now. Last season was a difficult one for me with the passing of my grandpa. It was a tough year. But I'm in more familiar surroundings now and there are a load of southern lads so it's easier."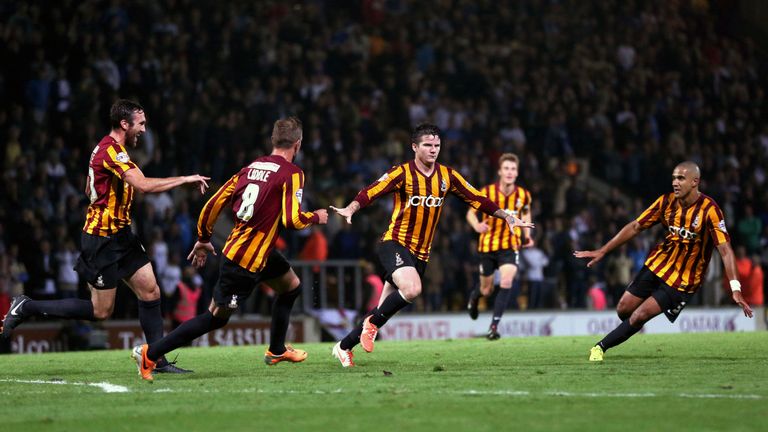 It's not that his time at Bradford didn't have its high points. There was one particular volley in a cup tie against rivals Leeds United that will live long in the memory for the club's fans and he remained a popular figure with the supporters until the end.
"It was good up there and the fans were brilliant," adds Knott, who scored eight goals in 79 games for Bradford. "They stuck by me even when I wasn't playing. With the gaffer that wasn't picking me there, Phil Parkinson, it just got a bit frustrating.
"It was brilliant in the first year at Bradford but in the second year I wasn't really playing so obviously you start missing home and stuff a bit more. Being back home and seeing friends most weeks and family every day I feel more relaxed."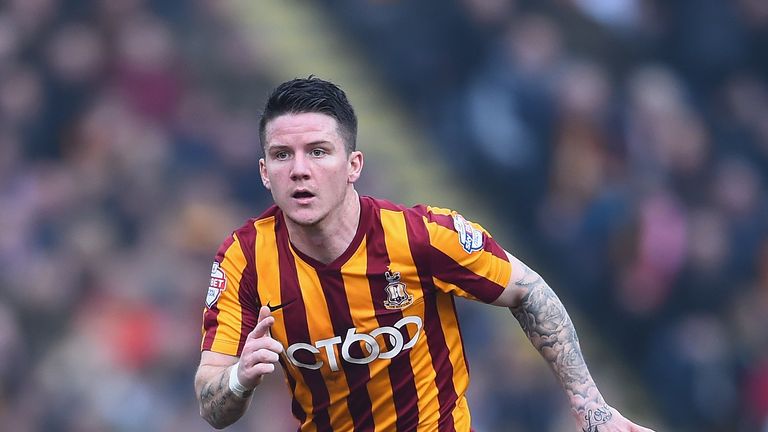 It was brilliant in the first year at Bradford but in the second year I wasn't really playing so obviously you start missing home and stuff a bit more.
Billy Knott
The hope is that with a run in the side and the right support, Knott can tap into the potential that once saw him play for England at the 2011 Under-20 World Cup in Colombia. In fact, not only did Knott play in that tournament but he was one of the stars for his country.
In a squad that also included the likes of Jack Butland and Saido Berahino, FIFA's technical report singled him out as England's outstanding outfield player, describing him as a "tireless central midfielder with good vision". Not bad given that he wasn't even supposed to be on the plane.
"I was on standby for the squad and I didn't think I was going to go at all," he says. "Dean Parrett was playing in my position and he's a great player and a mate of mine. But it was one of those things where I got my head down and to get on the pitch was a bonus."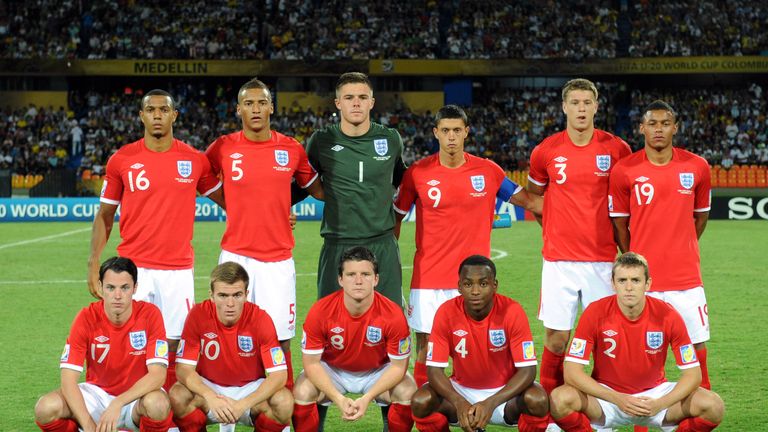 Knott took advantage of the withdrawals and got to play against Argentina in front of 40,000 people. He even hit the bar in the last-16 loss to Nigeria. "It was a really good tournament," he adds. "I don't think we won a game, we kept drawing, but it was a fantastic experience.
"When you play for your country you just run your socks off, to be honest with you. You're walking out against Argentina for your country in a World Cup. You can't really beat that as a young kid. They are memories that will stay with me forever really."
Successful loan spells at Wimbledon and Woking followed but the big breakthrough looked to have come when Knott made his Premier League debut for Sunderland against Tottenham at White Hart Lane towards the end of the 2012/13 season.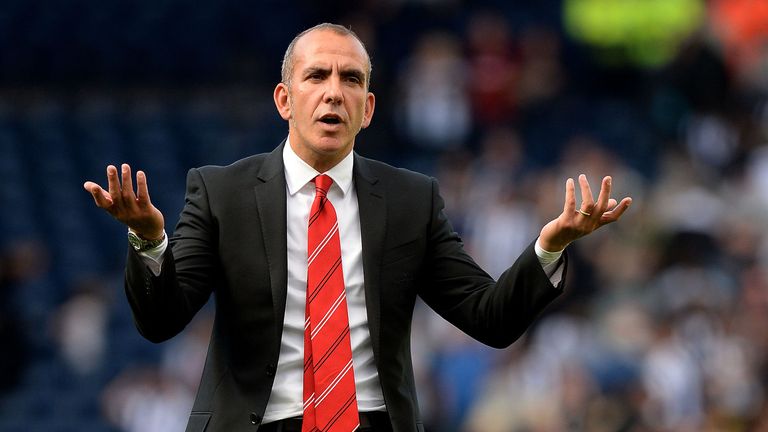 He just wanted everyone to improve really and get up to his standard, but nobody was every going to get up to his standard!
Billy Knott on Paolo Di Canio
Paolo Di Canio was the coach and Knott remains grateful. "He was good," he says. "People have said that he's crazy and that but I just think he's passionate. There are a few stories but I liked my time under him. He always had me with the first-team in my time there.
"When he joined in and stuff, you could tell he'd been a fantastic player because he still had something about him. He just wanted everyone to improve really and get up to his standard, but nobody was every going to get up to his standard!"
Former Tottenham full-back Justin Edinburgh didn't quite have Di Canio's skills, but the Gillingham boss might just be the right man to take Knott's career forward. He knows the player well and the trust between the two men is already well established.
"I used to go on soccer schools when I was six or seven," says Knott. "The gaffer was still playing then and he used to come and take a few sessions so I've known him for a long time and I know his son Charlie quite well too.
"The gaffer knows me inside and out and he isn't going to put me on the bench after one bad game. That's what I thought was happening at Bradford. After one bad game I'd be out. The gaffer here knows what I can do and has got trust in me. I'm really happy, to be honest.
"My preferred position is as a No 10 but I started playing on the left of the diamond in pre-season and really enjoyed it. We pass the ball and there's been a lot of movement anyway so there's no fixed position. Everyone rotates so there's a freedom to go and play."
The early signs have been good with the Gills winning their first three games. There was the aberration of a 5-0 defeat to Scunthorpe but that was soon shrugged off, Knott playing the full two hours in the subsequent 2-1 EFL Cup win away to Premier League side Watford.
Big names such as Paul Konchesky and Jamie O'Hara have arrived and optimism abounds. "They had a good squad last year and with the boys that have been brought in they've just built on that," says Knott. "All of us new boys have settled in really well.
"The gaffer wants to better last season and Gillingham finished eighth last season so if you better that then you're going to be touching the play-offs. But the real aim is the top two. You don't go into a season saying you want to be mid-table and just make the play-offs."
So how far can the young man who has already had a taste of the Premier League, as well as playing for England against Argentina in a World Cup, actually go? "Of course, as a professional footballer you do want to play at the highest level," he admits.
"But I'm at Gillingham now and I will be focusing on that. My first aim is to help take Gillingham back into the Championship. Then we'll see where we go. But I'm really, really looking forward to this season."
Gillingham face Sheffield United live on Sky Sports 1 HD from 2pm this Sunday