How Bristol City's Aden Flint went from tarmacking roads to taking on Manchester City, in the words of those who have followed his journey.
"I remember a story about Aden," Nicky Law tells Sky Sports, laughing at the memory. "He was tarmacking the roads at the time as well as playing for me at Alfreton. He was one of the fittest lads ever, an absolute machine at running. But one day we came in for pre-season training and I saw him throwing up on the side of the pitch.
"I jokingly asked him if he had been out on the beer. He said no but I told him that was not how it looked. He explained that he had come straight from work. He had done this overtime shift but he had still come to training. He was physically wrecked. I thought it was because he had been drinking but he had been doing a double shift."
No wonder that Aden Flint is determined to seize his chance. Man of the match in the first leg of Bristol City's Carabao Cup semi-final first leg against Manchester City, notably clearing off the line from Raheem Sterling, his side are still in with a sniff of a Wembley final. Flint has impressed so much that there is talk of top-flight interest in him this January.
It is some rise for a player who was still tarmacking those roads into his twenties. Law, the long-time Alfreton boss now recruiting for Burnley, means no disrespect when he calls it a rags-to-riches tale. "He has not come from an affluent area," says Law. "His parents are good people, very grounded and massively supportive to Aden.
"I got him in when he was 17 playing for Pinxton. He was not ready at the time so we sent him out on loan to Matlock Town. He was very raw but he had the attributes and a phenomenal attitude. I made him captain of the team at 19. He was just a warrior on the pitch. He was everything you wanted and he led by example at a young age."
It took time for interest in the young defender playing in the Conference North to emerge, despite Law's best efforts. "I recommended him to everyone in our area," he says. "Rotherham, Chesterfield and the Sheffield clubs. Unfortunately for Aden and even more unfortunately for them, none of them seemed to follow it up.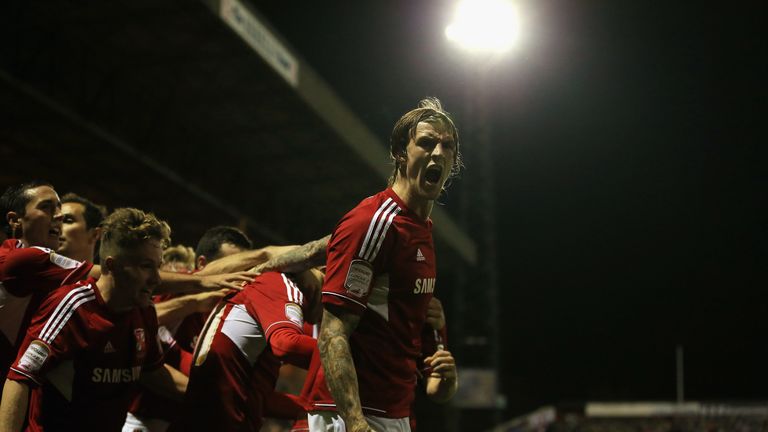 "But at the time I had Laurie Wilson, Danny Wilson's lad, at Alfreton and he had been onto his dad at Swindon. His dad rang and asked if Aden was worth a punt. All day long, I said. I can't believe nobody else has. Then there was a flurry of interest. Once one is in then they are all in. He went to Swindon and while it didn't work out for Danny, it did for Aden."
It was not quite that easy. David Prutton was one of the senior players at Swindon at the time and remembers those early days for Flint. "I thought he was very raw," Prutton tells Sky Sports. "He was a nice fella. He was coming into a professional football club having been in non-league and wanted to make the most of himself.
"I think you have to work hard when you have come via that route and he did. You got the feeling that he appreciated the opportunity. I am very impressed with how his career has gone. He had the physical capabilities but he has worked hard on trying to develop into a ball-playing centre-half. Obviously, his goalscoring record is phenomenal too."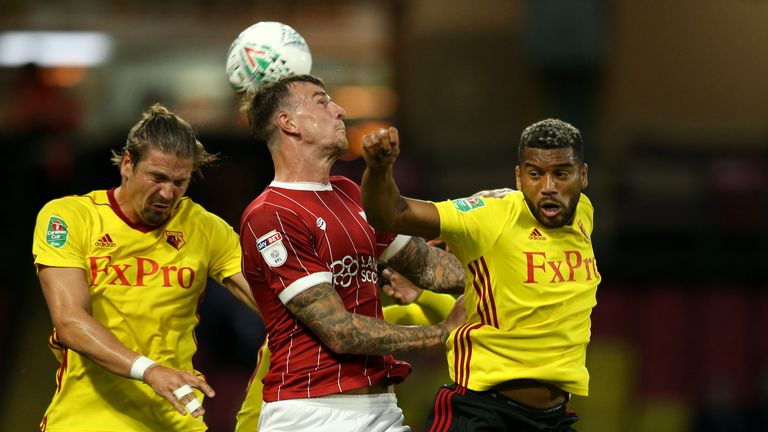 It is impossible to ignore Flint's record in front of goal. He scored 15 goals in Bristol City's promotion season from League One and has found the net twice as many times this season as any other centre-back in the Championship. He has admitted to getting angry when his team-mates don't find him in the box. His appetite to score is insatiable.
"He just has that natural ability to get into the right place at the right time," Bristol City team-mate Marlon Pack tells Sky Sports. "Some of the positions he gets into in a game are what a centre-forward or fox in the box would do." But it is not all natural. Like so much of Flint's success, it comes down to working harder than the next guy.
"In training when there are finishing sessions going on and there are no other defenders involved he will be right in the thick of it," adds Pack. "He is a defender but it is a big part of his game. I think the manager would prefer him to work on his defending but it's working for him. He has been scoring some vital goals for us so long may it continue."


Tuesday night at a packed Ashton Gate would be a good time to add to that tally against Pep Guardiola's Manchester City. A good time to show that even at the age of 28, there is time for Flint to complete the final stage of his journey from non-league to Premier League. Prutton is not ruling out his old team-mate making that step.
"There are players who spend years in the lower leagues," he says. "I played with Wes Morgan and if you had told me that he was going to win the Premier League, I would have guffawed with the greatest respect to Wes. There are certain similarities there so it is certainly possible that he could play in the Premier League - maybe even with Bristol City."
For Nicky Law, the pride if Flint can achieve that would be immeasurable. "I am in contact with Aden all the time," he adds. "He is a great lad. I just hope he can get to the Premier League because if anyone has worked at it then that boy has. And he has done it through his sheer desire to succeed."