Blackpool's owners the Oyston family have put both the club and the company that owns Bloomfield Road up for sale.
Blackpool FC and Blackpool FC Properties Ltd are both available to buy as Owen Oyston and son Karl look to end their 31-year relationship with the Lancashire club.
The club confirmed in a statement on Friday that the Oystons are also appealing elements of a recent High Court judgement ordering them to pay a fellow shareholder more than £30m.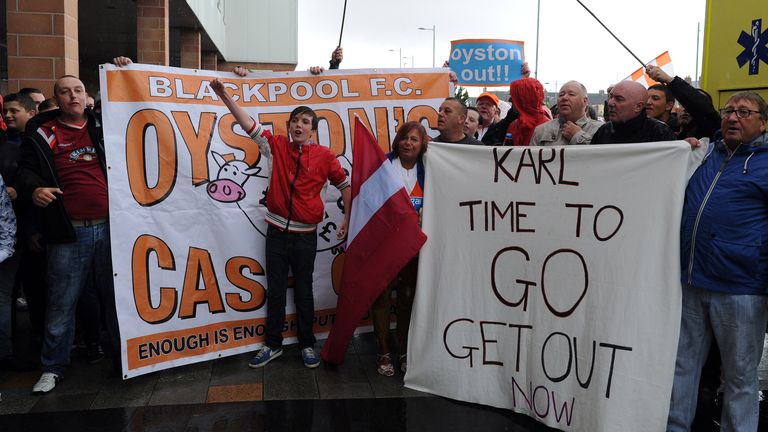 Latvian businessman Valeri Belokon - a minor shareholder in the League One club through his company VB Assets - brought the action against the Oystons alleging they had shown unfair prejudice against shareholders.
Just four days later, a Blackpool statement confirmed: "The directors are now in a position, following the conclusion of litigation, to market for sale Blackpool Football Club Limited and Blackpool Football Club Properties Limited.
"Following the recent High Court judgement, legal counsel for the respondents have been instructed to apply for leave to appeal elements of the judgement with immediate effect.
"In the interim period, as throughout the litigation process, the focus of the football club's board remains on supporting the manager and continuing to negate the impact of off-field issues."
The Oyston family's ownership of the club has been contentious among supporters, who have regularly protested against it not only in Blackpool but up and own the United Kingdom.
Owen Oyston bought the club for £1 in 1986 and, with son Karl as chairman, they were promoted to the Premier League under Ian Holloway's management in 2010 before immediate relegation after just one season.
The club suffered successive relegations to the bottom tier between 2015 and 2016 but were promoted back into League One under Gary Bowyer's management last term. They are currently 12th in the division.