Brendan Rodgers says he wanted to sign Ashley Williams at Liverpool
By Lewis Jones
Last Updated: 19/01/16 8:43am
Brendan Rodgers says Ashley Williams could play for a top Premier League club and that he wanted him at Liverpool.
Swansea captain Williams headed home the only goal of the game in the 27th minute as the Swans beat Watford 1-0 on Monday Night Football.
The win moves them out of the bottom three at the expense of Newcastle.
Williams, 31, worked under former Liverpool boss Rodgers at Swansea before the manager took over at Anfield in 2012.
The centre-back is also a key member of Chris Coleman's Wales team that qualified for Euro 2016 and conceded just four goals in 10 qualification games.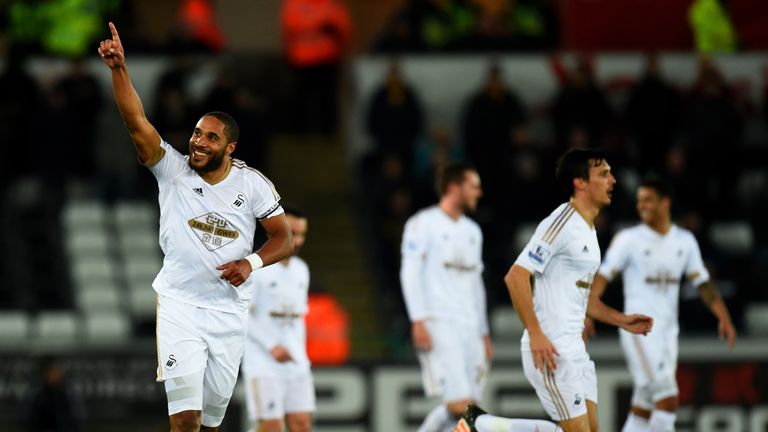 Rodgers told Monday Night Football: "He's a top, top centre-half. I've always felt he could play for one of the very top clubs in the league. He's been very loyal to Swansea. He's a wonderful player and always plays over 40 games a season - every season. He can defend, is strong and deals with all types of strikers. What makes him stand out is that he's immaculate on the ball. He's a massive player for Swansea.
"I wanted to take him to Liverpool. He's one of the few breeds in that he's a leader - managers and coaches are looking for leaders on the field and in the game. You saw it tonight, when the ball goes into the box he gets his head on it. Every single game he's up for. I think he's an incredible player."
Jamie Carragher agreed with Rodgers and said he was surprised that a club towards the top of the Premier League haven't taken a chance on the Swansea captain, who has played over 150 times for the Swans at the top level.
He said: "You look at the top clubs and you can see deficiencies in centre-backs - there is a dearth of them. If you're a manager of a top club you can't go to another top club to take their player, so - no disrespect to Swansea - but it's a type of club where you can take their players if it's the right money. Maybe it's because he's not a fancy name and he's come through the lower leagues - maybe that puts people off.
"Centre-backs can normally play until they're 33 or 34, that's why it is a surprise that no one has taken the plunge."