Carlos Carvalhal claims 'epic' point as 10-man Swansea repel Huddersfield
Last Updated: 10/03/18 7:03pm
Swansea boss Carlos Carvalhal claimed an "epic" point and declared his side's 0-0 draw with Huddersfield as one of the best results of his tenure.
Carvalhal was seen pumping his fists in celebration at the final whistle after Swansea held on to claim a draw against their relegation rivals despite playing 79 minutes with 10 men following Jordan Ayew's red card.
The sending-off pushed the visitors into their shell, conceding possession as Huddersfield enjoyed 81 per cent of the ball, but a brilliant defensive performance ensured their fine recent form continued in their bid to avoid the drop.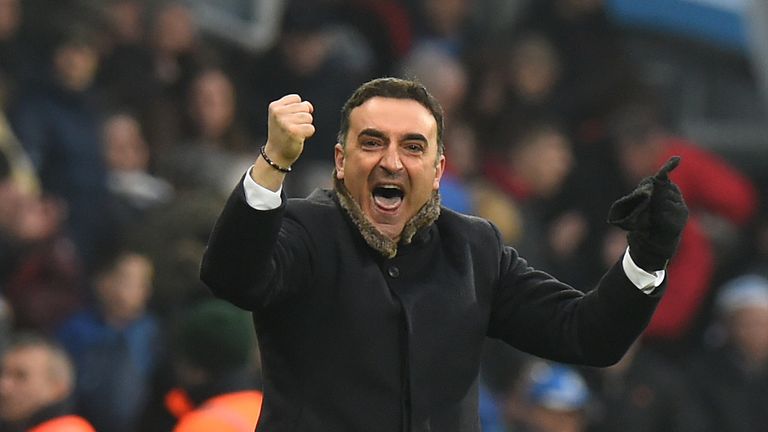 "This is one of our best results because of the circumstances of the game and the importance of the game," said Carvalhal.
"My players were brave. They fought a lot, the commitment was very strong. We played with 10 players for most of the game.
"When we lost one player, we knew we missed the bridge to go to attack, so we had to protect the point. You see how many crosses and corners they had, but my players were unbelievable. They were brave and we achieved an epic point this afternoon.
"My players are ready to suffer if they need to. They've done it in the past. We showed big character and another face of our team. Last week we played very good football and scored four goals, but a week later, the opponent put the questions and we answered them.
"If we played with 11 players we would have put questions to Hudd but we won one point and a very very important point."
Carvalhal admitted he did not think Ayew's challenge on Jonathan Hogg warranted a red card at the time, but having watched it after the game, he accepted the decision, although he believes Hogg was guilty of an equally robust tackle.
"In the moment, in my opinion in front of me at the time, it was not a red card. Afterwards, when I watched it again I saw two players try to win the ball with exactly the same movements. They tackled each other, it was dangerous, but they both did it. We must respect the decision."