He might not have kept Swansea in the Premier League, but Carlos Carvalhal's reign at the Liberty Stadium has been memorable.
From lobsters and F1 cars to explaining statistics in terms of a picnic, Carvalhal has made headlines off the pitch as much as on it, with his unique responses in press conferences throughout his brief tenure raising smiles and eyebrows.
Here is a selection of our favourites from the man himself - see if you can work out what they are meant to mean!
"But there are two things: I have never lost against him or at Old Trafford, because it is the first time I will play him or play there, so it is a good record!" - On facing Manchester United and Jose Mourinho.
"We have money for sardines and I'm thinking lobster. I will do my best to try and bring in the best players. I will look to the lobsters and sea bass, but if not we must buy sardines. But sometimes the sardines can win games." - On Swansea's modest budget going into the January transfer window.
"The boat is on the sea! The bait is on the hook but there is nothing so far. I am not on the boat, I am on the beach watching.
"They are players I want, they have to be the players a manager wants." - The fishing analogy continues, as the Swans are left to wait before signing Andre Ayew at the end of the window.
"I said to my players that Liverpool were a top team, they are really strong, but they are a Formula 1 car. If you put a Formula 1 car in London in traffic, the Formula 1 car will not run very fast." - On how to defend against Jurgen Klopp's rampant Reds. It worked, with the Swans beating Liverpool 1-0 in January.
"When one Swan falls, another Swan will fly." - A short and sweet burst of optimism about a spate of injuries at the Liberty Stadium.
"We are close to going out of the hospital, we are not far away from the doctors telling us we can go home and still we can work but we can work at home so we are in the process." - After beating Arsenal 3-1 and moving out of the relegation zone, Carvalhal dares to dream Swansea are close to staying in the Premier League.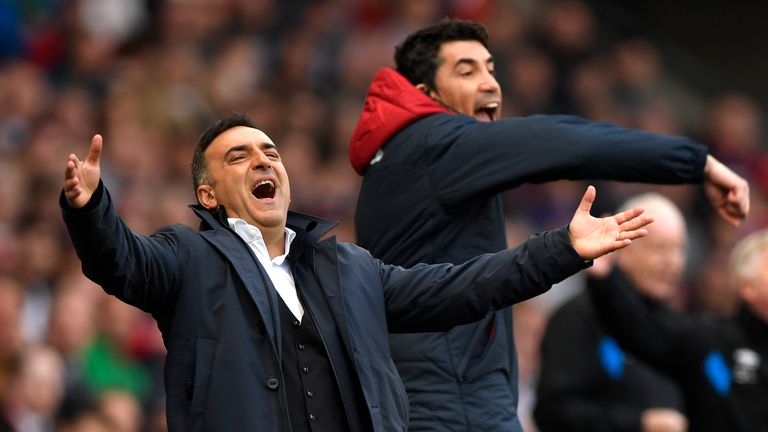 If you and I go to a picnic and we take one chicken and I eat it all, statistically you have eaten half a chicken!
"If I live in my house with my neighbours, I don't know what they will do. I never look inside their house, I protect mine, my family and my dogs so it's not my problem." - On whether Riyad Mahrez will face Swansea amid a stand-off with his parent club Leicester.
"It looks like that movie Police Academy - Police Academy 1, Police Academy 2 and we think we're going to Police Academy 3 in this moment because it's the third time." - On having to play a third FA Cup replay this season.
"We have an expression in Portugal at times like we had in the second half. We say it was time to put all the meat on the barbecue.
"We did that to try to win - and we got the three points. But I felt we deserved it against a strong team and I am very proud of my players." - On the attacking substitutions that helped engineer a 1-0 win over Burnley in February.
"You can say 40, but you don't know if it will be 38, 44 or 46. Statistics are based on last year, two years ago or three years ago.
"But if you and I go to a picnic and we take one chicken and I eat it all, statistically you have eaten half a chicken!" - On how many points would be needed for Premier League survival.
"If you sell Wembley, do we say we'll sell Big Ben after this? Buckingham Palace? Wembley is a monument and we can't sell the monuments. It's culture. We can't sell the culture." - On the £800m bid for Wembley Stadium from Fulham owner Shahid Khan.