Swansea manager Michael Laudrup dismisses talk about future
Michael Laudrup has insisted it is not the time to consider his Swansea future as he focuses on the League Cup final.
Last Updated: 24/02/13 3:57pm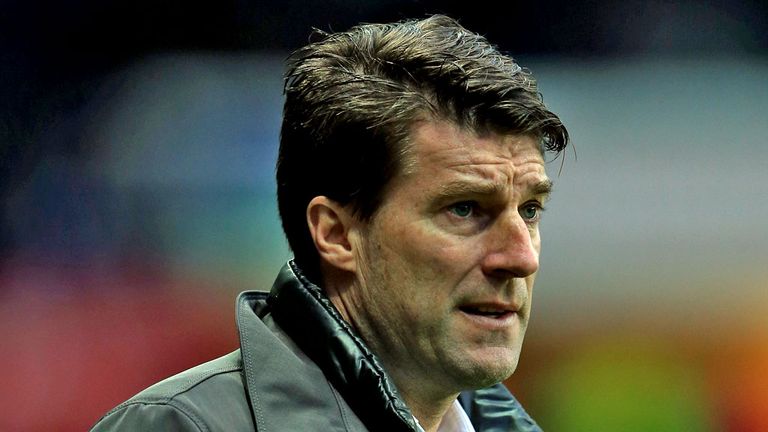 Laudrup has earned rave reviews for his work at Swansea this season and has guided the club to a place at Wembley for Sunday's League Cup final against League Two side Bradford City.
Speculation has suggested that he could replace Jose Mourinho as Real Madrid boss in the summer but the Dane is concentrating solely on trying to make history with the Swans as he feels the club could go from strength to strength with a win this weekend.
He said: "It's not the moment to talk about the future. We're days away from one of the biggest games in the history of this club, so to speak about other things would be a little ruthless.
"We don't have to let anything come between us now. We have to focus on this game. Anything else, it's secondary right now.
"Winning a trophy would do a lot (to change Swansea's image). It would mean to go into Europe and that would be fantastic: what it gives to the club and the fans - less in terms of money - and maybe to the outside world as well, as players might want to play in the competition."
While Laudrup is thinking only about the clash with Bradford, chairman Jenkins has admitted that he has already started to mull over potential candidates for the manager's role in the future.
Jenkins accepts that managers, like players, will get linked with moves elsewhere when they are successful and he is determined to be ready for when Laudrup does leave.
"I think we have to be aware of different managers and what they stand for," Jenkins, who is reportedly set to offer Laudrup a one-year extension to a contract that expires at the end of next season, said in the Daily Telegraph.
"We're probably aware of certain managers who could come here in the future. It's an ongoing process. Whether it happens in a year, two years or five years, we have to be ready.
"There are bigger clubs than us having that problem. When Man United lose [Cristiano] Ronaldo or Arsenal lose [Robin] van Persie, for us to question whether we'll lose people would be a little unlikely. We just need to be ready."
Huge results
Laudrup has previously played a part in two historic triumphs at Wembley, having been part of the first Denmark side to taste victory over England in 1983 and featured for Barcelona's 'Dream Team' when they recorded the Catalan club's first European Cup success against Sampdoria in 1992.
A Swansea victory on Sunday would see the Welsh club secure the first major trophy in their centenary season, and Laudrup said: "I had two very good days at Wembley, although that was the old ground.
"In 1983 Denmark won 1-0 against England with a penalty from Allan Simonsen and we qualified instead of England for the European Championship in 1984.
"In May 1992, in the final of the European Cup, we (Barcelona) won after extra-time 1-0 against Sampdoria, who had Roberto Mancini and Gianluca Vialli on their side.
"They were two huge results and I hope Sunday will be the third."
Laudrup places his managerial abilities down to learning from those he played under, and there were none as influential as the man in charge for Barcelona's night of Wembley glory: Johan Cruyff.
"On the pitch everyone knows my five years with Cruyff in Barcelona were great years, there are a lot of things from the training I did with him that I am using now," he said.
"There are also elements from Giovanni Trapattoni while I was in Italy and (former Denmark boss) Sepp Piontek.
"Those are the three I mention when people ask who had the most influence on my career - so we have a German, an Italian and a Dutchman who was from the school of 'Total Football' and was one of the top five players ever.
"They were three very different personalities, and three very different ways of seeing the game, but they had a big impact on me."