Doncaster boss Darren Ferguson may face FA charge for verbal attack on match officials
Ferguson apologises on Sunday after suggesting officials should be "shot" following Doncaster's draw with Plymouth
Last Updated: 14/01/18 1:14pm
Doncaster manager Darren Ferguson could face FA action for labelling the standard of refereeing as "appalling" and claiming the officials should be "shot".
His controversial comments came after his team were not awarded a penalty by referee Andy Haines in the last seconds of their 1-1 draw at home to Plymouth.
An EFL spokesman confirmed that Ferguson's remarks have been passed by the PGMOL (Professional Game Match Officials Limited) to the FA for their consideration.
On Sunday, Ferguson apologised for his remarks insisting they were "tongue-in-cheek" and said he does not advocate violence against officials.
After the game, he had told BBC Radio Sheffield: "It's the most blatant penalty you'll ever see, there's nothing to think about.
"The defender has just pulled Andy Butler to the floor. The linesman can see it, he's stood looking right at it. It's the clearest penalty you'll see all season."
Alfie Beestin had put Doncaster ahead in the 37th minute but Ferguson was unhappy at Ryan Edwards' second-half equaliser for Plymouth, which he believed should have been disallowed for a foul.
"The goal is a clear foul, and the linesman is laughing at the end of the game about it," he said. "I think it's disgusting.
"The referees are part-time and the standard is appalling, their fitness levels are a disgrace, I've had enough of it."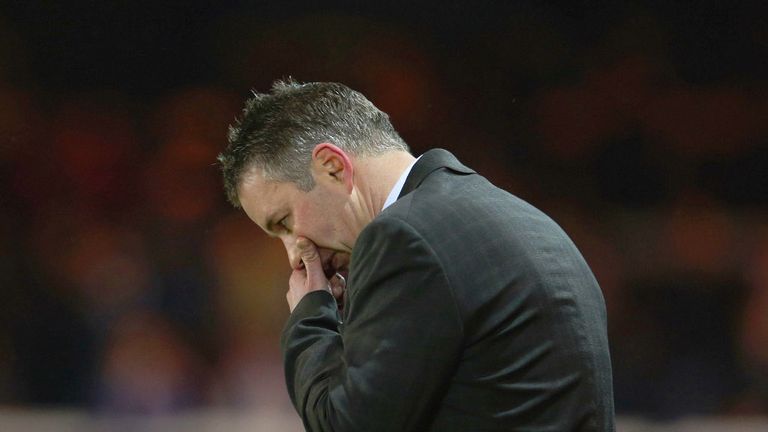 The former Peterborough boss said he expects to receive a letter of apology and also added: "What can I do? Shoot them, it would be a good idea.
"I have to shut my mouth and I have to make sure I'm being respectful, but when they're laughing at the end of the game saying 'it's my opinion and that's what counts', I think we've seen enough now."
But Ferguson moved to resolve the matter on Sunday as he apologised for his comments.
He said: "When asked after the game what I personally could do to see to raise standards, I said: 'What can I do? Shoot them?'
"Although clear to everyone in the room that my comment was a tongue-in-cheek response, it is worth clarifying my comments were borne out of frustration and I absolutely do not advocate violence against officials.
"I am sorry for that comment and regret the wording, but as was clear from my post-match comments I felt the referee got some decisions wrong at key moments in the game.
"Referees have a tough job and I have a lot of respect for the challenges they face, but I would like to see more done to raise standards across the board and give them the best chance of getting decisions right."