David Wagner says Crystal Palace "deserved to win" after they beat Huddersfield 2-0 in the Premier League on Saturday.
The Terriers were outplayed by the visitors and offered little in terms of an attacking reply as James Tomkins and Luka Milivojevic netted for Palace.
After the game, Wagner conceded that the south London side were worthy of all three points, but added he knows where the problems lie within his side.
"I think it was a deserved result. Credit to Crystal Palace, they deserved this win and we were below par today, especially with the ball," he told Sky Sports.
"We were never able to recirculate the ball, to dominate possession and if, like we did today, you lose possession too quickly and too easily, the distances are too big to close the gaps and to go into the challenges and the battles like we wanted to do. This is the easy explanation of why we were not able to perform on the level which we are usually able to do.
"In the end, we conceded from two set plays in front of the goals, but they deserved it. They had enough other opportunities I think. They deserved the result, even after scoring from set plays.
"There is no doubt about the attitude or effort. They [the players] tried everything and they fought but in ball positions, we were not good enough and the distances were too big.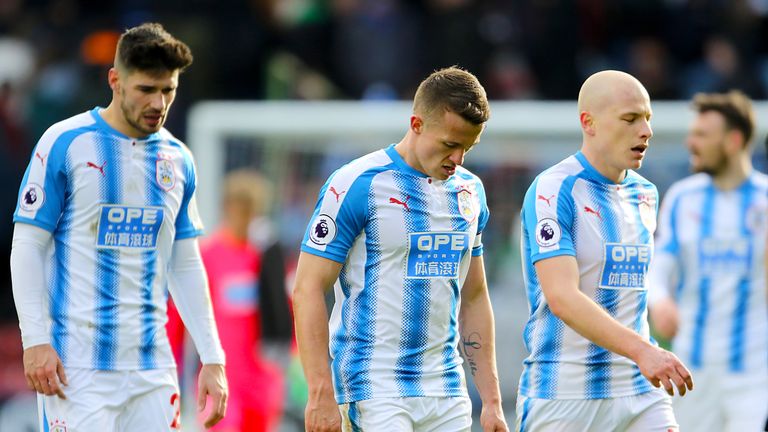 "The good thing is we know what we've done wrong and what our problem was so we can make it better and onto the next one."
Huddersfield have played two successive home games against relegation rivals and only taken a point after a goalless draw with Swansea last weekend, but Wagner believes his side can still get a job done to avoid the drop.
"Nobody is happy after these two home games to only have one point, but this is part of the game," he added.
"It's important how you manage defeats and disappointments. Today it was a disappointment for sure, but this is what we have to accept and it is something we have to work with.
"It [the battle to avoid relegation] is anything but boring, it is exciting and of course, you have to do your own job which is the most important thing. In the past, we have done it - not today - and we will do it in the future as well."