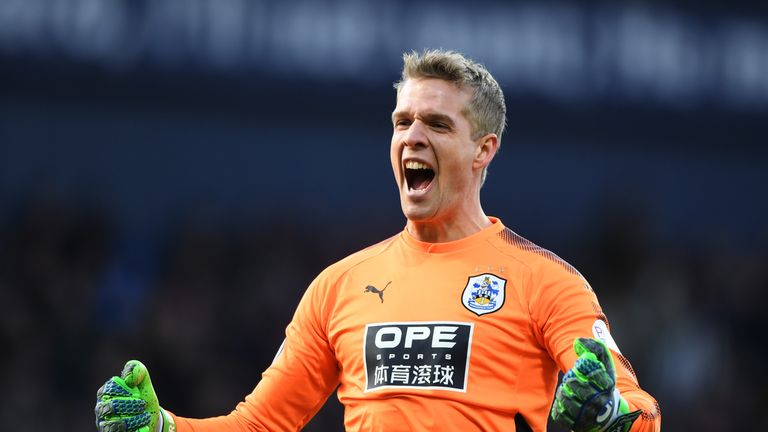 Jonas Lossl has urged his Huddersfield team-mates to produce one final push to secure Premier League safety.
The Danish goalkeeper starred as the Terriers earned a crucial point against champions Manchester City on Sunday, which moved them within touching distance of survival.
David Wagner's side remained 16th, but crucially restored a three-point buffer to Southampton and Swansea, who face each other live on Sky Sports on Tuesday evening.
Despite the daunting prospect of facing Champions League qualification-chasing Chelsea - live on Sky Sports on Wednesday night - and then Arsenal in Arsene Wenger's final game in charge, Lossl is confident Huddersfield can get over the line.
"It was a really fantastic - what a clean sheet to get. It was a massive team effort and I am really proud. We can use this point. One point more and I think we are safe," he said.
"It has been a very good season so far but we are not there yet. We haven't reached our target yet. The target is to stay in the Premier League and has been all the way through.
"It's like a 100-metre sprint. We don't stop after 95 metres. We need to run it all the way through."
Unsurprisingly, Huddersfield faced long spells of City pressure as the champions looked to celebrate lifting the Premier League trophy in style.
However, having withstood the initial onslaught, the Terriers had some chances of their own and could have stolen all three points.
Lossl said: "It's one minute at a time in a game like that but in the first half we had some good chances, so when we came in at half-time we were very optimistic about the second half.
"We knew they were going to come strong again from the beginning but as the half went on I think we deserved our point. We had a perfect plan and we followed it. We believed in it.
"We're very happy and have congratulated everybody in the club. It can prove to be a massive point."