David Wagner leaves Huddersfield but could bigger jobs await him?
Huddersfield face Manchester City on Sky Sports this weekend
Last Updated: 15/01/19 2:07pm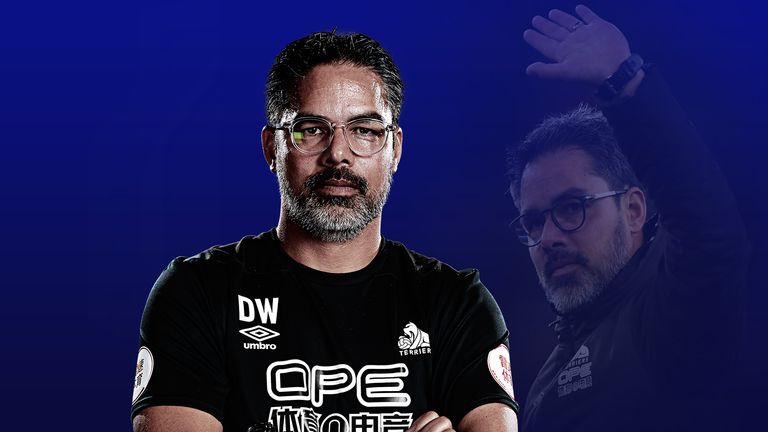 David Wagner left Huddersfield bottom of the Premier League but smart clubs will look at the quality of his work not the table. He could thrive with greater resources, writes Adam Bate.
Rarely does a manager leave his team bottom of table with so much warm feeling, but that merely reflects the extraordinary job that Wagner did at Huddersfield. He developed an identity and took the Terriers from 18th in the Championship all the way to the Premier League - and then kept them there last season. It was the third miracle he struggled with.
"I'm sad to be leaving, but I'm immensely proud of what we've achieved," said Wagner upon his departure and clearly he will need time to recover from constantly battling the odds. But if and when he does return to management, expect the naysayers to be out in force pointing out that, for all the plaudits, he did leave the club heading for the drop.
In a world where all coaches seem to be at risk of being written off as frauds, those at the wrong end of the table are more vulnerable than most. But braver clubs might be wise to look past the obvious and see the potential. It's not just fellow strugglers that would be well advised to consider what Wagner could offer them either. He is capable of more.
There is evidence to suggest that Wagner's style of play could be more easily translated to the bigger clubs rather than the smaller ones. Examine the underlying numbers, even this season, and the clues are there. Huddersfield's approach has much more in common with those perceived to be doing everything right than those for whom it is going wrong.
Wagner's enthusiastic approach to the Premier League challenge is summed up by the pressing style that they adopted. It is now de rigueur at the top level of the game and was cited as one of the key reasons why Jose Mourinho's passivity at Manchester United appeared so jarring compared to teams such as Manchester City, Liverpool and Tottenham.
As curious as it might seem, in terms of their work without the ball, Huddersfield have been more Manchester City than Cardiff City. Opta's advanced metrics reveal that under Wagner this season his team pressed more opposition pass sequences than any other team. Look deeper at the PPDA metric that is used within clubs and a similar story emerges.
PPDA is calculated by measuring the number of passes that a team allows an opponent to make in the defensive two thirds of the pitch before making a defensive action in that zone. On this metric, only City, Spurs, Chelsea and Arsenal have allowed fewer opposition passes, while the rest of Huddersfield's rivals find themselves at the other end of the spectrum.
The result of this pressing game is that Huddersfield have won the ball higher up the pitch, starting their own pass sequences closer to the opposition goal than every team except City, Liverpool and Chelsea. They rank fifth for high turnovers. Unfortunately, when it came to high turnovers resulting in a shot on goal, only Burnley have had fewer this season.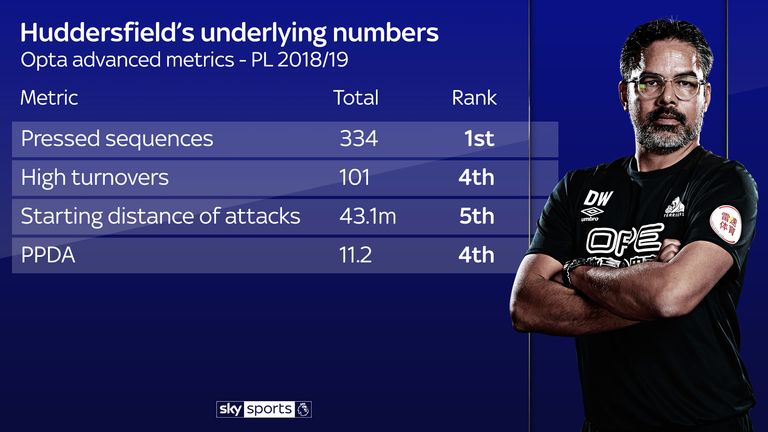 That was the problem for Wagner and ultimately it proved his undoing. The intention was there to pass and to press. Huddersfield are a top-10 team for pass sequences, but rank far lower for sequences ending in a shot. Wagner's team were doing so many of the right things but they simply lacked the quality that's needed to convert that into goals.
This season, as last season, they are the lowest scorers in the Premier League. Steven Mounie has found the net only once this season, but at least that is one more goal than his rival target man Laurent Depoitre has managed to come up with. It is difficult to escape the conclusion that the players were just not good enough in the final third of the pitch.
The biggest factor is surely the club's resources, but Wagner is at least partially culpable for the recruitment. Life would have been easier for him had more of his signings come off. It will be a nagging gripe even among those fans for whom gratitude is the overwhelming emotion. But it need not be such a concern for Wagner's next employers.
Instead, they might see a coach who could be parachuted into their existing structure and thrive. Give Wagner better players to work with and he has proven that he can deliver a brand of football that would translate to a team at the top with far fewer stylistic adjustments required than the more ostensibly successful Sean Dyche, for example.
It will take some imagination to recognise that in the wake of this season's struggles. His reputation has undeniably taken a hit in a campaign that has yielded only 11 points from 22 games. But for the savvy recruiter who recognises in his team those traits that are transferable, Wagner's work at Huddersfield is proof that he can succeed, not that he can't.