Recruitment expert Rob Mackenzie on why Pascal Gross could be the signing of the season.
Brighton were among the favourites for relegation in their first Premier League season following promotion but Chris Hughton's men find themselves in eighth after 11 games...
It has been a superb start to life in the top flight and one of the key players has been summer signing Pascal Gross, a £3m buy from German side Ingolstadt.
Remarkably, Gross has been involved in seven of Brighton's 11 goals with only the Manchester City pair of David Silva and Kevin De Bruyne registering more assists.
Rob Mackenzie was Leicester's head of technical scouting and has since worked as head of player identification at Tottenham. Here, he assesses what made this such a great signing…
MACKENZIE'S VERDICT
While it may sound strange, from a recruitment perspective it is always a difficult situation for a manager to be in when a team experiences success. Does he place his faith in the players who have brought success or is he ruthless and decides to seek to address potential failings that could arise given the new level of competition and the expectation that awaits?
Having been at a club in that position before myself, I think the best solution is somewhere in the middle. The aim is to maintain the togetherness and positive momentum generated by the group of players that you currently have, while also bringing in a few players with that added bit of quality that often proves to be the difference in the Premier League.


As a result, the suitability of the players that you bring in at such an important moment is vitally important. Bring in signings who don't 'get it' and you will have those who brought you success questioning your judgement and faith in them. If the new signings aren't more suited to the new competition than they are, you could be faced with a disillusioned squad.
That is why, in my opinion, credit must go to Brighton for their acquisition of Pascal Gross.
His immediate integration into a team who achieved promotion last season coupled with his impressive output so far this season - two goals and five assists in 11 Premier League games - has been one of the key reasons for Brighton's strong start to the season. Gross has fit the bill perfectly so far. With that in mind, what made him such an ideal candidate?
Versatility and physical capacity
Brighton typically played 4-4-2 last season on their way to promotion to the Premier League. Given that they were one of the most dominant sides in the Championship and will not find themselves in that situation this season, their ability to adopt different systems to contain some of the 'bigger' sides could be crucial in their debut season at Premier League level.
Gross's versatility is, therefore, a vital part of why he looks like such a good fit for Brighton. In recent games, Gross has tended to play in a slightly more advanced role than he is used to. He has often been used behind a central striker for Brighton so far, but he can also play in a deeper role as a number eight, as demonstrated during his time with Ingolstadt.
Given the quality of his delivery into the box he can also be deployed in wide areas. It is this versatility that would have made him a perfect fit for any of the newly-promoted sides who may have to make compromises with regards to their team shape when playing some of the more possession dominant sides in the Premier League.
The tempo and intensity of the league is well documented, and as a result, scouts assess players' physical capacity to get about the pitch and influence the game. This is exaggerated even more when considering central midfield players due to the physical demands of the position and the importance of having a strong spine through your team.
Gross's versatility is matched by a level of physical endurance that allows him to influence games when both in and out of possession. According to the Premier League tracking data, the German midfielder ranks among the top three for distance covered this season and is also among the top 10 players for total number of sprints too.
Delivery from set plays
The harsh reality of life in the Premier League as a newly-promoted side is that typically it is very difficult to dominate games. As a result, set plays can often be seen as an 'equaliser' in terms of providing credible opportunities for so-called weaker teams to make their presence felt, even when giving up much of the possession against the top sides.
What is more, as a controllable and organisable entity, a team's effectiveness from set plays can be totally disconnected from the threat that they pose the opposition in open play. Thus, posing a threat through set plays can provide newly-promoted sides with an added chance to get much-needed points on the board.
With that in mind, the quality of Gross's set-play delivery will not have been lost on the scouting team at Brighton. Much was made in the media of the number of key passes that Gross provided for Ingolstadt last season (95 key passes - a Bundesliga high) but it is the context behind these key passes that is crucial to consider.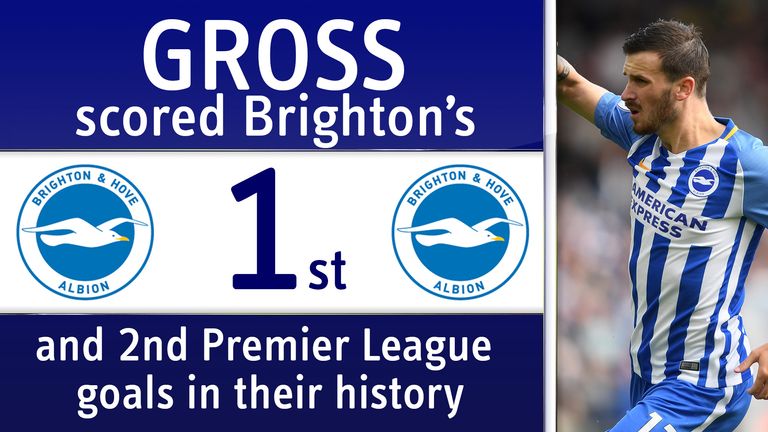 Performance data such as key passes and expected assists from other competitions does provide an important level of insight. However, the real challenge from a scouting perspective is trying to anticipate whether a player can transfer these traits to the situation your own team find themselves in. With set plays, that can be a little easier.
Of Gross's 95 key passes last season, 56 came from set plays - the highest of any midfielder in the top five European Leagues. As a result, it could be argued that while the number of set plays won by the team that he plays for may fluctuate, the probability and structure of the situations from which he typically creates scoring situations is likely to remain the same.
Gross's potency was clearly evident during Ingolstadt's promotion season to the Bundesliga in 2014/15 as he registered seven goals and 23 assists. As a team that is unlikely to create as much from open play in the Premier League as they did in the Championship, Brighton now have a player within their ranks capable of delivering a potentially equalising threat.
Previous Success
Finally, one of the things that scouts take comfort from when identifying players is evidence of being involved previously in a successful team. There are a number of talented players who, for one reason or another, have never experienced success in their career. Maybe they are just unlucky, or maybe they just do not have what it takes to be part of a successful side.
Either way, a lack of relative success can sometimes tell a story. Brighton's scouting team will have no doubt taken great comfort from the fact that Gross was Ingolstadt's most played player during their 2014/15 promotion season, despite being only 23, and he was their second most played player the following year during their first ever Bundesliga season.
In other words, he emulated the promotion success of his new team-mates and excelled when faced with the challenge of staying up. To top it all, not only is Gross a great get, but Brighton did the deal in May - taking a top target off the market for a low fee. Ironically, it is the sort of efficiency more common in the Bundesliga than the Premier League. Fine work.