Brighton manager Chris Hughton says his side were better in Newcastle draw
Last Updated: 30/12/17 6:59pm
Chris Hughton says his Brighton side were the better team as they played out a 0-0 draw with Newcastle, but was pleased with a point.
Neither side was able to produce many chances in the St James' Park clash, although Seagulls stopper Mat Ryan was the busier of the two goalkeepers.
But Hughton was happy with what he saw from his players on Saturday, and believes a point away from home is a good result.
"I thought we were good today. In regards to the result, I think on the balance of play, it was a fair result but on the day, I thought we were the better side of the two," he told Sky Sports.
"In terms of chances, we needed Mat Ryan in particular to make one very good save and it got very edgy towards the end as it would do away at Newcastle. I thought we had some really good periods in the game.
"We have to take the point on the road because we are the away team and there is more pressure on a club to win their games at home, particularly against the teams who are in the same area of the league as you and teams that you think there is an opportunity to get your points from.
"As the away team, if you can pick up points and have a good enough home record over a period of time then generally, you will be OK."
Overall, it has been a successful 2017 for Brighton having played their last game of the calendar year, but Hughton says that his side are still searching for a "complete balance".
"I have to be pleased [with 2017] because we are new to this division, we have a few players in the squad who have played in the Premier League, but the lads have stepped up to it really well," he added.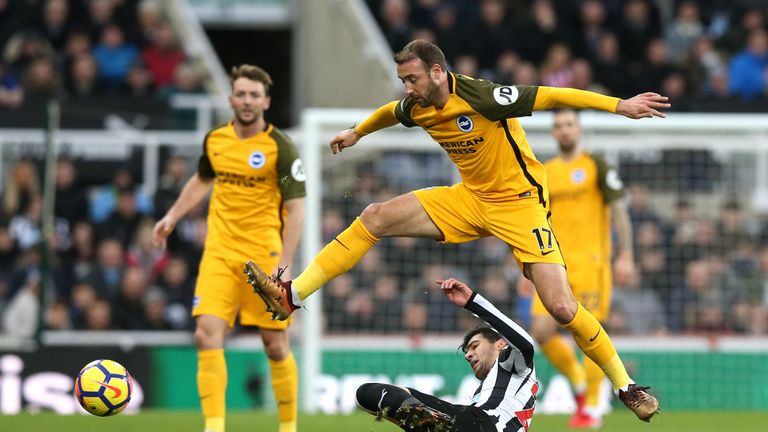 "Apart from the Liverpool game, which can happen to anybody, we've been in most games. We've got to get that complete balance which you need of playing well, scoring goals and playing exciting football.
"It's difficult to get that balance and that bit in the final third is probably the hardest thing to find. But we're working as hard as we can, and as long as we can stay in games, we think we've got a chance."