Chris Hughton says Brighton cannot be complacent despite strengthening the squad
Last Updated: 27/08/18 11:30am
Manager Chris Hughton thinks Brighton are in better shape than last season as they bid to maintain their Premier League status once again.
Brighton finished 15th last season on their debut Premier League campaign - and Hughton thinks improvement is now needed, in what could be an even tougher division this time.
"I think we are better equipped (than last season)," Hughton told Sky Sports.
"What we recruited in the summer, I think it puts us in a better place - and of course we have the experience of last season.
"The balance is making sure there is no complacency that goes with that, and we have to make sure we use last season to good effect.
"We are aware of how competitive this division is.
"We have seen three teams from the Championship get promoted last season and stay in the division.
"Now we are looking at the three teams who have come up this season. I think they will all be very competitive and Wolves and Fulham have spent big money on top of that.
"It is going to be a very competitive division."
Brighton lost 1-0 at potential title contenders Liverpool on Saturday but Hughton was pleased with his side, who fell behind to a Mohamed Salah goal yet had chances to level in the second half.
"I was delighted with the performance," said Hughton. "But mixed emotions and certainly an emotion of disappointment, because there aren't going to be too many times you go to Anfield - the form they are in - and have as good a chance as we did to get something from the game.
"We conceded a poor goal but the fact we were pushing right towards the end and had two very good chances in that second period showed really good character."
Brighton now turn their attention to Tuesday's Carabao Cup tie at home to Southampton - and Hughton will be giving some squad players a chance.
"We want to be as competitive as possible," he said. "But we want to use this for the squad - there is a real value of competition in the squad.
"It is difficult for the ones who are not playing, so I think this cup is a good way of using the players who have not played, but not taking anything away from the fact that you want to go through.
"The squad is never a closed door and the moment people start thinking that, then they are wrong. These are opportunities, these games matter.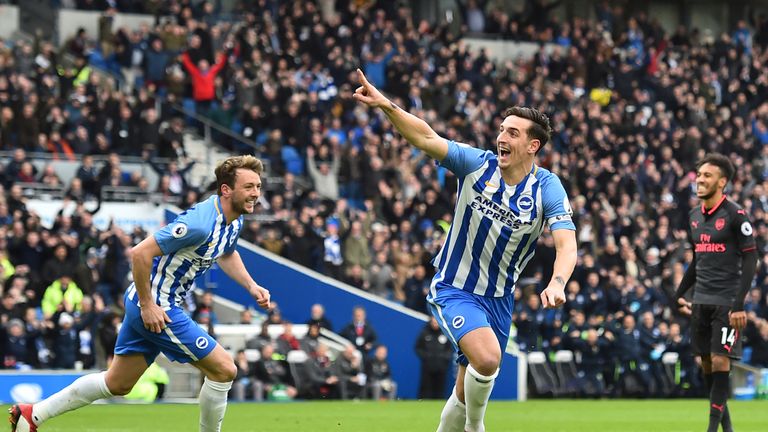 "The draw probably could not have been any tougher than it is - but we are at home, which is a plus, and we want to go through."
Defender Lewis Dunk could feature against Fulham on Saturday, the ankle injury he suffered against Manchester United having turned out to be not as serious as feared.
Hughton said: "The very good news is that, when he did it, we thought it could keep him out for some time.
"But it is not as bad as it could have been and he is definitely pushing (to be available for the weekend)."