Bournemouth manager Eddie Howe hopes Brighton victory can 'set us off'
Last Updated: 15/09/17 11:09pm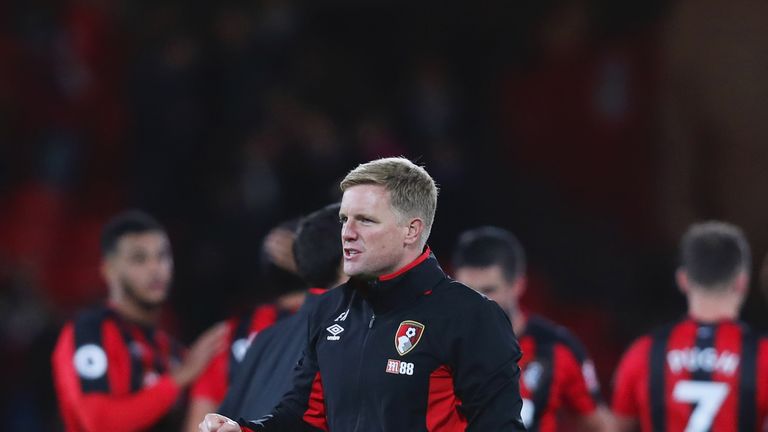 Eddie Howe is hopeful that Friday's 2-1 victory against Brighton can "set Bournemouth off" for the season as they picked up their first Premier League points.
The Cherries had lost their opening four league games of the 2017/18 campaign, and had to come from behind at the Vitality Stadium on Friday Night Football to secure the win.

It was a result that Howe hopes can now spark Bournemouth's season as they look to stay in the Premier League for another year, and says his side need to be "relaxed" to play their style of football.
"When you start a season, you want those first points on the board and that first win as quickly as you can. It's taken longer than we hoped but it has come now, and hopefully that can set us off," he told Kelly Cates, Jamie Carragher and Gary Neville after the game.
"If you don't get that win early on, it makes it very difficult and the pressure is on the players and myself. With the way that we play, if you're playing pressurised, it's not going to work for us. We need to be relaxed and have a really good mentality to move the ball as we do and winning certainly helps that.
"In the first two-thirds of the pitch, I thought we were excellent. The message at half-time was to try and maintain that and we hoped the door would open. Unfortunately, we had to come from behind but it was more of a special achievement from the players."
Bournemouth's fortunes were turned around in the 65th minute with the introduction of Jordan Ibe, who assisted both goals for Andrew Surman and Jermain Defoe, with Ibe and Defoe coming in for praise from the manager.
"He [Ibe] is such a talented footballer and we're hoping Jordon explodes to show the player he can be," Howe said.
"We see it every day in training, he's such a talent and he can beat people in tight areas and he did that for the two goals. I hope that it's the kick-start and confidence boost he needs. He could be a difference maker for us.
"Jermain is an unbelievable professional in every detail from what he eats to how he recovers. He sets the example. He wants to train every day and doesn't want to be treated as a special case, he wants to muck in with the boys.
"He's done that since he's come in and I hope we can provide him with more chances because if we do, he has the finishing ability to score a lot of goals for us."
Next up for Bournemouth in the Premier League is a trip to Everton next Saturday, and Howe is hoping his side can keep building up to their full potential ahead of the game.
"Hopefully it's a different feeling [in training], it's not nice when you're not winning," Howe said. "Although we've been in the Premier League for two years, I feel like we're not used to losing. We want to win and we need to win. Every team in the Premier League would say that, it's so difficult to achieve it.
"I want to see us play at our full level, we haven't done that yet, maybe we did in parts today but there's a lot more to come from the team."