Bournemouth boss Eddie Howe has denied having a bust-up with Asmir Begovic but has placed the goalkeeper's future firmly in his own hands.
Newspaper reports this week claimed the pair had a row over Begovic being dropped, but Howe has described the "chat" as a nothing-out-of-the-ordinary meeting.
The Cherries boss insists he is happy with Begovic's training level and he has reacted professionally to being replaced by Artur Boruc for the past three games, but Begovic's future at the club "will be dictated by Asmir".
"What's happened will be a normal occurrence at every Premier League club," Howe said as he prepares to take his side to title-chasing Liverpool.
"There's been no bust-up, no dispute, just a chat and a talk, and I'm very happy with where Asmir is at. He has been training excellently and that's the main thing as far as I am concerned.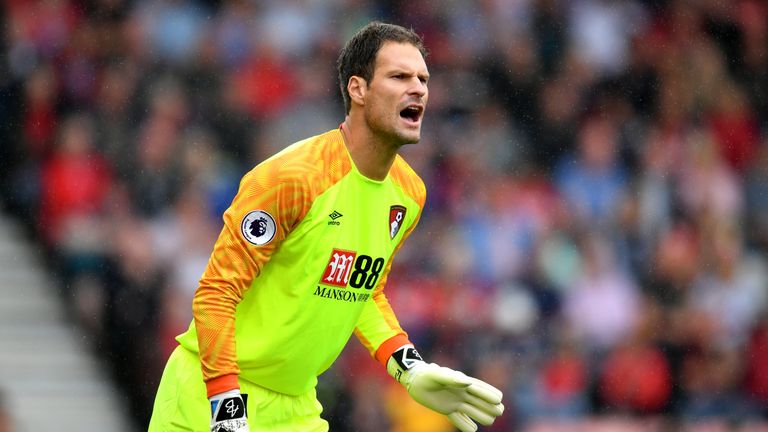 "I've had discussions with a lot of the players who aren't playing. I try to have that daily contact with all my players. Sometimes you won't see everybody, you've got a squad of 25 players to get around. But having that daily contact with people is very important and I try to feedback to my players regularly on how they're performing.
"If you don't get that disappointment from not playing, then I would question that as well. You can't have everything perfect in this situation. You want to see a real drive from the players to play and a real determination to get into the team but you also want them to act as a team player at all times, and Asmir has done that, so there's no problems.
"I think I have always said they're the hardest conversations to have. I would like to play everybody and not disappoint anybody, but the nature of my job is that I pick 11 and disappoint 13 or 14 players. The challenge for them is, if they want to ask the question why, I will give them the answers, and then they can fight back and put those things right."
Asked whether the ex-Chelsea and Stoke stopper still had a long-term future at the Vitality Stadium, Howe said: "That will be dictated by Asmir, not by me. I signed the player, I really like the player, and I've got a lot of respect for Asmir personally and as a goalkeeper."