From trading petrochemicals to bankrolling Bournemouth's promotion to the Premier League, who is mystery club owner Maxim Demin?
Personal life
Maxim Victorovich Demin was born in October 1969, making him 45 years of age. The Russian has two homes in the UK – one in Weybridge, Surrey and another in Sandbanks.  He bought a house in the Sandbanks area valued at £5million two years after buying a 50 per cent stake in the club during the 2010/11 season.
He in fact paid £10million in total as he had the house already there knocked down before building a new one. That is roughly the same amount that he has invested in Bournemouth.
He also has a house in Switzerland, where he currently resides.
His wife, Irena Demin, famously gave Bournemouth a half-time team talk in 2012. Bournemouth were 1-0 down to MK Dons when they were playing in League One so she decided to have her say. They eventually drew 2-2.
What is his business background?
It is believed that Demin owns at least two companies in the UK, Wintel – a petrochemical company - and Wintel Holdings Ltd both based in Surrey.
Both companies were set up in 2005 and his petrochemicals company is described as dealing with the sales of fuels, ores, metals and industrial chemicals. The company's current assets are valued at over £100 million.
Beyond that, his business background remains a mystery…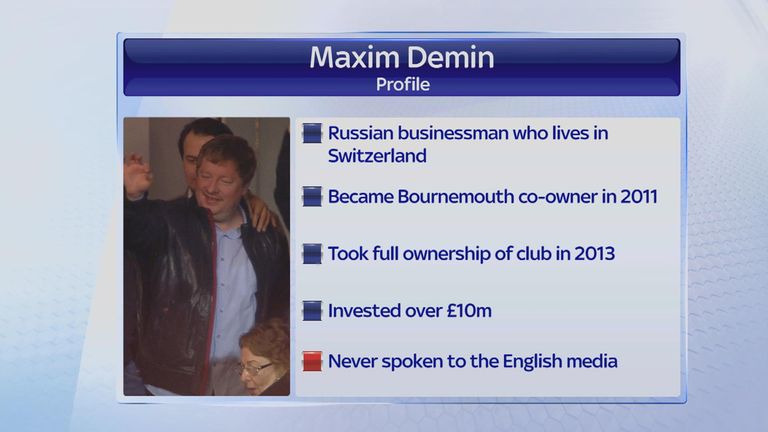 Why Bournemouth?
Maxim Demin was introduced to the club by Bournemouth chairman and 50 per cent stakeholder Eddie Mitchell, the man who had been building Demin's house in Sandbanks.
It was soon afterwards that he became co-owner in 2011, after buying a 50 per cent stake from Jeff Mostyn – now club chairman - before buying out Mitchell entirely in 2013.
What has he done for Bournemouth?
When Maxim Demin became 50 per cent stakeholder in November 2011, their transfer record was smashed in the first January window – spending £800,000 on striker Matt Tubbs from Crawley. Before that, the record was £210,000 which paid for Gavin Peacock in 1989.
The club has continued to increase expenditure on transfers ever since. It includes buying striker Tokelo Rantie for an estimated £2.5m before the 2013/14 season and Callum Wilson for around £3m in the summer last year.
Their £5m bid for 18-year-old Birmingham winger Demarai Gray in the last window highlights the financial muscle Bournemouth have had under their Russian owner.
However, they have always played within the Financial Fair Play rules. Offloading the likes of Danny Ings and Lewis Grabban for sizeable sums has helped to balance the books.
This is coupled with their success progressing up the divisions. Their income is only set to increase now they are all but promoted to the Premier League.
When the club were in League One they were the division's biggest spenders as they splashed out over a million more than any other club on transfers.
Not much is known about Maxim Demin – but his financial involvement in the club is evident.
Cash has been injected into all areas of the club. It includes developing a new, permanent stand, improving training facilities and renovating the club shop.
Demin is very much a silent owner though. He has never made a public media appearance and is also known to be very superstitious. Because of this he rarely attends matches as he feels regularly attending games would make him jinx their results.
What the manager and chairman say about him
Manager Eddie Howe spoke to Sky Sports News HQ about how highly he regards Maxim Demin.
"He cares deeply about the club. He wants to do things the right way, he has invested in the facilities not just the playing squad but he has put his own money in to take his club into a different era.
"You're definitely not guaranteed success in football, and he's taken a brave stance and thankfully it's paid off for him."
Bournemouth Chairman Jeff Mostyn has also praised the club owner.
"Nobody was happier last night than me for the owner," he told Sky Sports News HQ.
"Maxim is a very special person and I don't even like to talk about the days when I put by his wealth a small amount of money into the football club.
"It was obviously relevant at the time but without him we would not be having this interview today."