Brentford have given the Christmas tree formation a whole new meaning this season.
Forget Terry Venables' 4-3-2-1 tactic, Dean Smith and his side's innovative free-kick routines - which have been created by specialist set-piece coach Gianni Vio - are causing a stir in the Championship.  
When the Bees were awarded a free kick at St Andrew's on Saturday, they placed their own four-man wall in front of Birmingham's five-man block, and another three players in front of them.
As Alan Judge stepped up to strike the dead ball, his three team-mates lined up in front of him splintered and rushed towards goal, while Brentford's second row of players backed into the Birmingham wall.
It didn't quite go to plan. Judge fired his free-kick harmlessly wide. So much for the elaborate build up.
The failed attempt sparked interest and derision on Twitter. But, while their quirky, eye-catching routines haven't always come off, Brentford HAVE transformed their success rate at set-pieces this season.
Brentford set-piece goals - Championship
| | | |
| --- | --- | --- |
| Goals | 14 (Champ rank: 22) | 10 (Champ rank: T6) |
| % of goals from set-pieces | 18 (Champ rank: 24) | 27 (Champ rank: 12) |
In 2014/15 only two teams scored fewer goals from set-pieces in the Championship than Brentford. The percentage of their goals scored from those routines was the lowest in the division.
So far in this campaign, following Vio's summer arrival from AC Milan, only five Championship teams have scored more than Brentford's 10 set-piece goals. Twenty-seven per cent of their goals have come from dead-ball situations, which puts them in the top half of the league in that category.
It's a substantial improvement - and stems from the mind-set of club owner Matthew Benham.  


The former hedge fund manager is renowned for his analytical, statistics-based approach to the game and set-pieces became a speciality for the other club he owns, FC Midtjylland.
The Danish side won their first-ever league title last season, scoring a remarkable 29 goals from pre-planned routines. That works out as almost one set-piece goal per game. Across Europe, only Atletico Madrid - who played five more games in La Liga - scored more.
Remarkably, on four occasions Midtjylland scored four goals from set-pieces in a single game.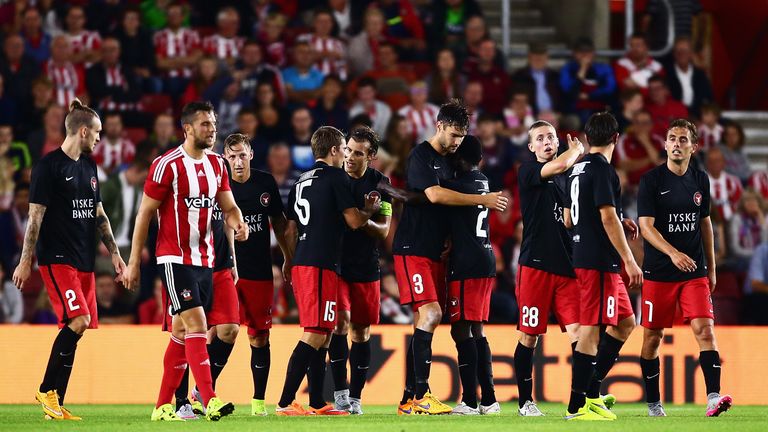 When Benham sat down with his coaches last summer to review Brentford's 2014/15 campaign and consider how to improve on their play-off semi-final appearance, the team's poor set-piece stats were highlighted. That's when Benham turned to Vio - an Italian with a growing reputation in the game.
The coach first made his name at Catania, where fans dubbed him the Little Wizard. His success led him to Fiorentina - and then the call came from Filippo Inzaghi, offering him a role with AC Milan.
"He isn't just a free-kick wizard. He is like having a 15 or 20-goal striker in the team," former Catania coach Walter Zenga says of Vio. "A 20-goal-a-season player can get injured. He can get suspended. But there are set-pieces in every game. Always. And he knows how to exploit them best. He's very skilled at it. He manages to get players scoring who otherwise wouldn't score."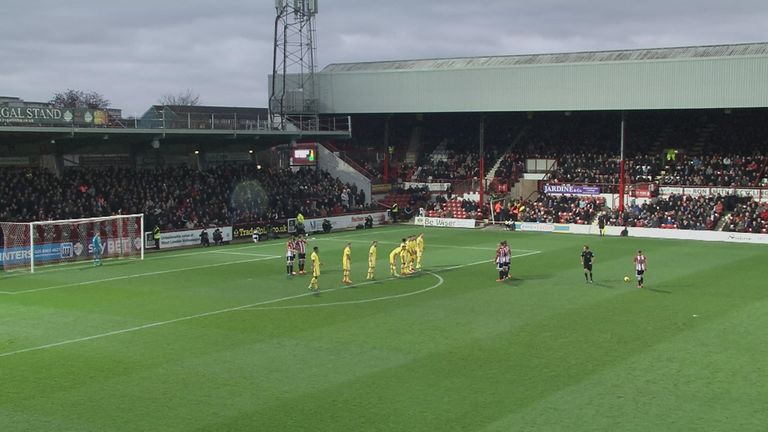 Since Vio's arrival at Griffin Park, Brentford have deployed a range of unusual set-plays from corners and free-kicks.
But his work isn't the only innovation going on at Brentford. Coach Bartek Sylwestrzak has been promoted from a role with the youth team to work with senior players on their technique and how they strike the ball, while psychologist Tom Bates has joined from West Brom.
After Smith's appointment as manager in December, Brentford co-sporting director Phil Giles outlined to Sky Sports the reasoning behind the club's invention. "We cannot outspend our rivals," he said. "Therefore we have to find different and innovative ways of doing things."
It seems Christmas tree formation free-kicks are just part of a brand new approach at Brentford.