The powerful tributes paid at Brentford to the late Rob Rowan demonstrate the club's close-knit feel, says their Community Sports Trust's chief executive Lee Doyle.
Doyle, speaking to Sky Sports at a special Rainbow Laces activation held at Rectory Park on Monday night, was at Griffin Park at the weekend for the Sky Bet Championship clash against Middlesbrough, when Bees technical director Rowan was remembered in the matchday programme and with a minute's applause before kick-off.
Rowan passed away on November 12 at the age of just 28. A fundraiser for the Cardiac Risk In The Young charity has recently been set up by the club.
The club's number 5 shirt has also been allocated to Rowan for the rest of the season as a mark of respect and for his contribution to the west London side over the last four years.
Doyle says the response from everyone connected with Brentford last Saturday underlined the esteem in which Rowan was held.
"It's such a tough time for everybody, and that came across on the day," said Doyle.
"Rob's family was in the boardroom, and the matchday programme they put together for him was fantastic, particularly all the comments that were in there.
"Everyone that had met Rob said how he had impacted on them - he was straight talking but with a cheeky smile. He was a young guy in a tough environment, making his way, and he'd got so far so quickly.
"Chris Mepham's piece was particularly moving. What they all represented is the quality of the people that are involved in this club."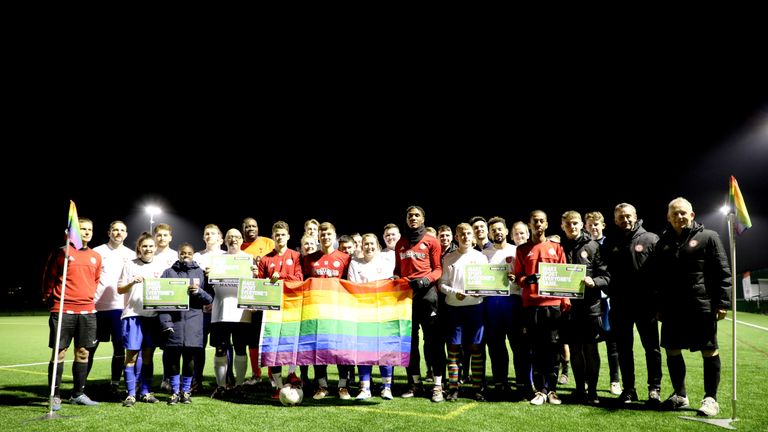 Club legend Kevin O'Connor and a number of his Bees B-team players were also in attendance on Monday for an inclusive kickabout arranged by the Trust and the Middlesex FA.
The session was being held to mark all the various organisations' support for Stonewall's Rainbow Laces campaign, with members of LGBeeTs - Brentford's LGBT supporters group - involved on the night too. Tuesday night's home game against Sheffield United will be dedicated to the campaign.
"Visibility can only be a good thing, because it gets people thinking and talking, and sometimes that isn't done," said Doyle.
"What's happening is you get a group of people that raises awareness, like an LGBT fans group, and then that begins a journey, in terms of taking football into a new era.
"I think the response [to these groups] has been a really good one, and it's getting momentum."
Next season will be Brentford's last at their 12,300-capacity Griffin Park home. After 114 years of football on Braemer Road, they will move a short distance to a new 17,500 Community Stadium on Lionel Road.
Doyle says the club's focus on all types of inclusion is vital to the Bees as they look to widen their fanbase.
"We're looking towards the new stadium move, and how we want our new generation of supporters to get engaged with our football club. We want to look at every angle in terms of making our club welcoming and inclusive."
O'Connor played over 400 games for Brentford and believes the Rainbow Laces campaign is an initiative that sends out a positive message.
"It's important that everyone at the club buys into it, and does everything they can to highlight it," says the Brentford B boss. "Sport is for everyone, regardless of anything.
"There will be the odd idiot that says silly things, people who are uneducated, but I think homophobia in football is getting less and less.
"The sooner it comes out of the game, the better. These little things will help. I think we're on the right path."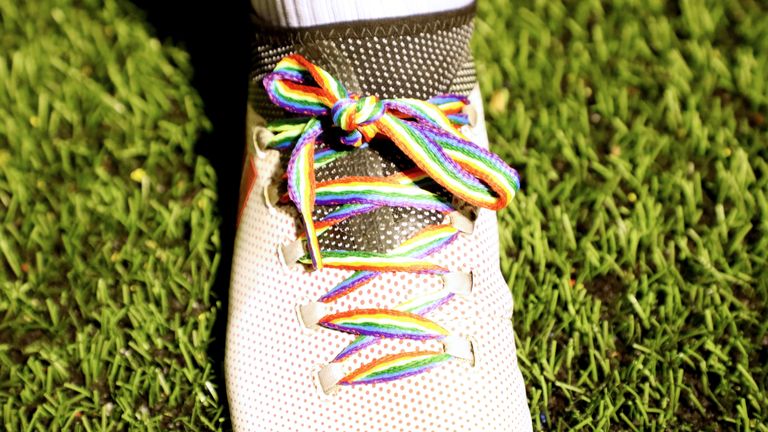 Gemma Teale of LGBeeTs says maintaining a visible LGBT presence as part of the wider community fanbase ensures that any younger supporters or potential new fans are shown they are welcome.
"We have visibility with our flag, through our website, and on Twitter.
"It's different with a smaller fanbase. People have been going for years, they have their own routines and stand where they want to stand.
"Also, in society in general, people are becoming bolder about what they say. Some of that can be hurtful or even homophobic. In a scenario like a football match, there's a lot of people there and some do feel emboldened to say things that they wouldn't say in the workplace.
"You do hear things that you might not hear in other places. I don't think that football fans are any more homophobic than any other sector of society, but the atmosphere at a match and the way that football games are, sometimes people seem more able to express it. That means people hear it when they wouldn't otherwise.
"So you need that counter-measure of a message to say that, for the vast majority of us, we're happy that you're here - carry on supporting the team."
Brentford's Championship clash at home to Sheffield United is live on Sky Sports Football via the red button from 7.40pm on Tuesday night, while their fixture at West Brom on Monday night will also be televised live on Sky Sports.


Sky Sports is a member of TeamPride and supports Stonewall's Rainbow Laces campaign, which is currently receiving its annual activation across British sport until December 7.
Contact us at Sky Sports if you'd like to share a story to help raise awareness around LGBT inclusion.