Brentford boss Mark Warburton and striker Andre Gray have been named the Sky Bet Championship Manager and Player of the Month for November.
Warburton presided over five successive victories during the month, which lifted the Bees to third in the table, while former Luton star Gray scored five goals during the period, the pick after a stunning run and finish in the 4-0 defeat of Wolves last weekend.
Swindon manager Mark Cooper earned the plaudits in Sky Bet League 1, while MK Dons midfielder Carl Baker secured the player award.
Southend completed the double in Sky Bet League 2 with Phil Brown named the Manager of the Month and winger David Worrall the Player of the Month.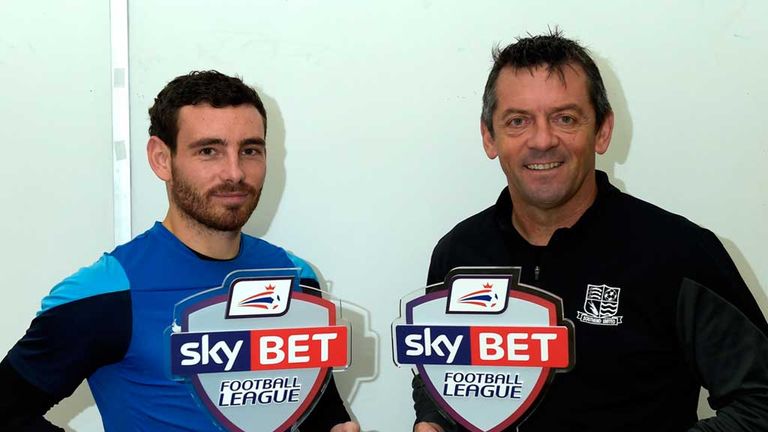 The judging panel for the Sky Bet Manager of the Month is chaired by former Norwich and Newcastle manager Chris Hughton, with Sky Sports' Football League expert Don Goodman, Football League chief operating officer Andy Williamson, League Managers' director Olaf Dixon and Sky Bet football trading manager Paul Lowery.
The judging panel for the Sky Bet Player of the Month comprises Goodman, Dixon and Lowery along with Football League head of communications John Nagle.
Here, Sky Sports takes a more in-depth look at the award winners...
Sky Bet Championship Manager of the Month: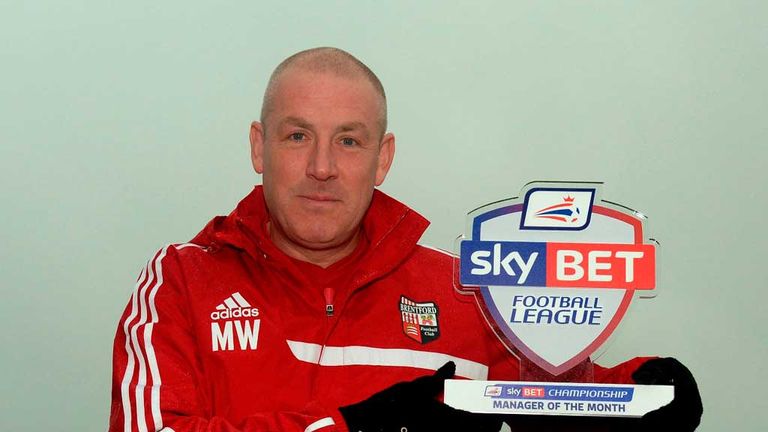 Mark Warburton (Brentford)
Warburton spent early autumn trying to convince his players they belong in the Sky Bet Championship.
After a perfect November with five wins, 14 goals and a play-off position, Warburton was proved right as Brentford's thrilling attacking play swept everyone aside.
Hughton said: "For a team that won promotion last season Brentford have made a fantastic start to the new campaign.
"To record five straight wins in the Sky Bet Championship is a wonderful achievement and Mark Warburton is thoroughly deserving of this award."
Goodman said: "Brentford continue to impress in their first season in the second tier for 21 years.
"Securing their fifth straight Championship win with a 4-0 demolition job of Wolves, Warburton will be dreaming of a repeat of last season's promotion heroics."
Lowery said: "For me there was no other contender for this month's award. Brentford have been breathtaking under Warburton during November.
"They averaged nearly three goals a game and obliged on five straight occasions for backers on our goal frenzy coupon, where teams can be backed to score two or more in a match.
"The Bees are now 4/1 to achieve promotion, having been 11/1 at the start of the season."
Sky Bet Championship Player of the Month: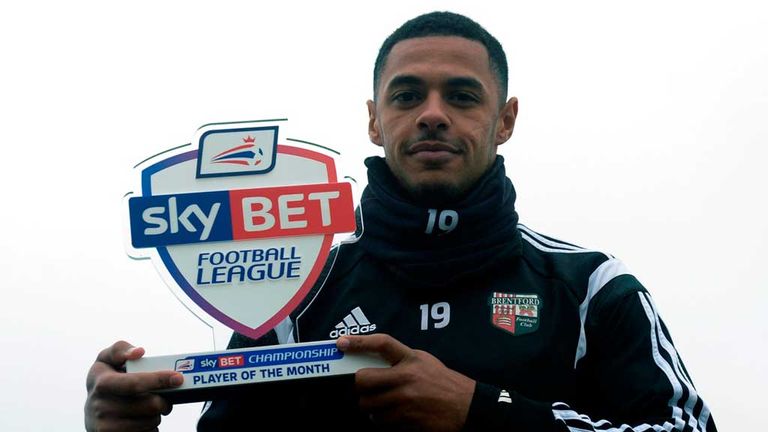 Andre Gray (Brentford)
Gray's period of adjustment from Conference football last season is over.
His predatory instincts are now on full show in the Sky Bet Championship with five goals in as many games, notably his curving run and clinical finish in the 4-0 win over Wolverhampton Wanderers.
Warburton said: "I am delighted for Andre. He will be the first to say that any award we receive speaks volumes about the team as a whole.
"Andre has made significant progress in a short period of time. He has demonstrated an eye for goal and a desire to improve.
"He is still a young player with significant development still to come. We look forward to watching his progress."
Goodman said: "Gray's goals have been pivotal in Brentford's recent run, with the centre-forward running defenders ragged throughout the month.
"Mark Warburton believes he has the talent to make the step up to the Premier League. Who are we to disagree?"
Lowery said: "The pick of the bunch during an excellent month for Brentford.
The former Luton striker was something of a gamble when The Bees signed him, but seven goals in 18 games this season has repaid that trust.
"Gray is among the top scorers in the division and is five behind Britt Assombalonga's total of 12. Gray is 25/1 with Sky Bet to be the Championship top scorer this season."
Sky Bet League 1 Manager of the Month: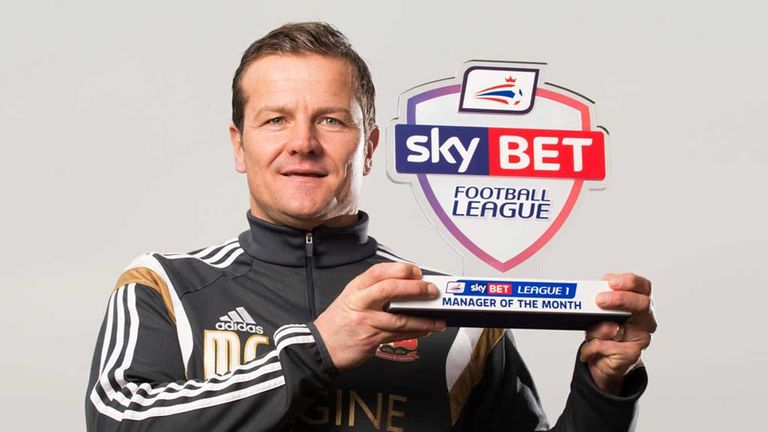 Mark Cooper (Swindon Town)
Cooper masterminded a 12-point haul from five games as Swindon became the first side to beat leaders Bristol City.
They also defeated promotion rivals Preston North End and Peterborough United – and did so by sticking to Cooper's belief in the passing game.
Hughton said: "A great month for Mark Cooper's men in Sky Bet League 1.
"Although Swindon lost one game their victories against promotion rivals and the quality of opposition they defeated was extremely notable."
Goodman said: "A four-game winning streak has brought Cooper's Swindon side to within touching distance of the Sky Bet League 1 summit.
"Being able to pull his side up after an embarrassing FA Cup defeat showed Cooper's ability to motivate his squad."
Lowery said: "After a defeat at MK Dons at the start of the month, Cooper's Swindon rebounded brilliantly, winning all four of their remaining games.
"Cooper has been working on the team defensively as Swindon only conceded three league goals during the month.
"Rated a 4/1 shot to be promoted after the defeat to the Dons, Swindon have really kicked on and are in the mix of the promotion battle at 6/4."
Sky Bet League 1 Player of the Month: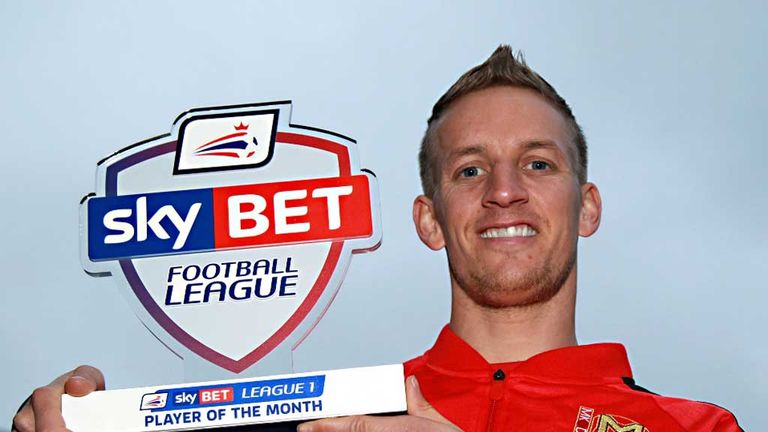 Carl Baker (MK Dons)
Still getting back to full fitness, Baker has provided an irresistible spark by running at defenders and mesmerising them at will.
He ran the game and struck a fine low winner against Port Vale, while he had two assists in the 6-0 win over Colchester United.
MK Dons manager Karl Robinson said: "I'm ecstatic for Bakes. He's come in, worked tirelessly and made a major contribution in each of the games during the month, so this award is fully deserved.

"It's not just been Bakes who has played well though. The whole squad deserve credit and they would have had a good chance of winning Team of the Month if there was such an award!"
Goodman said: "After forcing his way into the starting line-up, Baker repaid his manager's faith with a match-winning strike.
"Guaranteed a starting place at Coventry, Baker's summer move has given him a new challenge – one that he is relishing.''
Lowery said: "Baker is a real non-league success story having shot to prominence at Southport after a youth career with Liverpool.
"Baker's early goal against Port Vale at the start of the month earned them a 1-0 victory as Karl Robinson's side chase promotion. They can now be backed at 11/10 having been 13/8 at the start of November."
Sky Bet League 2 Manager of the Month: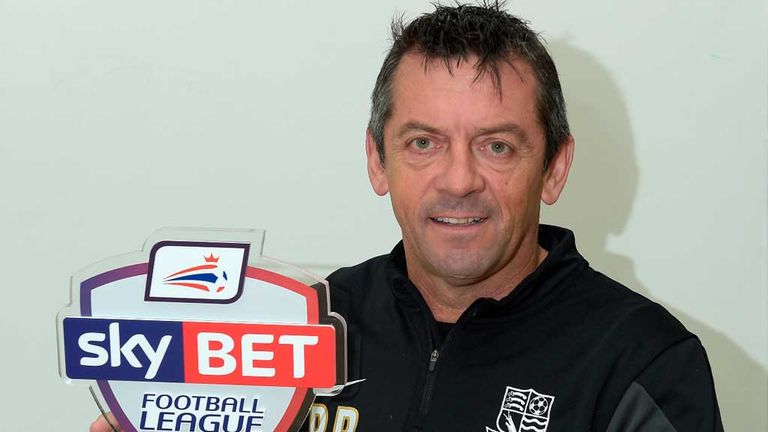 Phil Brown (Southend United)
Brown maintained his calm during a difficult October to oversee a perfect November record with four straight wins.
Brown built success on a tight defence with two goals conceded as Southend moved into the play-off positions.
Hughton said: "Phil Brown's side are constantly in the promotion positions in Sky Bet League 2 which shows a great consistency.
"Four straight wins in November proves they remain a team to watch this season."
Goodman said: "A perfect month for Phil Brown's Southend side has left them sitting pretty in the League 2 play-off places.
"Without setting the world alight, Brown's men got the results they needed and they now have a handy break before the Christmas fixture pile-up."
Lowery said: "Four wins from four helped Brown's Shrimpers keep their automatic promotion hopes alive in a month where all the frontrunners amassed healthy points totals.
"Brown's men were the only team to win all of their games in November and the fourfold would have paid 14/1.
"There are a handful of very good sides vying for those three top spots in League 2. Brown's team are now 10/1 from 18/1 at the start of the month to be crowned champions."
Sky Bet League 2 Player of the Month: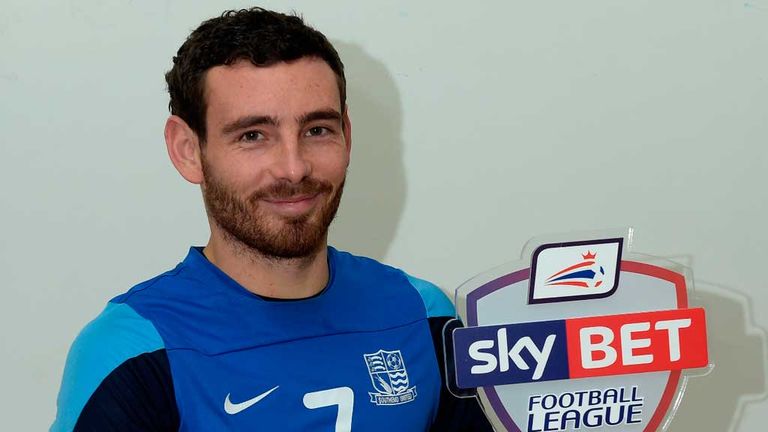 David Worrall (Southend United)
Three goals and two assists from the all-action wide man whose licence to roam and cut in from the right energised his side to a perfect month.
The pick of Worrall's goals was an individual run and low finish for the winner against Hartlepool United.
Brown said: "I'm particularly delighted for David Worrall. He's had a fantastic season so far.
"He started slowly but he's really coming into his own now and hopefully that can continue."
Goodman said: "Worrall's goals have been vital in Southend's resurgent November form.
"Scoring winners against Mansfield and Chester meant The Shrimpers could get over their poor October form to leave them looking forward to the Christmas fixtures."
Lowery said: "Worrall had a brilliant November, leading Southend to four wins from four in Sky Bet League 2.
"Worrall's role on the right wing usually relies on him to create chances but his four-goal return was a huge bonus for The Shrimpers.
"Phil Brown has established a 4-5-1 formation at Southend which provides good service to his striker."