Fleetwood vs Walsall: Zeli Ismail on Dele Alli, £100m price tags and international hopes
Watch Fleetwood vs Walsall, live on Sky Sports Football on Saturday
By Alex Brodie
Last Updated: 16/11/18 8:17am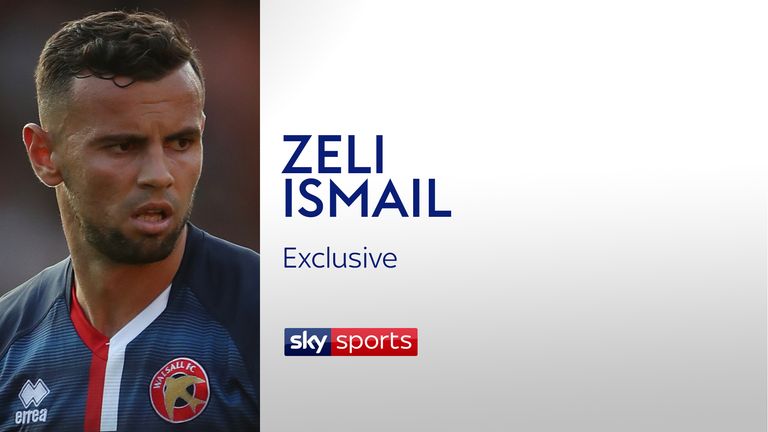 Zeli Ismail moved to England from Albania as a child and has since been on a footballing journey, featuring a £100m price tag, Dele Alli and numerous loans - but now at Walsall, the 24-year-old is finally settled.
The midfielder and his family crossed Europe in search of a better life and it was through football that Ismail found it easiest to acclimatise and find his feet.
"I came over when I was six or seven, at a young age," he tells Sky Sports ahead of Walsall's Sky Live visit to Fleetwood on Saturday. "When I arrived, I couldn't speak English at all so getting involved in football helped me massively.
"We left for a better life and when I came here, I started playing for school teams, Sunday league. Then I got scouted by Wolves and it kicked off from there."
Early hype at Wolves
"Kicked off" is a fair description of the early stages of Ismail's whirlwind youth career. Having joined Wolves aged 10, he represented England at U16 and U17 level before making his first-team debut as a late sub in a 6-0 League Cup defeat in 2012 to a Chelsea side featuring Eden Hazard, Fernando Torres and John Terry.
Despite the inauspicious start, Ismail was seen as a rising star at Wolves, who were still years away from being bought out and transformed into the club they are today.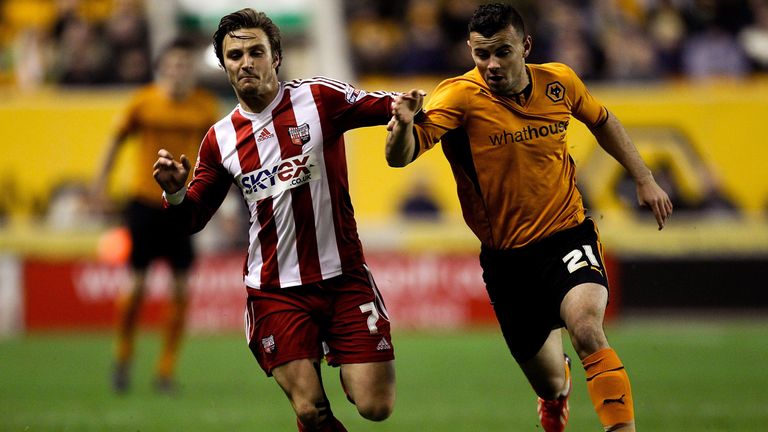 Such was the belief in his ability, there were outlandish press reports at the time of him possibly being worth up to £100m as his career progressed. There were links to Premier League clubs. Ismail has no idea where this price tag came from and put it down to the hype that surrounds many young players.
"I don't know who it was [who came up with that figure]. I don't tend to look at the media things like that. I just concentrate on my game," he says.
"To be fair, if you saw that in the paper and came to see me you'd be thinking, 'Let's see what he is all about'. People will always have their opinions, but for me, I just play my own game."
Going out on loan
In search of first-team football - he played nine league games for Wolves, all in League One, where he currently finds himself - Ismail took on several loan moves over the following years.
Spells at MK Dons, Burton, Notts County, Cambridge and Oxford brought mixed success, but all provided the chance to prove himself in competitive football and that essential ingredient in the development of a young player: first-team action.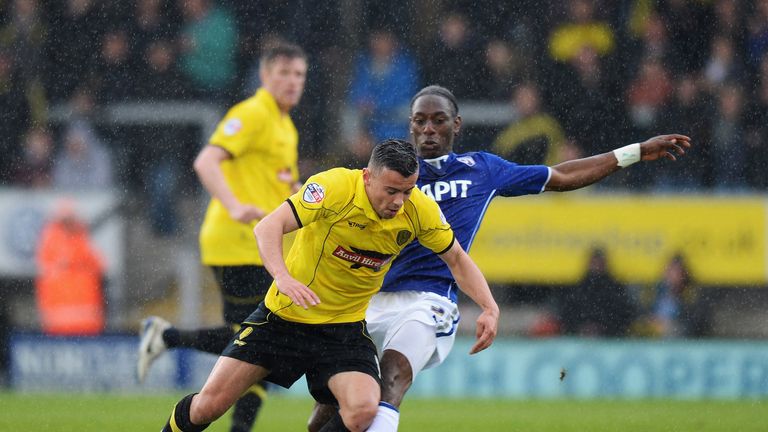 "Some U23s football is not that competitive and some of the decisions you're making are pretty poor," he says. "But at the higher level, playing with men, you have to make the right decisions at the right time.
"Going on loan helped me a lot, I had a lot of spells. If I wasn't playing at Wolves, I wasn't happy to just sit on the bench or play U23s football. I just wanted to go out and play men's football - that's the right way to learn the game."
'Unbelievable' Dele Alli
That first loan move to MK Dons resulted in Ismail playing alongside (and, at one point, coming on as a substitute for) another young player who had a bright future predicted - future England and Tottenham midfielder Dele Alli.
"Some of the stuff that Deli was doing was unbelievable. It was crazy," Ismail says. "You would always look at him and think, 'Yeah, he's going to go to the top'.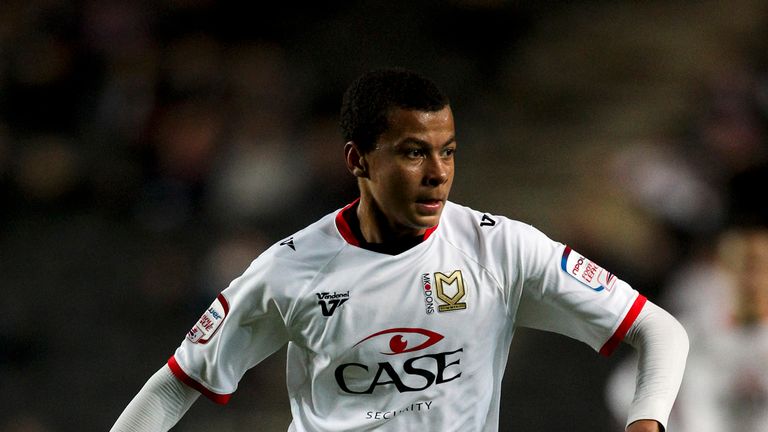 "There were a few other young players there at the time and with me also being quite young, it was a good place to be."
Self-doubt at Bury
Unfortunately, not all of his moves were so helpful. He joined Bury in the summer of 2016, but his stay ended in relegation and being released. It was a low point for Ismail and though it eventually led to his move to Walsall - after a successful loan last season - he doubted himself.
"It affects you massively," he says. "You think to yourself 'Is it me? Am I that bad?'. But in that team, I don't think you could blame anyone. There were a lot of things that were wrong."
Feeling at home
Now at Walsall and battling for a first-team place, the exciting midfielder, who enjoys driving the side forward and injecting pace into the game, feels more at home.
"Throughout my career, I've been going out on loan, but now I'm settled here," he says. "I'm a local lad so it has worked out well for me.
Zeli Ismail career
| Date | Club |
| --- | --- |
| Wolves | Jul 2012 to Jun 2016 |
| MK Dons (loan) | Aug 2012 to Feb 2013 |
| Burton (loan) | Jan 2014 to Jun 2014 |
| Notts County (loan) | Jul 2014 to Nov 2015 |
| Burton (loan) | Jul 2015 to Dec 2015 |
| Oxford (loan) | Feb 2016 to Mar 2016 |
| Cambridge (loan) | Mar 2016 to Jun 2016 |
| Bury | Jun 2016 to Jul 2018 |
| Walsall (loan) | Aug 2017 to Jan 2018 |
| Walsall | Jul 2018 to present |
"I came here last year, did alright, and the fans took a liking to me. This season I've managed to carry it on.
"I like to get at players, get into the box, one-on-one situations. Carrying the ball and the team up the pitch.
"The manager (Dean Keates) says, in the final third, just go and express yourself, do what you're good at, which gives me confidence to do just that."
Family and Albania hopes
Playing at a local club with a manager who supports his style, Ismail also has his family behind him all the way.
"They are supportive of my career, especially my dad," he says. "If I've had a good game, he's the first one to praise me. And if it's been a bad game, he's the first one on my back!"
Though Ismail started his career playing youth football for England, a switch to representing Albania, the country of his birth, remains a possibility. He still visits the country to see his grandparents and has had contact regarding the national side.
"Albania have tried to contact me twice. Once last season, but Bury wouldn't let me go. They said I was injured but then they asked me to play on the Saturday.
"This season, they have also messaged me a few times. They said, 'Keep doing what you're doing and hopefully there will be another call-up'.
"It would be a successful moment for me if I got to represent them."
The future
Looking ahead to the game against Fleetwood brings back bad memories for Ismail, who lost to them in the play-offs during one of his loans at Burton, but he remains confident he can help Walsall achieve their aims this season.
"I want more goals - but also assists alongside that," he says. "We want to finish at the top end of the table, maybe the play-offs."
After the journey Ismail has been on, this season is a chance for him to show the early hype was not misplaced, prove a point to a few people and maybe gain international recognition once again.
Watch Fleetwood vs Walsall on Saturday, live on Sky Sports Football from 11.30am