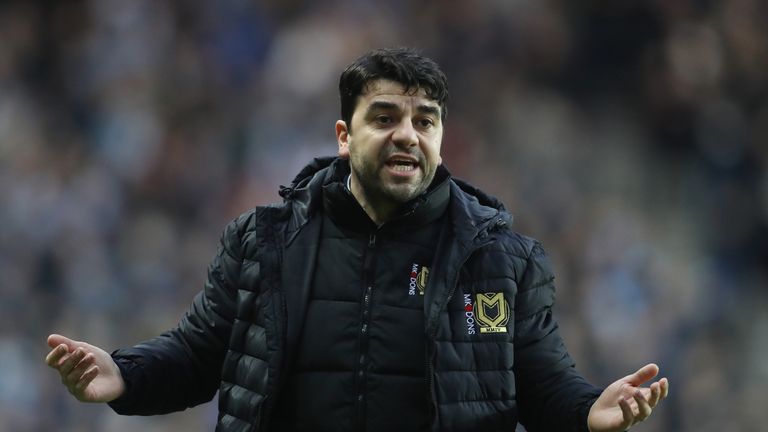 Bad recruitment, a lack of goals, trouble replacing Karl Robinson...James Walker-Roberts looks at what has gone wrong for MK Dons after their relegation to League Two was confirmed.
"I think there will be a little bit of regret," said Karl Robinson as he prepared to return to MK Dons as Charlton manager in February.
Regret. Not on Robinson's part, but on the part of MK Dons, who had decided to part company with Robinson in October 2016 due to a "disappointing" start to the season. MK Dons were one point and two places above the League One relegation zone when Robinson left.
Eighteen months and two managers later and MK Dons find themselves slumping back to League Two for the first time since 2008, with a 2-0 home defeat to Scunthorpe at the weekend confirming their fate.
So what's gone wrong and what needs to change?
'Two bad managerial decisions'
Having sacked a second manager of the season just over a week ago, MK Dons chairman Pete Winkelman said he has made "what have turned out to be two bad managerial decisions".
In fairness to Winkelman, it was always going to be tough to replace Robinson, given the impact he had on the club during his six years in charge. Robinson was the third-longest serving manager in the top four divisions when he left in 2016 and had overseen arguably the best result in the club's history - a 4-0 Carabao Cup win over Manchester United - and secured promotion to the Championship for the first time in 2014/15. Winkelman told the MK Citizen recently: "We have never gotten over Karl Robinson leaving, the way he left. We never got over it and we have got to."
Robinson's replacement Robbie Neilson came to MK with a promising track record having led Hearts to the Scottish Championship title in his first season in charge and then a third-placed finish in the top flight. He made a positive enough start as MK finished 12th in 2016/17, and then won four of seven games in September in 2017/18 to suggest signs of progress. But from the start of October to the end of the year they won just two more games, the second of which was a 1-0 victory against Peterborough on December 30 after being reduced to nine men.
Neilson eventually left by mutual consent on January 20 and instead of looking for an experienced manager in the division, the club turned to former academy coach and England Under-16 manager Dan Micciche. He would win only three of 16 games before he was sacked with three matches of the season remaining and MK staring relegation in the face.
I never saw Micciche as a manager. He was a great coach but not the right man to take them forward.
MK Citizen's Toby Lock
Reflecting on the appointments of Neilson and Micciche, MK Citizen journalist Toby Lock told Sky Sports: "I never saw Micciche as a manager. He was a great coach but not the right man to take them forward.
"As for Neilson, at the time he was the right appointment, he had one of the better track records in England and Scotland, so you can see the intent in going after him, but I think his approach was too different to what MK Dons were used to under Karl Robinson. What they wanted was a continuation of that philosophy and the way he operated. That was the mistake Pete Winkelman made; it was too much of a change too quickly."
Bad recruitment
While the managers since Robinson have not worked out, many of the problems at MK Dons in recent seasons can be traced back to the recruitment.
Players have developed and improved at the club, such as Dele Alli and Brendan Galloway, both of whom now play in the Premier League, but there have been very few standout signings.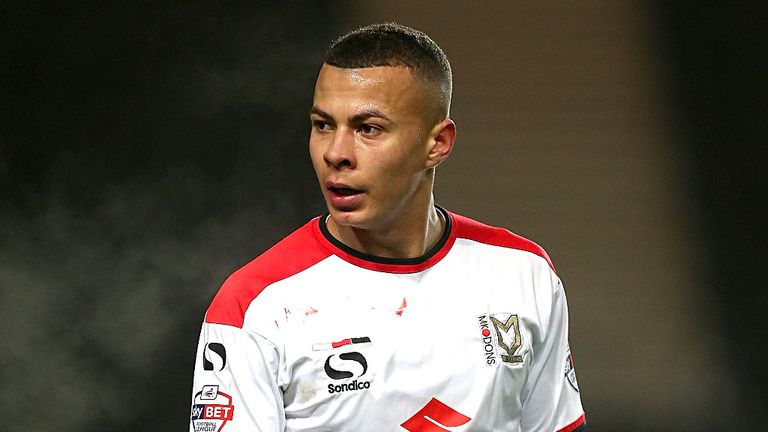 Part of that comes down to a lack of spending - when they were promoted to the Championship in 2014/15 they only made loan signings and free transfers - but there have also been a number of players who have not worked out.
They include Sergio Aguza and Cristian Benavente, who were signed from Real Madrid's reserve side in 2015 and went on to make just eight first-team appearances between them. Former Liverpool youngster Dale Jennings joined in the same summer and was described by Robinson as a "wildcard" with a "lot to do" to get into top shape. He left in February 2016 after making one appearance.
Last summer there was an overhaul of the squad as Neilson looked to make his mark, with several stalwarts departing, including Dean Bowditch, Darren Potter and Daniel Powell. But in a season where MK have won just five league games since the start of October, it goes without saying that few of the players bought into replace the "old guard" have impressed.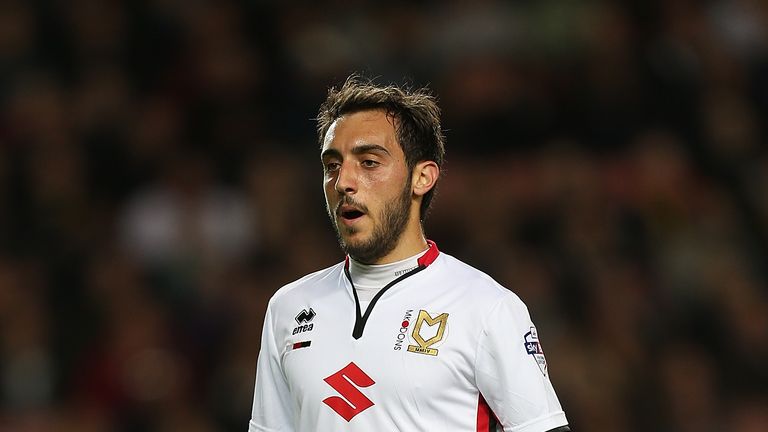 Striker shortage
Again a recruitment problem. Ever since Izale McLeod left in 2007, there has been a search for a striker who could get close to the 20-goal mark in a season. McLeod scored 18 goals in successive seasons in League One and then 24 in League Two. However, since his departure, only Will Grigg in 2014/15 has reached 20 goals. MK tried to sign Grigg after his season-long loan from Brentford, but were reportedly unable to match Wigan's offer.
Instead, in their first campaign in the Championship they brought in Nicky Maynard - who had scored three goals in 26 games across three seasons with Cardiff - along with Simon Church - 10 goals in 63 games for Charlton - and Southampton youngster Sam Gallagher.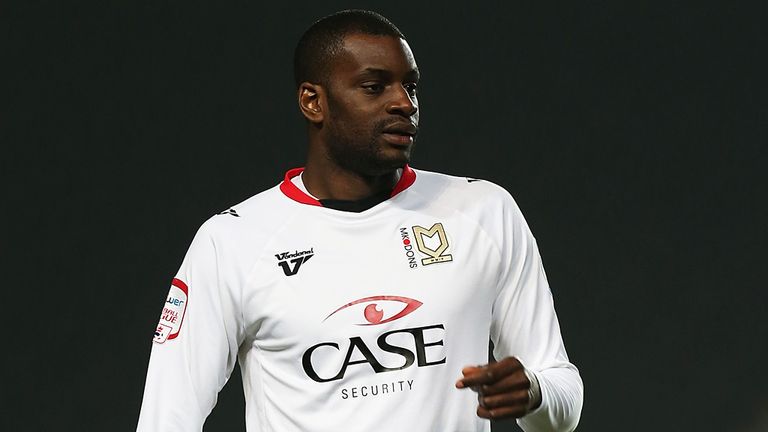 Gallagher would be recalled from his loan by Saints in January having failed to find the net once in 15 appearances while Maynard would finish as the club's top scorer in the Championship with eight goals.
Last season only Kieran Agard passed double figures in League One. The closest to his 12 goals were midfielders Ben Reeves (7) and Harvey Barnes (6) while Maynard scored two in 34 appearances. Agard has scored five this season in League One while Chuks Aneke is the top scorer with nine. That has been nowhere near enough.
'Change the MK way'
With their relegation to League Two now confirmed, it's time for MK Dons to start looking ahead, appoint a new manager and fix what has gone wrong in recent years.
MK Citizen's Toby Lock thinks they need to break away from the "MK way".
"They are trying to run a community club, like a local club, a club where you know players by first name and you can go and have a chat with them after the game. That shouldn't be the way with professional football, there should be separation, fans shouldn't know everything that happens at the club. Some things should be behind closed doors.
"I can't see an end to the 'MK way' because it's not in their philosophy to want that, but the club needs to have a sit down and have a serious think about what they want for the long term and how they are going to go about it. Because what they are doing now isn't working, clearly, because they are sliding down the table."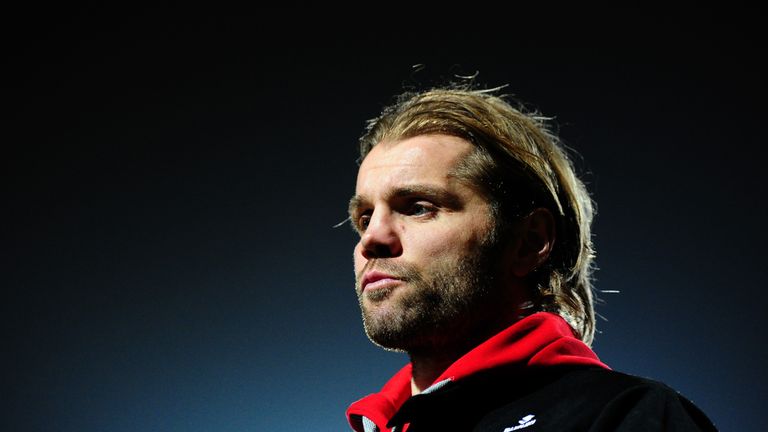 The last time MK Dons were relegated to League Two in 2005/06 they finished fourth in their first season and lost to Shrewsbury in the play-offs. The next season they won the title to secure a quick return to League One.
"I think they need to chuck money at this League Two campaign and get out of it as quickly as possible," adds Lock. "We have seen clubs get swallowed up in the league, it's not an easy league. They need to have a really good go of getting out of the league at the first time of asking.
"We have seen what Blackburn and Wigan can do if you go down, chuck money at the situation and look to get out. If you see a League Two with 20 goals in him just get him, don't worry about money. They need to have a proper look at getting out at the first time of asking, not being frugal. Do everything it takes to get out of the first time of asking."