Steven Gerrard and Frank Lampard have it tough, says Danny Cowley
'I'll forever be appreciative of [the non-league] grounding, it's been a brilliant learning curve and allowed me to learn the job'
By Ron Walker
Last Updated: 11/09/18 5:02pm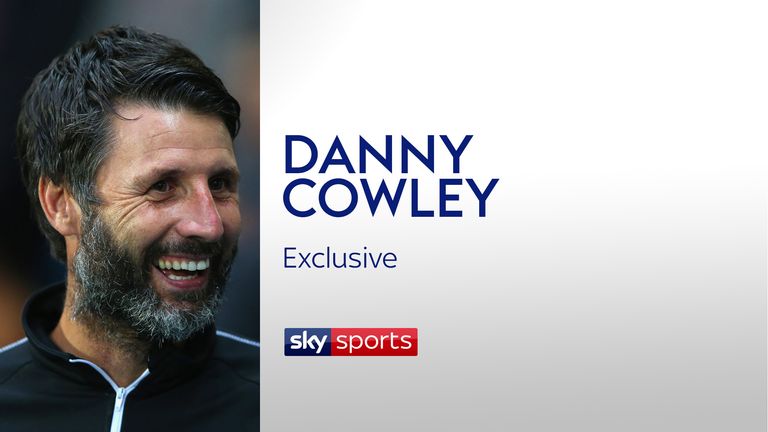 Danny Cowley is glad he learnt his trade in non-league rather than dealing with the "pressure and scrutiny" Steven Gerrard and Frank Lampard face.
The Sky Bet League Two manager of the month for August told Sky Sports a 10-year spell honing his trade outside the EFL made him the manager he is today.
Lincoln are top of League Two after five wins and a draw from their opening seven games and promotion this season would be Cowley's sixth in 12 years.
He can do little wrong with the Imps, leading them to the National League title and an FA Cup quarter-final loss to Arsenal in his first season, and a play-off defeat to Exeter in his second.
The other promotions came with Canvey Island club Concord Rangers, who he took on a rapid rise from the ninth tier to the Conference South and he credits this period with shaping his outlook on management.
He told Sky Sports: "I'll forever be appreciative of that grounding, it's been a brilliant learning curve and certainly allowed me to learn the job, develop my skillset away from the pressure you get in professional football.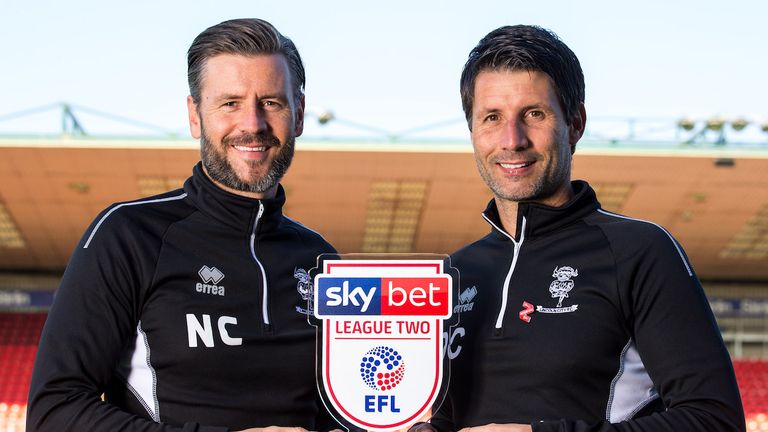 "It allowed me to make mistakes, behind closed doors in a sense, and to find my style. It's benefited my management and it's been really good - I'd recommend it to anyone.
"I look at Steven Gerrard and Frank Lampard who have had brilliant playing careers and then taken on really high-profile jobs, and it must be tough for them to try to learn about the role under such pressure and scrutiny."
It was not long into his management career before Cowley disregarded the idea of having a steadfast style of play and instead focussed on getting the best out of what he had.
He said: "Everyone talks about football philosophy, I've never thought it was as complicated as having a philosophy, I think it's about having some values.
"We have a set of values which we try to stick by and live by, on a daily basis, we try to work relatively hard, but tactically we're quite flexible because I think you have to be.
"In the lower leagues you generally inherit players of all shapes and sizes, different profiles, and you have to try to find a way of playing for the players you have at your disposal.
"There's a definite art to that, but it's also about finding like-minded people, honest boys who love the game. If you can get a lot of those in the dressing room, all fighting for the same cause, you can be successful and have some fun along the way."
The Londoner has been fortunate - or careful - to work with teams where he can build a club, not just a squad.
He uses his year-long spell at Braintree Town - a semi-professional club who he guided to the National League play-offs - as an example. Without the resources to turn full-time, he already felt he had taken the club as far as he could after one season.
Cowley's managerial career
| | | | |
| --- | --- | --- | --- |
| Year | Club | Division | Position |
| 2006/7 | Concord Rangers | Essex Senior League | 7 |
| 2007/8 | | | 1 (P) |
| 2008/9 | | Isthmian Division One North | 5 |
| 2009/10 | | | 2 (P) |
| 2010/11 | | Isthmian Premier League | 8 |
| 2011/12 | | | 14 |
| 2012/13 | | | 4 (P) |
| 2013/14 | | Conference South | 9 |
| 2014/15 | | | 7 |
| 2015/16 | Braintree Town | National League | 3 |
| 2016/17 | Lincoln City | National League | 1 |
| 2017/18 | | League Two | 7 |
Even with resources, building a club takes time, but Cowley's results speak for themselves. Lincoln could reach the third tier for the first time in 30 years if they keep up their early-season form. It would mean a second promotion in three seasons to add to a run to the FA Cup quarter-finals while still a National League club in 2016/17.
"If I look at my managerial career, I spent eight years at Concord Rangers because it felt like I had free rein, and I could build on and off the pitch," he said.
"You're always a manager trying to go somewhere will be a good fit, where your values are aligned, and then it's about trying to influence people and manage the people around you.
"Winning on a Saturday is never enough for me, it's about trying to build a club for me and at Lincoln we took over, the club had been relegated five seasons before and lost its way a bit, but we were able to come in and give it a bit of enthusiasm and direction which it needed.
"It was a perfect club for us to take at that time, and we've been really good for each other so far. Everyone's as important as each other, it doesn't matter if you're my 30-goal forward or my tea lady, or a supporter.
"Everybody contributes and if you can get that team ethic, that can make you really powerful. We're fortunate at Lincoln because we have a wonderful support, which is completely unconditional with their love for both the football and the city and I think that's quite unique to Lincoln."
It could be a while before Derby boss Lampard pitches up at Sincil Bank, but if the Imps can move within a division of their East Midlands neighbours for the first time in 33 years, Cowley will have taken them a step closer.