Manchester City. Manchester United. Shrewsbury. The only three teams in the top four tiers of English football still unbeaten after the first two months of the season.
Unlike the two Manchester giants, though, Paul Hurst's side have played 11 league games not seven, and their nine wins and two draws so far have put them four points clear at the top of Sky Bet League One. And the Shrews were one of the sides tipped for the drop at the start of the season.
"[My players] have been outstanding and to go two months unbeaten is a credit to any team, particularly a club like ours who were unfancied at the start of the season," said Hurst - who won the Sky Bet League One Manager of the Month award for September.
"Ultimately I get the award but we all know it's because of the performances of the players and the staff behind the scenes who work extremely hard. It's a big team effort.
"The work ethic of the team is outstanding. They worked very hard in pre-season, which I'm sure every club would say, but there's no doubt this group have, and they've carried that on into the season.
"As the results have gone on there's been a little bit more self-belief come into them, but they've also played some very good football at times. That has sometimes been forgotten about because we've spoken a lot about the fitness of the team, but we've also got some very good players. You don't get the record we've got so far without that."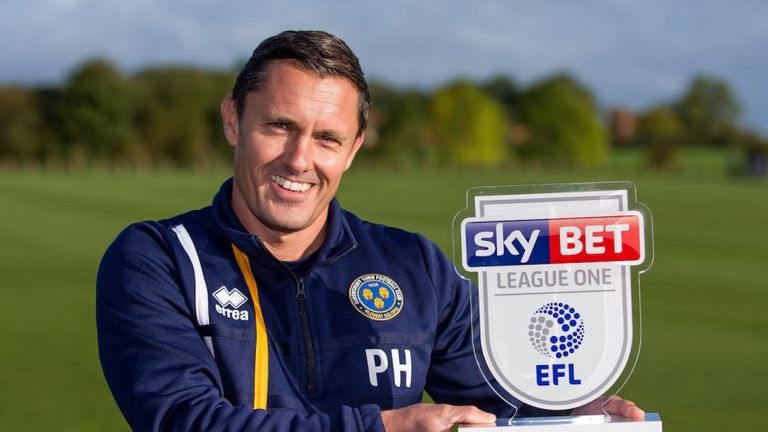 Shrewsbury have finished 20th and 18th in their last two seasons in League One, but Hurst is refusing to get carried away despite their superb and unexpected run, insisting their primary target remains reaching the all-important 50-point mark to avoid relegation.
"It's great but there are still many games to go," he said. "There are always going to be doubters and people may think we're getting carried away, but I can assure you that's not the case. People keep saying every week that this will be the game you get beat, so we've managed to keep proving people wrong, and that will be the aim for the whole season.
"Naturally, though, the law of averages suggest we're going to lose a game sooner rather than later, but for me when that does occur it's a case of not worrying about it too much and to keep doing what we have been. It won't be panic time. But we certainly look a hard team to play against and if we keep the work ethic up it will take a good performance and team to beat us.
"Fifty points is still what we're looking at. We took until the penultimate game of the last two seasons to reach that total, so we're already well on our way to getting there a lot quicker. Once we do reach that, and I'm confident we will, we'll then reassess, see how many games we have left have a look at the table and see what's a realistic target for us."
The fine run of form has improved the mood around Shrewsbury and got the fans believing, but Hurst says it's their job to get carried away while his side need to keep grounded. He does, however, want to enjoy a little of the limelight.
"The feel around the town and ground is very good at the moment," he said. "[The fans] are pinching themselves at the start we've had and maybe one or two are getting carried away! That's for them to do, which is fine, because for us we've got to keep our feet on the ground.
"But we've also got to try and enjoy the moment and see if we can extend it that little bit further."
Watch the full interview with Shrewsbury boss Paul Hurst on Soccer Saturday from 2pm on Saturday afternoon