Peterborough's Jack Marriott on becoming the EFL's most prolific forward
By Nick Lustig
Last Updated: 27/04/18 4:23pm
Peterborough forward Jack Marriott speaks to Sky Sports News about nearly quitting the game and how the birth of his son has helped him become the highest-scoring player in the Football League this season…
Jack Marriott begins by recalling the moment he nearly called time on his footballing career at the tender age of 20 in the summer of 2015.
"I had a lot of stuff going on at that time, I didn't enjoy football at all," Marriott said.
"It wasn't the stress release that it normally is. I normally find stepping onto the pitch a massive relaxant, it takes your head away from everything else and you can just focus on playing football.
"That's what I think football always needs to be. But, it wasn't like that for me during that period of time. If anything, it was making me feel more stressed, it wasn't helping in any way and I felt it was quite possible that I may leave the game because I didn't see a future for me given how the previous six months had gone."
In January 2015, Marriott had been sent on loan by then-parent club Ipswich for the sixth time in his fledgling career, spending the remainder of the 2014/15 campaign at relegation-threatened League One side Colchester.
It was a move that he had hoped would be the springboard for finally proving himself in the Football League, having previously shown himself as a prolific scorer in the National League during his loan spells with Woking.
However, after appearing in only five matches and having just 30 minutes of playing action, scoring one goal, Marriott returned to Ipswich in May to find out that his contract would not be renewed.
"It's very difficult to deal with when all you want is to be given a chance," he said.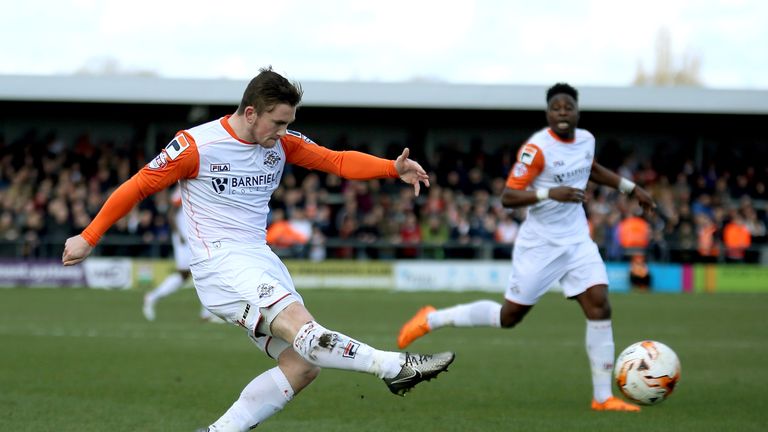 "I understand Colchester were fighting for their lives at the time, attempting to survive in League One, and they eventually stayed up which was great, but it was difficult for me because I began thinking about quitting football at the end of that season.
"Had I not had the interest from Luton, I think it would have been a very difficult stage in my life as I wouldn't have known what to do or what I wanted to do. I had fallen out of love with the game because of the way things had gone for me."
Marriott credits the then-Luton manager John Still for helping to restore his faith in the game and "giving him a future" once again.
Still, a veteran of the non-league game, was more than aware of Marriott's talents having watched the forward up close in Woking's 1-0 win at Kenilworth Road in March 2014.
Marriott joined the recently-crowned National League champions on a one-year deal, with a renewed vigour and a point to prove.
His first season would prove to be a roaring success, scoring 16 goals for the League Two side and netting a further 12 goals in the following campaign after being rewarded with a three-year deal.
"I always felt I was capable of becoming a regular scorer, but I think my two years at Luton were vitally important," he said.
"I learnt quite a lot about the Football League as I hadn't played an awful lot in the Football League beforehand.
"The first season was obviously the breakthrough season for me. The second year teams were a bit more aware of me and I had to learn a lot about myself, what different runs I could make and different aspects of my game that could take me further."
Now at Peterborough, Marriott has certainly taken his game to a new level.
Having joined the League One side last summer in a deal worth up to £500,000, Marriott has scored 32 goals in all competitions (26 in the league) making him the highest scorer in the entire Football League.
Marriott, who admits to surpassing even his own expectations this season, puts his recent success down to becoming a father, his first child Bodie having been born just before Christmas.
"At the start of the season he wasn't here yet, but I still knew he was on his way and that was as big a motivation as I have ever needed," Marriott said.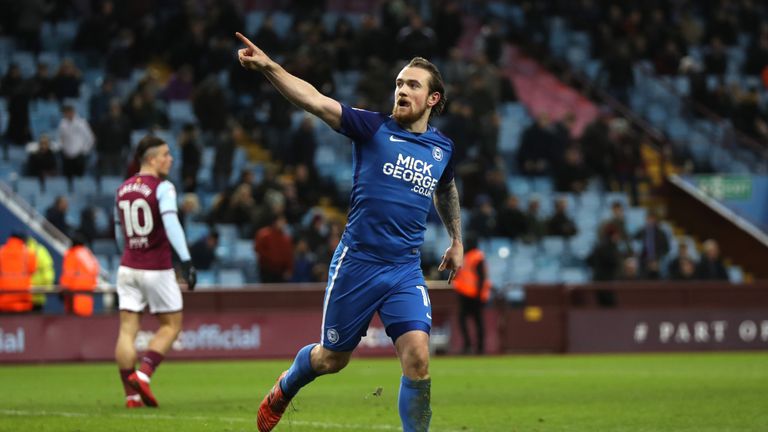 "Not only having to play for yourself, but to be able to play for someone else is quite special. He's been amazing and I think that's another reason why I have been working so hard and wanting to achieve something.
"He was born and it changed everything really. I started the season, obviously expecting, so you want to be in a good position to provide for your son as any father would.
"It has changed a lot and it puts everything into perspective as well. To be so lucky to have such an amazing boy."
Sky Sports News understands a number of a clubs have shown an interest in signing Marriott ahead of the summer and the 23-year-old believes he has the attributes to play at a higher level.
"Honestly, if given the chance, I believe I am capable of it," Marriott said.
"Scoring goals is going to get you noticed and that's great, but we've still got two games left of the season and we still want to finish on a high.
"I just want to do what's best for myself and my family. I want to play at the highest level I can.
"I am motivated enough and hardworking enough to know that I can get there, whether it will be this summer… who knows? I just want to keep working hard and see where that takes me."