Adebayo Akinfenwa helps Brixton's homeless with Football Beyond Borders
Last Updated: 22/12/17 8:34am
Adebayo Akinfenwa, aka 'The Beast', teamed up with Football Beyond Borders to help south London's homeless - less than 24 hours before a big game.
The burly striker is best known for his size and strength, but showed his softer side when he spent Thursday in Brixton, delivering blankets and serving food at the Soup Kitchen.
Despite the prospect of lining up for Wycombe on Friday in a play-off battle against Coventry, Akinfenwa took time out to join forces with FBB, an education charity which uses the power of football to help young people achieve their goals.
Akinfenwa, a father of five, told Sky Sports News: "I told my gaffer beforehand this was what I was going to do and he said 'don't be out there too late because we have a big game!'"
"But it means so much to me. I've got my daughter here to show that we are blessed, we are fortunate, so it means a lot to me."
According to Shelter, at least 300,000 people in the UK will spend Christmas on the streets or in temporary accommodation this year, and FBB is aiming to encourage its young participants to be aware of the need for giving back.
FBB co-founder Jasper Kain said: "We're working with over 400 young people in London but to do something like today and be able to inspire not only young people, but also the local communities, is just amazing."
The charity, which has Sky Sports' Spanish football expert Guillem Balague as its patron, works with young people both in the classroom and on the pitch.
It's an approach which Akinfenwa is hoping to emulate.
"People know my story, my trials and tribulations, trying to prove people wrong with my size," he said.
"So if I can inspire kids to get into football that way, if I can inspire people to try and give back in whatever way that may be, for me it would be a beautiful thing."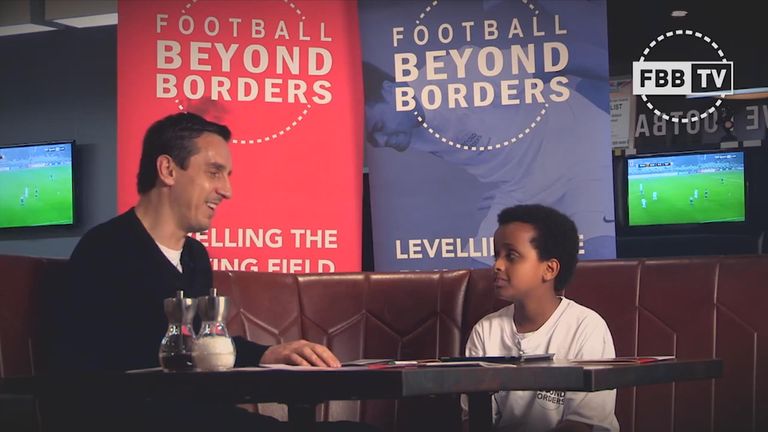 To become an FBB supporter and help the long-term delivery of its programmes to young people in some of the UK's most deprived communities, join the #FBBFamily!