Wycombe Wanderers striker Reece Styche delighted by Gibraltar call-up
Sky Sports' James Pearson catches up with a striker set to grace the international stage
By James Pearson (@SkySportsPeo)
Last Updated: 14/02/14 6:58pm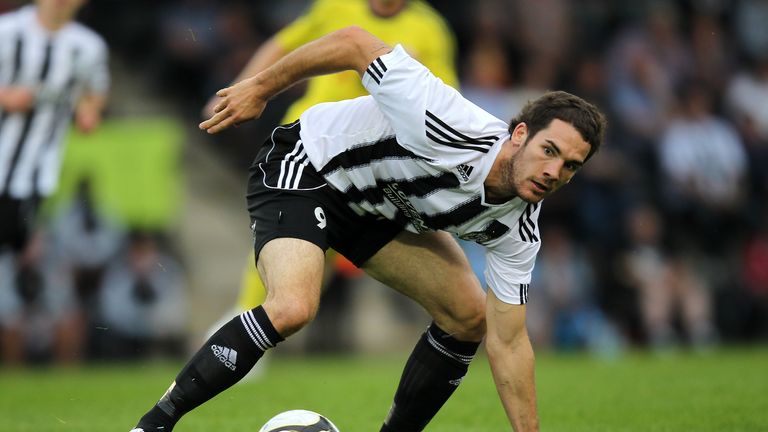 The Wycombe Wanderers striker, who is on loan from Forest Green Rovers, has been selected by head coach Allen Bula for next month's friendlies against Faroe Islands and Estonia.
Gibraltar is European football's governing body newest and smallest member after the British colony was accepted last May.
Styche has enjoyed a brief taste of international football having been selected by England C for a Challenge Cup game against Portugal, but a full international cap is what he has got his eye on.
"I've not played a full international so I'm really looking forward to it," the 24-year-old told Sky Sports.
Styche, a former plumber who helped build hospitals and schools, is thankful for his dad for mentioning to his new agent James Garley that he qualifies for Gibraltar.
"When I signed with James last year, I took my dad with me and my old man just dropped it in: 'Look, Gibraltar have just come in to UEFA'. He's actual Gibraltarian, he's got Gibraltarian in him," he continued.
"My nan was born there. She's a full Gibraltarian anyway. James said, 'yeah, that's fine - I'll let them know that you're eligible to play for them' and it just went from there.
"I had to send over documents and stuff. That's how it came about, through James, my agent, which I was massively thankful for.
"I was there (Gibraltar) when I was younger. My parents, my uncles and aunties and cousins live over there. I haven't been back for years so it'll be nice to go over there and see my family. It's a beautiful country anyway."
Gibraltar marked their historic debut as a UEFA member by holding Slovakia to a goalless draw in a friendly in Portugal last November.
Bula's squad will have their work cut out as they attempt to qualify for Euro 2016, but the daunting fixtures that await Styche and co are not ones the striker fears.
"We can't go into any game with the mind set that we're going to lose," he said. "Whether it's the best team in the world or one of the worst, it doesn't matter. We've got to go in with that mentality that we're going to win and to be fair, I've got that in abundance.
"Every game I go into, I just think to myself 'I'm going to win this game, I'm going to win my battle'. All it is is 11 v 11, isn't it? If you win your individual battles and everyone else does, then hopefully you'll get a positive result."
Gibraltar have recently called upon vastly experienced defender Danny Higginbotham, while they will also have Barnsley's Scott Wiseman in their ranks. Styche believes the mix of youth and experience will give the nation a chance of holding their own.
"Danny Higginbotham and Scott Wiseman have both played Championship and Premier League," added Styche. "Will Britt (the young Southampton goalkeeper) is at a Premier League club. It's that experience that you need.
"I always think you need a bit of experience in the team anyway to help the younger lads like myself. It's new to us. You need that mix of experience and youth. I think it goes well together."
Styche is out of contract at the end of the season, but he believes more impressive performances for Wycombe will mean his long-term future finalises itself.
"My focus is on playing well," he continued. "Hopefully when the chances come in, I can score some goals. Hopefully, whether it be at Wycombe, which I'm hoping, or somewhere else, we will get a contract sorted. That will take care of itself, as long as I'm playing well."
ACHIEVE director and licensed agent Garley added: "We are absolutely delighted for Reece.
"It has been a fantastic few weeks for him, firstly with his move into the Football League with Wycombe Wanderers, and now his inclusion into Gibraltar's national team squad, which has long been a burning ambition of his.
"I know his family will be even more proud of him than they already are and it goes without saying that, as his representatives, we are equally as proud of Reece. It has been a long process to get to this stage, but I would like to thank Gibraltar national team head coach Allen Bula, who we have stayed in regular contact with and he has been a pleasure to deal with.
"Hopefully, Reece will earn a place in their squad for their first-ever UEFA European Championship qualifiers and we will all be watching closely when the draw is made in two weeks' time - who knows, they could be drawn against England!"