It is now 10 years to the day since one of the biggest upsets in Scottish football history.
On the eve of the Scottish Cup fourth round - an eagerly anticipated weekend in the calendar - we look back on one of the competition's most remarkable days.
With all the intricacies and facets of this story, it's one that quite rightly shook the foundations of the sport in Scotland at the time. And with all the hundreds of articles you can read today, a decade on, you'd be forgiven if you thought the Richter scale is still picking up aftershocks.
Imagine the most anticipated debut in Scottish football history, in the form of Manchester United legend Roy Keane turning out for Celtic.
Imagine the future Scottish champions, with Shunsuke Nakamura, Neil Lennon, Shaun Maloney, John Hartson and the like travelling to lower league opposition in the Scottish Cup.
Imagine that lower league club having only two signed players on their books just months before the match.
Oh, and imagine one of the architects of that shock claiming he and his Clyde team-mates went into the match confident of triumph.
This was a Celtic team led by Gordon Strachan who, in the previous season, had drawn 1-1 with Barcelona in the Nou Camp. It was a team with bags of talent and plenty of experience.
Despite the current Scotland manager selecting Chinese centre-half Du Wei for his first (and only) appearance for Celtic, on paper they should have had more than enough to prevent this embarrassment at Broadwood in January 2006.
The unknown on-loan from Shanghai Shenhua making his bow for the famous Glasgow side barely got a mention though. The fever around the mouth-watering David versus Goliath  was all about Celtic's other new signing that day.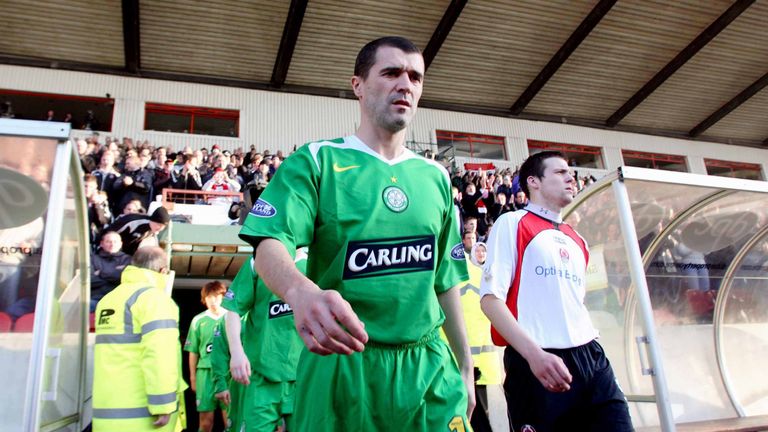 Roy Keane ended weeks of speculation about his future when he finally signed on the dotted line from Manchester United in December 2005. He had reportedly been close to joining Real Madrid a few days before, an indication of just how tough it would be for Clyde's young squad to match up to their Scottish Cup opponents.
His arrival at Celtic Park was such a coup, Celtic chief executive Peter Lawwell had to reject claims majority shareholder Dermot Desmod has personally bankrolled the deal and Keane's wages.
As a prominent Republic of Ireland international, connections to Celtic were rife throughout Keane's career.
The seven time English Premier League winner even said at the time: "Every boy in Ireland has an interest in Celtic, although my English team at the time was Spurs for some reason. I've been up to Celtic to watch a few games and always enjoyed my time here."
And you'd be forgiven for thinking the Clyde squad would see the signing as bitter-sweet. On one hand they would get to face up to one of the greatest midfielder of his generation, one of the key parts of Sir Alex's success at Old Trafford. But on the other hand facing Celtic is daunting enough, without the possibility being bossed around the park by a multi-major trophy winner. 
Eddie Malone, scorer of the goal that put the underdogs 2-0 up going into the break, told SSNHQ the management team somehow managed to convince the players to block out all of this fervour as white noise and that victory was possible.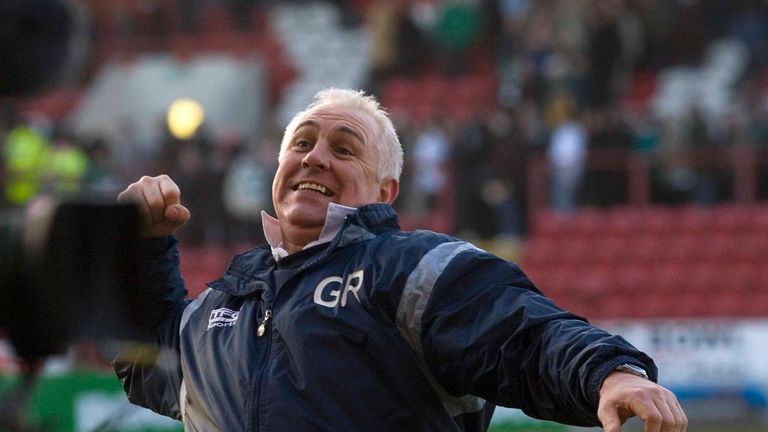 He said: "Graham Roberts and wee Joe [Miller] actually built us up so much that we thought we were going into the game with a chance. I don't know how they managed to do that! But they had us believing in ourselves, saying that we had a point to prove after most of us got let go by clubs.
"They told us we were all good players and that we could match them if we played to our best and we were actually going into the game quite confident, which maybe sounds a bit daft, but they put it in our heads and we managed to win the game.
"We stayed in the Westerwood Hotel in Cumbernauld the night before, so we were quite relaxed. There was the usual card-playing the night before and then in the morning, we had breakfast and went for a walk along the golf course.
"It was only really when the bus pulled up and we saw all the cameras that it really started to sink in. But once we went in the changing room, we were back in our own environment and it was just like another game.
Live Scottish Cup Football


"I remember the girl who worked for Sky Sports was in the tunnel and she wanted us to line up on the side we didn't usually line up on, but our captain said 'no chance'. I think that threw her back a bit. But that was the start of it, this is our pitch and we aren't moving for Celtic. And it just went from there."
The feat was even more unbelievable when you take into account that, having just missed out on promotion the previous season in the old First Division, Clyde returned to training that summer with just two players signed for the year.
The club held trials to build a squad almost literally from scratch.
"It was quite strange because almost everyone got released apart from me and (Craig) Bryson - we had another year on our contracts," Malone said. "So we turned up after the close season and we only had two signed players, so me and Bryson were looking around like 'what's going on?'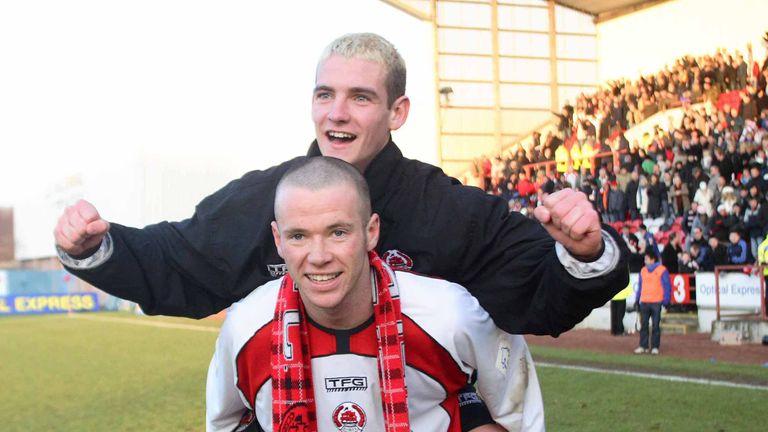 It was quite strange because almost everyone got released apart from me and Bryson. So we turned up after the close season and we only had two signed players. So me and Bryson were looking around like 'what's going on?'
"We didn't really know what the club's plans were. In the first day of pre-season, there were 30 triallists in and it was all a bit shambolic.
"I don't know how they managed to do that but we got a decent starting 11 onto the pitch and we just started the season well and grew in confidence all the way up to that game in January."
And it was confidence they had in abundance that day. It was not a case of a 90-minute siege. It was not a backs-to-the-wall job. Clyde matched Celtic and more, right from the off. They even missed a penalty just seconds before doubling their lead.
Malone, now playing with Edinburgh-based junior side Spartans, said: "Before that, Tam (Tom Brighton) had got brought down and it should have been a penalty. Also, Tam and Alex (Williams) had goals chopped off and we were quite on top in the game.
"When Odd (Stephen O'Donnell) missed the penalty and it went out for a corner, we just dusted ourselves down because we were on top and doing quite well. Obviously scoring from the corner after missing the penalty was a massive boost to the boys.
"And going in 2-0 at half-time, everyone was dead excited and the management team calmed us down and told us to focus. Celtic are a good team and if we switched off, then they would have picked us off at will. But we managed to keep our discipline and go on to win the game.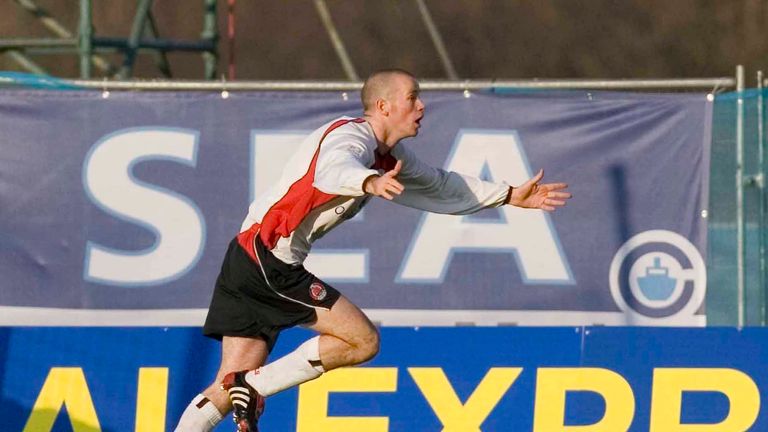 "Even when Celtic scored, we still seemed quite comfortable when defending them. Our back three had been brilliant and sort of felt, I wouldn't say comfortable, but felt OK during most of the game and managed to see it out.
"They scored with 10 minutes to go and you know what Celtic are like, they keep going all the time until the end. The amount of goals they score deep into injury-time, it wasn't until the full-time whistle that the job was done."
As you can imagine, Malone described the celebrations in the changing room after the game as the players 'just going mental' with 'a few cans of beer getting flung about'.
"We were all just young daft laddies around 21-years-old," the former Dundee defender added.
Now famous for that January takedown of one of Scottish football's giants, that Clyde team are unsurprisingly still a close bunch. Malone told us he and seven or eight others of that squad are planning to meet up in Edinburgh on Saturday for a catch-up, something they do every few months.
For most of them, it is their greatest moment playing the game of football. With their meeting so close to the anniversary of that accomplishment, it is unlikely much else will be on the agenda.
He said: "All the players will have their different stories of the day so I'm sure after a few pints my goal will get further and further away. It will end up being 30 yards or something. It will still be all that, they're still a good bunch of boys."
Almost like fate, Celtic face another potentially tricky Scottish Cup trip this weekend away to League One Stranraer live on Sky Sports 1 from 3pm on Sunday. It is the second part of a William Hill Scottish Cup fourth-round double-header after Rangers v Cowdenbeath, also on Sky Sports 1 from 12.30pm.