Brits abroad - Richard Offiong
Former Newcastle United forward Richard Offiong discusses his unique career path that took him from Turkey to Australia via spells in Belgium, South Korea and Sweden.
Last Updated: 18/05/13 3:19pm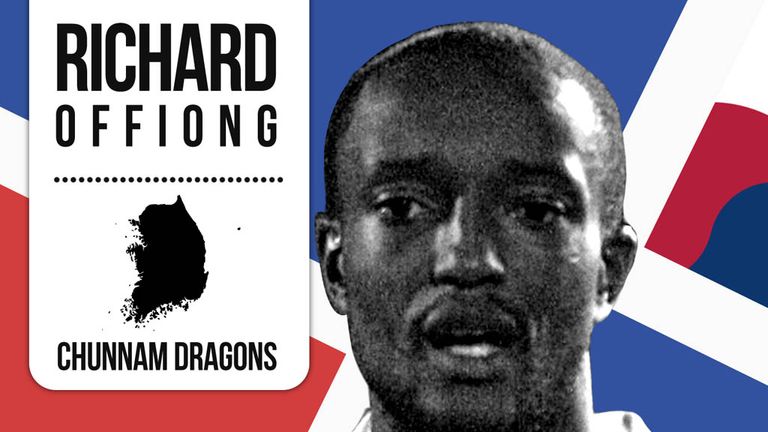 It is fair to say that the career path of Richard Offiong is a complete one-off. After beginning his career at Newcastle, the forward from South Shields travelled to Turkey to play for Istanbulspor. Spells in Belgium with Patro Maasmechelen and South Korea with Chunnam Dragons followed before Offiong returned to the UK with Doncaster Rovers.
A three-year stay with Hamilton Academical and later moves to Carlisle and Gateshead looked to have brought his foreign adventures to a close but further stints with Ostersunds in Sweden and Oakleigh Cannons in Australia mean Offiong is uniquely placed to advice youngsters of the challenges that playing abroad brings.
Adam Bate caught up with him to discover more about his experiences as a Brit abroad...
How did the move to Turkey come about?
That was my first move abroad. When I was at Newcastle there was a guy called Gordon Milne there at the time. He had links over in Turkey because he'd been out there before. Somebody got in touch with him and asked me if I fancied going across.
That's an unusual transfer for a 20-year-old guy...
Definitely, but it was a great opportunity to see the world and get some game time.
But do you think you need to be a certain type of person to be willing to make that move?
You've got to be open to something different because you never know if you're going to like it or not until you try it. I was lucky because when I went out there the first game was against Fenerbahce. Wow. I'd never played football in an environment like that. It was totally different to playing in the UK. I was in Istanbul and it was an absolutely fabulous place. I thoroughly enjoyed my time there and I've actually been out there on holiday since.
So was it a lifestyle decision or did you see this as progressing your career?
It wasn't really about the lifestyle because I didn't know much about the place, to be honest. I went there for the chance to play football. At the time at Newcastle I was quite far down the pecking order so I thought this was a great opportunity for me to play at a decent level and enhance my career.
After that experience it would have been easy to return to England but you went to Belgium soon after. Why was that?
I went from Turkey to Belgium. Again, it was just about getting an opportunity to play. I was at an age where I didn't have a family and I was so hungry to play that I'd go anywhere. Belgium was a new country for me but it was only an hour away from home on the plane. So I gave it a go.
Belgium was completely different from Turkey. Obviously there was the weather. That was just like the UK! Then there was the different culture to get used to, learning a new language. Everywhere is different, you know. There might be a different culture when you move from London to Liverpool or Glasgow. You've just got to adapt.
Belgium was very cosmopolitan. And the training was quite similar in Belgium to the UK. You'd train in the morning or the afternoon and then have your free time. Whereas in Turkey you'd train in the evening due to the heat so it was a different kind of lifestyle.
You scored some goals out there too...
It went really well on the field and it was a decent standard of football too. I got to play against Vincent Kompany when he was at Anderlecht. It was another great experience.
Then it was on to South Korea. How did that one come about?
Basically I got a really good contract offer. I'd played against them in a mid-season tournament in Belgium and done really well. The club were desperate to sign me after that so I went out there and stayed for four months.
That was a very different experience. It was a bit of a shock. I wasn't in one of the main cities. It was more like a small village so it was quite difficult adapting to that. In fact, it was probably the most difficult of all my moves abroad.
The language barrier was a major factor. Obviously I couldn't speak a word of Korean and not many of the players could speak English. Even the ones that could, it was very basic. They were lovely people but I was 21 at the time and it was so different to what I was used to. It made me realise the difference between Turkey and Belgium wasn't that much!
I'd be walking down the street and people would just be staring at me. You could see they were thinking 'What's this guy doing here?' It was literally like that. So trying to get by was pretty tough but I became a stronger person for it.
How did you find the standard out there?
The standard on the field was OK. Asian football is getting a lot better and there seem to be more and more Asian players coming over to Europe. Obviously you've got Shinji Kagawa at Manchester United and then there's Park Chu-Young who is on-loan at Celta Vigo from Arsenal. He was a major superstar out there at the time. He was as big as David Beckham in South Korea!
You mention that it was a decent contract out there. Is it just a case of telling your agent you are up for anything?
My agent would tell me about all sorts of offers. I had an option to go and play for Rubin Kazan but I ended up not going as I took the offer from South Korea instead. There were offers from the UK as well but at that stage I really did want to give it a go overseas.
I don't know what made me think like that but I just did. Even going back to my time at school, I made sure that I got all my GCSEs in languages because I knew I wanted to go and play football abroad. So I ended up getting an A* in Italian and an A in French. I just knew it was what I wanted.
You returned to Britain after that though. Was it trickier to get a club because you had been off the radar?
That can happen. When I was at Newcastle there was a lot of interest but because I had been away for a few years playing abroad - doing well abroad - there was less interest. People didn't really look overseas unless you were a big star. Coming back was quite tough.
I ended up going on trial at Doncaster Rovers and stayed there for a year without really playing much. Then I went up to Scotland and stayed there for three years. But it can be difficult because it's a case of out of sight, out of mind.
It's particularly strange because you get the feeling that everyone in Europe know what you're doing but not the UK. In Britain they only follow David Beckham and Joey Barton but there are plenty of players playing abroad, people just don't realise it.
I've got a friend called Derek Asamoah who got released by Shrewsbury but now he's playing in the K-League in Korea and he's an absolute superstar there. This is a guy who got released by Shrewsbury and was getting knocked back by League Two and Scottish First Division teams!
So do you think British players are missing a trick by drifting down the leagues rather than looking abroad?
Definitely. Football is a global game. There is far more to football than this country. Everyone wants to be in the Premier League but it is so hard. Even the Championship is tough. You can play in other leagues where it's more relaxed and the pressure is off but the standard is still good and you can make a good living. I'd urge anyone to give it a try because it's definitely worth it.
Continuing your career journey, you later went to play in Sweden. How was that?
I absolutely loved my time in Sweden but it got cut short due to injury. It was a pretty bad one. The top of my thigh got disconnected from the socket and I was out injured for about nine months. But Sweden was a lovely place and I would have loved to have stayed there longer.
Then there was a move to Australia. Do you see the game growing out there?
The A-League is huge in Australia. They are getting 20,000 at games, the coverage is great and it's a decent standard. I think if their national team is to improve they probably need some more Australian players to move abroad though. The likes of Tim Cahill and Harry Kewell gave the game that exposure. But it's definitely on the up and there is plenty of talent in the A-League.
After I left Australia I actually had a contract to go to Malaysia. That was at the beginning of 2012 right on the border with Singapore. If I didn't have all the commitments here, I'd move there to live permanently as it was such a lovely place. The cost of living is low and the people all speak English.
And what are you up to now?
Unfortunately, I've had to give up playing football due to injury. Now I'm doing a lot of work with the organisation Show Racism the Red Card and I'm giving anti-racism workshops in schools, universities and prisons. That's taking up a lot of my time.
I also work for a company called Catalyst4Soccer. It's a boutique football agency working with players in Asia, Spain and England. My role is helping people to adapt to new cultures because it can be hard if you don't speak the language. I know what it feels like to be in a foreign country and not really know the culture. That's where my experiences abroad have helped me in my job now.
So that decision to move abroad as a 20-year-old lad has paid off...
It's all come from agreeing to go to Turkey! I wouldn't have changed playing football abroad for anything. It's definitely helped me grow as a person.
Find out more about Show Racism the Red Card by visiting their website here