Celtic banner aimed at Brendan Rodgers 'wasn't right,' says James McFadden
"They're disappointed because of the kind of language that Rodgers used when he took over," explains James McFadden
By Danny Gallagher
Last Updated: 28/02/19 4:50pm
A banner raised by Celtic fans criticising departed boss Brendan Rodgers "wasn't right," according to Scotland assistant coach James McFadden.
Fans took to Hearts' Tynecastle stadium on Wednesday night for Celtic's away fixture, equipped with a huge banner which read: 'You traded immortality for mediocrity. Never a Celt, always a fraud.'
The Celtic faithful were keen to vent their anger following the departure of Rodgers midway through the season, in order to take up the vacant post at Leicester City following the sacking of Claude Puel.
Speaking to Sky Sports, McFadden condemned the appearance of the banner but sympathised with the Celtic fanbase for the manner in which the Northern Irishman left.
"The banner that was displayed, I don't think that's right because he's done well and won seven trophies and they're in a good position to go and win the treble-treble," said McFadden.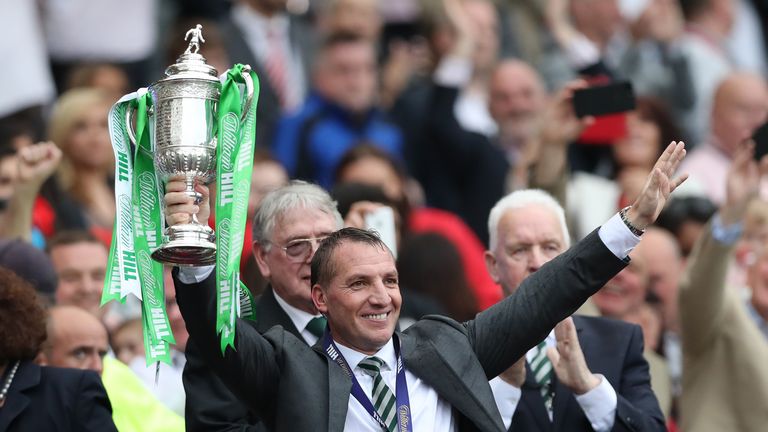 "I don't think he's left them in a bad position but from the fans' point of view, they would have liked for him to stay and see out the season, finish his job there and leave on better terms.
"They're disappointed because of the kind of language that he used when he took over. He was a Celtic fan, it was his dream job, he was happy here and here for the long haul - those type of phrases. And then he leaves at the first chance."
Celtic triumphed 2-1 in the fixture away to Hearts, in what was the first match in charge for returning manager Neil Lennon, who has been installed on a short-term basis until the end of the season.
Celtic remain top of the Scottish Premiership with a eight-point lead, after 28 matches played.