Michael O'Neill dismisses Rangers rumours ahead of Northern Ireland's World Cup play-off
Last Updated: 30/10/17 10:11pm
Northern Ireland manager Michael O'Neill has played down talk of him becoming the next Rangers manager following the departure of Pedro Caixinha.
O'Neill is one of the names linked with taking the Ibrox hot-seat after Caixinha was sacked last week, bringing an end to a disastrous spell in Glasgow.
The Portuguese boss left Gers in fourth place in the Scottish Premiership after an indifferent start to the season, but O'Neill, who lives in Edinburgh and has regularly been linked with jobs in Scotland, is adamant he is only focused on country matters.
"It's not a distraction for me at all," he told Sky Sports News. "It's (speculation) constantly been there but it's not something that I pay much attention to.
"My attention is here [at Northern Ireland] and trying to get my country to a World Cup finals.
"What may or may not happen after that is in the laps of the football gods, to be honest. It's always nice to be linked with jobs but it's not something I have given much thought to at all."
Director of football Mark Allen, however, insisted the club would not be rushed into an appointment with Graeme Murty again in temporary charge.
"As you can imagine, it's something which has come up very quickly, but the one thing I would say is we need to do our due diligence and we need to be sure this process is given the right time to find the right person," he said.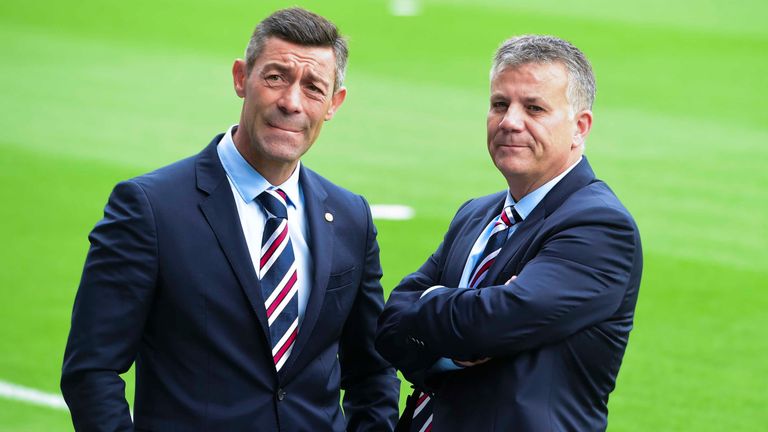 Allen also unveiled a new scouting department which he hoped would help the Glasgow club get back towards Scottish football's summit.
He has appointed Andy Scoulding as head of scouting, while John Brown, Dave Swanick and Billy McLaren have also joined the scouting team, which will change the club's recruitment process.
Allen said: "In the modern game, as it stands now, I think you need a strategy for how you are going to recruit, where you are going to recruit and why you are going to recruit.
"You need strategy, intelligence and eyes. You need to know how to build databases, how to build dossiers on players and be looking at what they are doing on and off the pitch etc.
"The final and most critical part is you need the eyes to be able to go out and watch games live to confirm what the intelligence and video scouting is telling you."