Steven Gerrard will be expected to get results, says ex-Rangers midfielder Kevin Thompson
By Sky Sports
Last Updated: 06/06/18 8:10am
Former Rangers midfielder Kevin Thompson believes Steven Gerrard will succeed as Rangers manager next season.
Gerrard's appointment at Ibrox is his first managerial job, but Thompson says anticipation is high for what the former Liverpool and England captain may achieve.
"I think it's an exciting prospect, it's an exciting appointment. Like anything when you're at Old Firm he'll know himself he needs to produce results," Thompson said.
"He's going to hopefully be good and bring in some new players, the buzz around the place is one like when I was there.
"It's gone through different transitions with different managers, you see the fans and think 10,000 have turned up at Ibrox to greet a manager it just doesn't happen does it.
"That's what's happening at the club and it's the place to be at the moment. Are we going to be good enough to win the title straight away, it's going to be a challenge.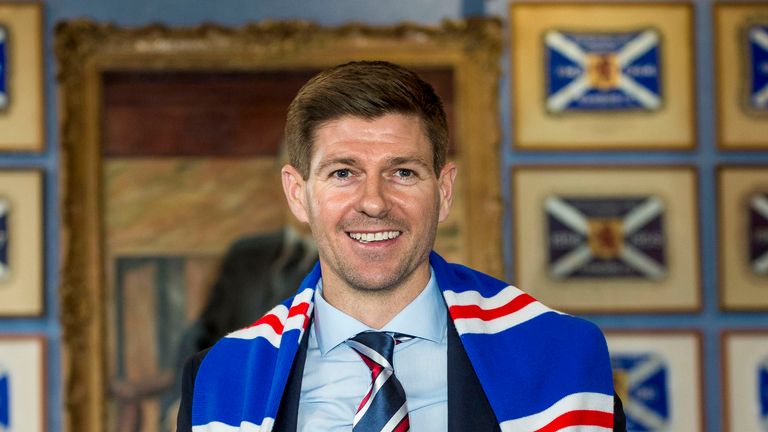 "He'll have his own goals in his mind, he'll be trying to identify the right players to cope with a big club mentality. I'm pretty sure he'll back himself."
Gerrard will start work with the players at the end of the month, before a pre-season training camp in Spain in July.
In a message on the club's official website last week, Gerrard said: "Having already taken the opportunity to assess our Auchenhowie base and also facilities at Ibrox, we are focusing now on being ready for our first real challenge, a Europa League qualifying tie in early July.
"I must say that I have already had such a warm welcome from supporters across the world and this has served to confirm my belief that it's the fans who make this football club great.

"Everything we do will be for them. It's time now… let's go."