Steven Gerrard will stand by Alfredo Morelos and Jon Flanagan despite their red cards in Rangers' Europa League play-off tie away to FC Ufa on Thursday.
Rangers were made to sweat after being reduced to nine men against Ufa in Russia, but grabbed the 1-1 draw which sealed their ticket to the group stages.
Morelos was dismissed after collecting two quickfire bookings for a petulant first-half outburst at German referee Tobias Stieler, while Flanagan followed him down the tunnel after the break as he also picked up a pair of yellow cards.
But the Rangers boss - who also confirmed a one-year loan deal for Nottingham Forest defender Joe Worrall had been struck - said: "I'm not going to sit here and criticise the two red cards because those two players have helped us very much since I came in the door. We go up together and we go down together.
"I'm sure Jon and Alfredo will apologise to their team-mates, but in terms of the nine men who were there from start to finish, I haven't got words to describe them."


Gerrard added: "Alfredo is an incredible footballer, but he's still a young footballer and I think it helps him that I've been a young footballer, someone who has made mistakes myself.
"The important thing is to learn, but to learn as quick as you can. The same goes for Jon, he's more experienced, but should know better.
"But players don't make mistakes on purpose. Sometimes the decisions were harsh and I thought in Alfredo's case the decision was very harsh, so I feel for him.
"I've said before I love the player and I love the person, but at the same time all my players need to learn quick that when you come away in Europe sometimes the decisions are not the same as domestically and we have to find some discipline because as a group ours hasn't been good enough so far."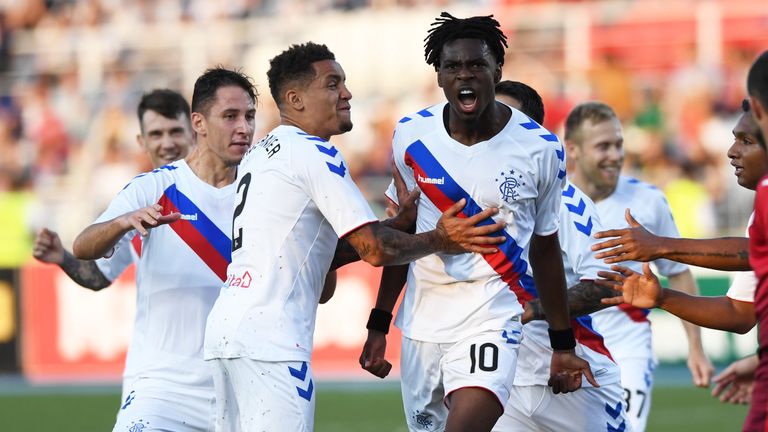 Rangers claimed a precious away goal after Ovie Ejaria struck 10 minutes in, but Dmitri Sysuev levelled for the hosts moments before Morelos' red card.
But Ufa could not make the most of their numerical advantage as Gerrard's team dug in for a crucial result.
Rangers go into Friday's Europa League draw after sealing their return to the main phase of a European competition for the first time since 2010.
"My blood pressure has calmed down a bit now but the team don't seem to want to do it the easy way," admitted Gerrard. "They seem to be challenging me as a manager when it comes down to heart pressure and grey hairs.
"But I'm so proud of the players tonight, an incredible achievement.
"I always had one eye on this moment because it was the first thing we could achieve as a group and the players deserve all the credit."
A move for Osijek winger Eros Grezda is still to be completed but Worrall's move has been signed off with 24 hours to spare ahead of Friday's transfer deadline.
Gerrard said: "Hopefully there will be some good news with Grezda in the coming days but in terms of Joe, it's good news.
"As we were playing he should have signed a deal to be a Rangers player for a year."