Charles Green rules out Rangers returning to Scottish Premier League under his rule
Charles Green has reiterated his stance that Rangers will not play in the SPL as long as he is at the club.
Last Updated: 29/10/12 5:44pm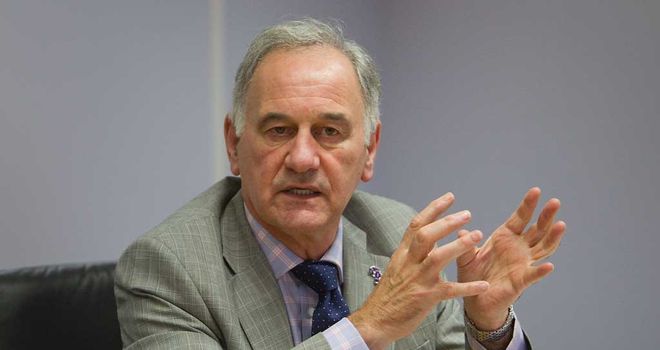 The Ibrox chief executive, who bought the club for £5.5m in June, is adamant the third division outfit will 'not play where they are not wanted'.
Green is sticking by the promise he made during the summer when Rangers were voted out of the top flight due to unpaid taxes and National Insurance payments.
Speaking on TalkSport he said: "The chief executive of the SFA, Stewart Regan, has said there will have to be some restructuring in Scottish football.
"It's no secret the SPL have been working on a plan and I understand the Football League have got their vision for change in Scottish football. It has to change because it's in a mess.
"It's really difficult for me to take seriously the SPL re-structure. They threw us out of the league and are now pursuing title stripping, and for us to sit down and think that after all that has come to fruition that I will say 'OK, everything's forgotten', you're in cloud cuckoo land. I don't forgive and forget.
"While I'm chief executive, Rangers will not play in the Scottish Premier League.
"If that situation arose, I would go out to the fans, as we did earlier in the year. But my position wouldn't have changed. If they wanted to go back into the SPL, then fine. But I won't be chief executive."
And Green also took the time to rubbish reports he is about to sell Ibrox.
"I saw an email and blog saying we're going to enter into a sale and leaseback of Murray Park and Ibrox for £8.5m but it is absolute nonsense.
"We've got a valuation that'll go into the prospectus valuing all the properties in excess of £80m. This is just rubbish put out by people who are trying to disrupt this IPO (initial public offering)."