Who's who at Rangers - profiles of Dave King and Mike Ashley
By Charles Paterson
Last Updated: 06/03/15 12:04pm
Sky Sports News HQ's Charles Paterson takes a look at the main protagonists in the battle for control of Rangers.
MIKE ASHLEY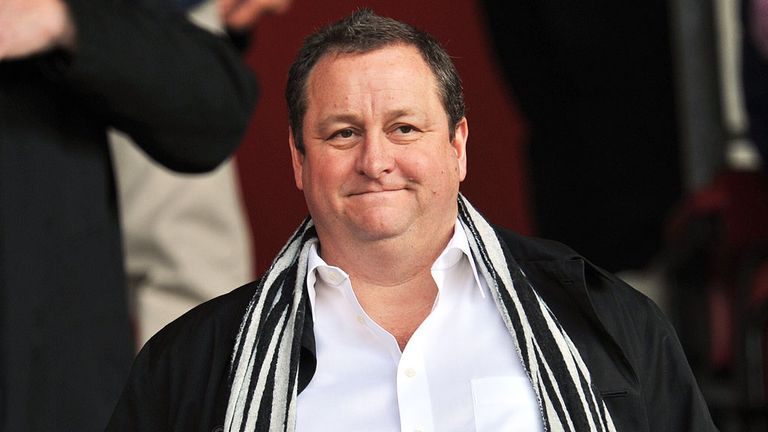 English billionaire retail entrepreneur. Owner of Newcastle United F.C.
Owner of Sports Direct - founded by Ashley in 1982. Group revenue in their 2014 Annual report: £2.706 billion
According to the Sunday Times Rich list published in May 2014, Ashley is the 23th richest man in the UK, with a worth of £3.75 billion.
Derek Llambias/Barry Leach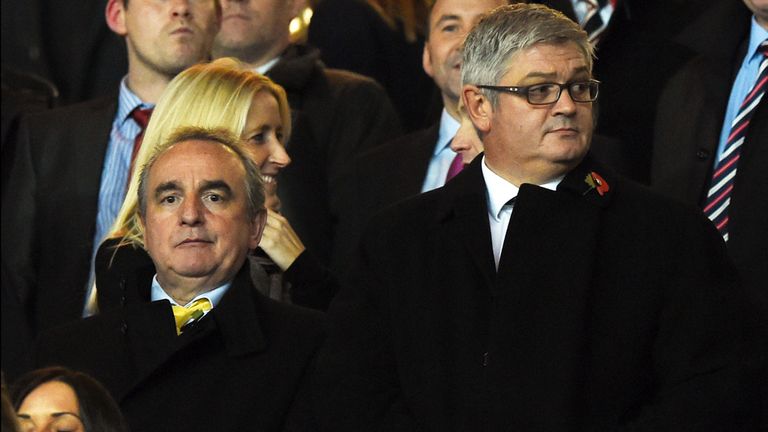 Ashley brought Derek Llambias to Newcastle in the summer of 2008 - Llambias was initially installed as a Deputy Chairman but was then appointed Managing Director a short while later and stayed in that position from between June 2008 to June 2013, when he resigned.
Llambias was appointed as a non-executive director of Rangers on 3rd November 2014. He was then appointed Rangers Chief Executive on 19th December 2014; this caused the SFA to issue notices of complaints to Mike Ashley over alleged dual ownership breaches.
Barry Leach was appointed Head of Brands at Sports Direct in 2007 – he was appointed by Rangers as a consultant in October 2014 and as Rangers Finance Director in January 2015.
Rangers
Ashley currently holds an 8.92% share in Rangers.
He initially invested in Rangers in December 2012 and received permission from the SFA for this shareholding; at the same time he signed a declaration that he would not look to own more than 10% of the club, and would not exercise undue influence on the boardroom.
Ashley's stake was diluted in successive share issues to less than 4%, before he increased it once again to 8.9% in October 2014.
He later planned to increase his stake in the club to 30% but this proposal was rejected by the SFA on the grounds of dual interest in December 2014.
Ashley's company MASH Holdings had a £3M loan accepted by the Rangers board in October 2014, despite counter offers from Dave King and Brian Kennedy. At the same time, Ashley gave up the naming rights to Ibrox Stadium, which were secured in a deal negotiated by Charles Green in 2012 for the sum of £1.
On 27th January 2015, Sports Direct gave Rangers a £10M emergency loan. In doing so the club paid off the £3M loan from Mash Holdings of October 2014.
This loan entitled Sports Direct to secure loans against many of Rangers' assets including Murray Park and Edmiston House, as well as registered club trademarks, although notably NOT Ibrox.
The loan also gives Sports Direct the right to appoint two individuals to the Rangers board; this right has not yet been exercised. Rangers say the appointments of Derek Llambias and Barry Leach to the board were NOT made by Ashley.
Previous to the loan agreement, Sports Direct had 49% ownership of Rangers Retail Limited; a joint venture between Rangers and Sports Direct, with Rangers owning 51%. As part of the loan agreement, 26% of Rangers' share was transferred to Sports Direct, which will be given back to Rangers upon the full repayment of the loan.
The loan agreement also entitles Rangers Retail to benefit from any club shirt sponsorship deals from 2016-2017 onwards.
DAVE KING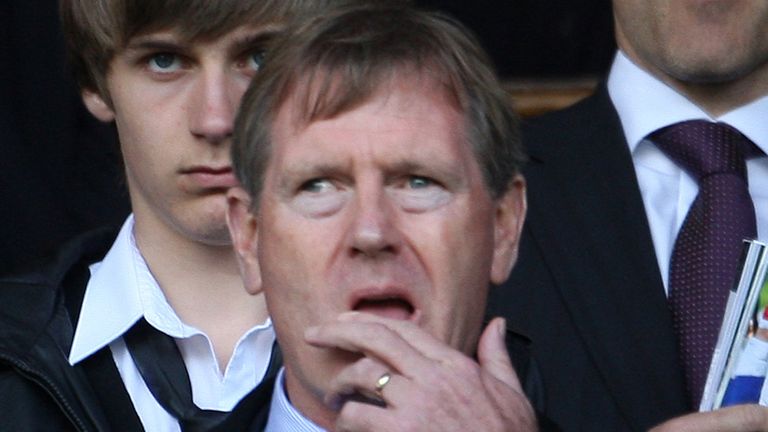 59 year old businessman, born in Castlemilk area of Glasgow but now based in South Africa. King worked for Weir's Pumps in Glasgow before being transferred to their South African operation in 1976. He later took on a number of business roles and accumulated a substantial personal wealth. He was named in the 2012 South African Rich list; estimated wealth believed to be £200M - £300M.
Criminal Charges
In 2002, Dave King was arrested and charged with 11 counts of fraud by South African authorities, allegedly owing the revenue service almost £60 million.
King was eventually indicted on 322 counts including fraud, tax evasion and evasion of exchange control regulations, as well as money-laundering and racketeering.
After a decade of legal process, King reached an agreement with the South African High Court, pleading guilty to 41 counts of criminally contravening South African Income Tax.
He agreed to pay 80,000 Rand per criminal conviction, or 3.28 million Rand (£180k)
He also agreed a further 8.75 million Rand (£485k) in compensation to the Criminal Assets Recovery Account of the South African Authorities. As part of the deal he had 281 other charges dropped.
Rangers
King joined Rangers as a non-executive director on 30th March 2000. He invested £20 million of his own personal wealth in the club at that time.
King was part of a consortium alongside Paul Murray and Douglas Park that tried to buy Rangers in 2009.
King was the only Rangers director to survive when Craig Whyte took over the club in 2011 – he was a director of the company when it went into administration in February 2012.
Later in 2012 King called for a rejection to the CVA proposed by Charles Green and his company to bring Rangers out of administration. The CVA was later rejected by HM Revenue and Customs. This resulted in Rangers having to re-form as a new company.
At that time King declared he was seeking £20 million in damages from the club, "based on the deliberate non-disclosure by David Murray of transactions that he had committed to on behalf of the club that were both risky and to the sole advantage of the Murray Group".
In March 2014, King led discussions with the Rangers board; he then pledged to invest as much as £30 million to help Rangers move forward, via a fresh round of fund-raising. He also challenged the Rangers board to prove they had a plan to bring the club back to challenge Celtic and at the level it had operated at prior to administration.
When these discussions proved fruitless, King called for fans to withhold season-ticket funds and monies to deny the board a cash flow. Season tickets sales dropped by 15,000 in the present campaign as a result.
In October 2014 King offered funding of £16 million (£8 million cash, £8 million equity) to Rangers as part of a consortium alongside George Letham and Douglas Park; this offer was rejected by the board in favour of a £3 million loan from Mike Ashley.
On January 2 2015 King bought a 15% stake in Rangers by purchasing shares held by institutional investors Artemis and Milton.
King called an EGM on January 16 to remove the Rangers board, and appoint himself, Paul Murray and John Gilligan as directors. The EGM is due to be held on March 6.
We understand that King has gained enough votes for his EGM resolutions to be passed – he requires over 50% of votes to be successful.
PAUL MURRAY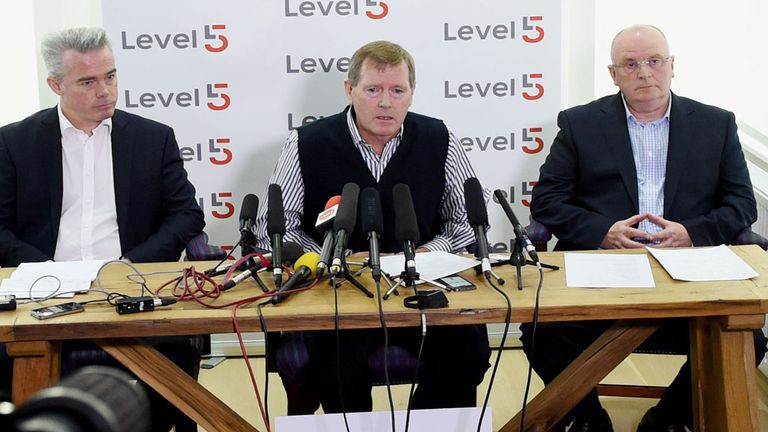 A chartered accountant, formerly with Deutsche Bank, Paul Murray was initially appointed as a non-executive director at Rangers in 2007, advising the club on business development.
Murray was part of a bid in 2009, along with fellow non-executive director Dave King and Douglas Park, that attempted to buy Rangers from Sir David Murray; this offer was rejected by Lloyds Bank, which felt the consortium were trying to acquire the club at a knockdown price.
Murray then launched a second bid for the club in 2011, but his attempts were thwarted when Sir David Murray and the Rangers board (believed to be pressurised by Lloyds) agreed a sale to Craig Whyte for £1.
When Rangers went into administration in 2012, Murray formed the Blue Knights consortium, alongside Rangers supporters groups and Ticketus, to try to buy the club. The consortium later teamed up with Brian Kennedy, but their offers were rejected by administrators Duff & Phelps in favour of the consortium led by Charles Green.
Murray is a lifetime member of the Rangers Supporters Trust and supporters group Rangers First.
JOHN GILLIGAN
Prominent Glasgow businessman and a lifelong Rangers fan. A former managing director of Tennents, he was previously head of sales at Tennents Caledonian Breweries and before that worked for rival brewers Scottish & Newcastle and Dryburghs.
Gilligan was reportedly a close personal friend of the late Sandy Jardine; if King cannot sit on the Rangers board due to historical liabilities, Gilligan will be a candidate for the position of chairman – he will take up a board position in any case.
DOUGLAS PARK/GEORGE LETHAM/GEORGE TAYLOR
The three businessmen have been dubbed "The Three Bears" by the media, but are individual stakeholders at Rangers. Together they control 19% of shares, and are generally sympathetic to the views of Dave King – all three are voting to remove the current board at the EGM.
Douglas Park controls 6.14%; founder of Park's Motor Group, he also owns coach hire firm Park's of Hamilton, and is regarded as one of Scotland's most successful businessmen; estimated to have a personal fortune of over £50 million. Park joined forces with Paul Murray and Dave King in 2009 to try to buy Rangers from Sir David Murray. Park was also part of the Blue Knights consortium which failed to secure control of the club in 2012. Primarily based in Spain.
George Letham controls 4.05%; his business is understood to be based in Turkey and London. A lifelong Rangers fan, he loaned the club £1 million at a preferential rate in March 2014, allowing the club to scrap a previous loan agreement with Laxey Partners, this loan was later repaid. Letham then teamed up with Dave King in October 2014 to offer Rangers £16M of funding, an offer which was rejected by the Rangers board.
George Taylor controls 9.3%; a director of Morgan Stanley, he lives and works in Hong Kong. Taylor is a member of the Rangers Supporters Trust and a lifetime member of Rangers First. He has publicly backed fan ownership of Rangers going forward.
The Three Bears consortium offered to spend £6.5 million on underwriting a future share issue on December 26th 2014, in return for shares and a presence on the board. This offer was rejected by Rangers in favour of Sports Direct's £10 million loan.
On December 31st 2014, the consortium bought between them the 16% shareholding owned by Laxey Partners. Laxey said at the time it was their attempt to stop Mike Ashley taking full control of Rangers.
On February 22nd 2014, the consortium called for Rangers to sack Finance Director Barry Leach, accusing him of bringing the club into disrepute. It followed the leak of minutes from a meeting between Rangers executives and the club's Fan Board. Leach was quoted making disparaging remarks about the consortium's share offer (see above) which was later rejected.